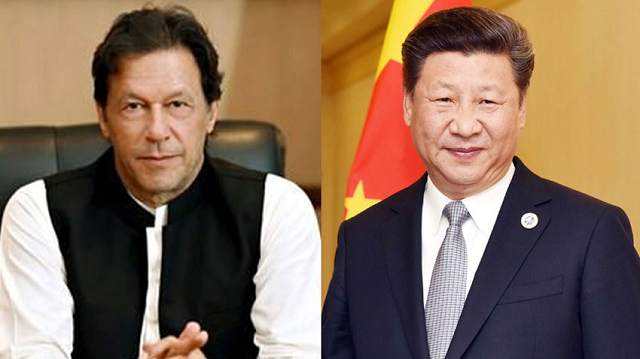 ---
ISLAMABAD: Prime Minister Imran Khan on Thursday called Chinese President Xi Jinping and expressed Pakistan's unequivocal solidarity with the Chinese leadership in the wake of the coronavirus outbreak which has claimed more than 2,000 lives so far.

The death toll from the deadly disease soared to 2,118 on Thursday after 114 new deaths were reported – mostly in Hubei province, the epicentre of the outbreak. China's National Health Commission said that more than 74,500 people remained infected by the virus nationwide.

During the telephonic conversation, the Prime Minister's Office said, Imran "conveyed his heartfelt condolences over the loss of precious lives" because of the virus outbreak. He praised China's "relentless efforts" to contain the spread of coronavirus.


Prime Minister @ImranKhanPTI's Telephone Conversation with President Xi Jinping
#PMImranKhan pic.twitter.com/EFB9x8vtMc

— Prime Minister's Office, Pakistan (@PakPMO) February 20, 2020


China virus death toll jumps to 2,118

"The people and the government of Pakistan stand firmly behind China in its decisive efforts to fight and eliminate the virus," the prime minister said. He reiterated Pakistan's offer of assistance – a field hospital along with a team of doctors – to help Beijing combat COVID-19.

Xi expressed profound gratitude for Pakistan's support to China at a critical time and underscored that China was taking effective, swift and timely measures to battle coronavirus. He emphasised that China would win this war against coronavirus.

The official Chinese media also reported the telephonic conversation between the two leaders. "Facts have proved once again that China and Pakistan are true friends and good brothers that share weal and woe," state-run Xinhua news agency quoted Xi as telling Imran.
The telephonic conversation comes a day after angry parents of the students stuck in Hubei confronted ministers during a briefing by special assistants to the prime minister, Zulfiqar Bukhari and Dr Zafar Mirza.

The parents, worried over the rising death toll from the disease in China, also held protest in Islamabad on Wednesday, demanding evacuation of their children. They said they did not want to listen to officials until their children were brought back.

The government has so far refused to bring back more than 1,000 students from Hubei province and its capital Wuhan. The government had said that students were better off in China as Pakistan did not have adequate facilities to quarantine them if they returned.

Parents of students in China virus epicentre vent anger at federal ministers


Prime Minister @ImranKhanPTI also appreciated China's strong resolve & special measures to look after our nationals during this difficult time. He expressed confidence that China will continue to take best possible measures for the welfare of our nationals and students in China.

— Prime Minister's Office, Pakistan (@PakPMO) February 20, 2020


Talking to Xi, Imran expressed the confidence that Beijing would take best possible measures for the welfare of the Pakistani nationals and students in the country. President Xi said that China was treating Pakistani students "as our own" and that their wellbeing would be ensured.

The Prime Minister's Office said that the two leaders also shared their resolve to continue to have communication and exchanges at the highest level to strengthen the strategic cooperative partnership.


President Xi reaffirmed that China is treating Pakistani students "as our own" and will spare no effort in ensuring their safety, health and well-being.#PMImranKhan

— Prime Minister's Office, Pakistan (@PakPMO) February 20, 2020


On the bilateral cooperation, President Xi stressed that China-Pakistan Economic Corridor (CPEC) formed the "strongest centre-piece" of the bilateral economic partnership and assured Imran of China's commitment to taking this partnership to a "new heights".


Both leaders shared their resolve to continue to have communication and exchanges at the highest level to strengthen Pakistan-China All-Weather Strategic Cooperative Partnership and to build closer China-Pakistan Community of Shared Future in the New Era.#PMImranKhan

— Prime Minister's Office, Pakistan (@PakPMO) February 20, 2020