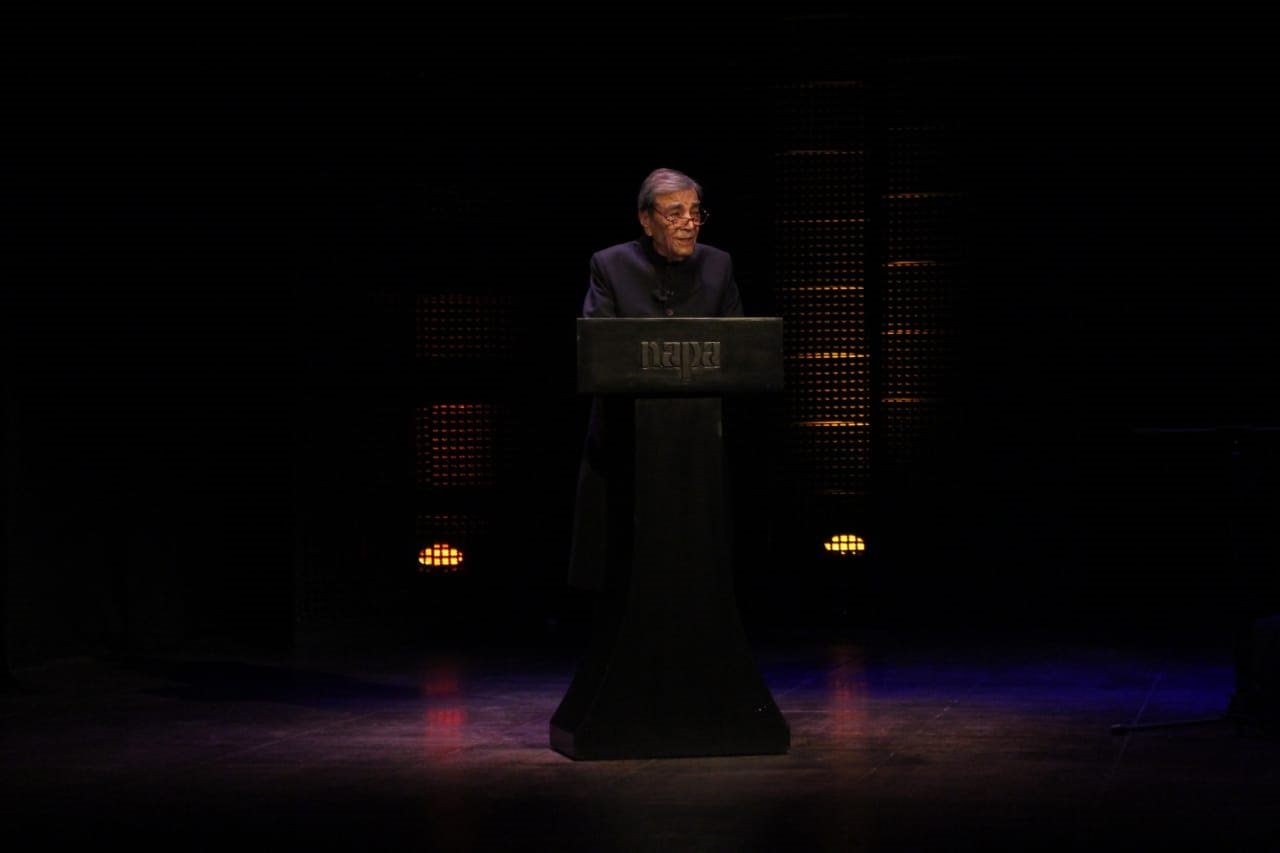 ---
KARACHI: It's tragic that mushairas don't take place as much anymore. It's a travesty that the poets who are actually making it big via TikTok and other mediums of mass engagement are barely anything more than rhyme kings with cat filters. Jaun has risen from the dead to baptise self-loathing souls and Faiz is leading the charge against oppression in India.

In the midst of this charisma and cacophony, Ghalib lies dead... even if he had already turned pale before taking his final flight. Or perhaps the Gulzar-Azmi telefilm has canonised him in a way that any presentation, rendition or archiving attempt to garnish him again will burn the flavour and hit you like a boomerang.

Until Zia Mohyeddin steps in his shoes. The master narrator does not have angels on his command like Ghalib, nor is he the 'first modern man' of the sub-continent. But his deep voice and spotless diction compels the angels to open their wings as we stroll through the occasionally sunny and predominantly stormy nooks and corners of Nousha's unimaginable emotional range and old Delhi.




Mohiyeddin in his mid-80s is like Ghalib any day: honest, vintage, sophisticated and original enough that a few fumbles here and there only make him sound human. As much as he has been our voice of god for a while, Mohyeddin knows how to breathe divinity into letters and turn a mere recital into a lesson in transparency.

The evening, titled Nava-e-Sarosh, was organised by the National Academy of Performing Arts (Napa) to commemorate the 150th death anniversary of Mirza Asadullah Khan Ghalib. It was a musical tehtullafz (spoken word) presentation in which Mohyeddin was joined by the Head of Music department Ustad Nafees Ahmed Khan on the sitar. The accompanying musicians and singers included Ustad Mehboob Ashraf, Yousuf Bashir, Thomas Younus, Sarah Waqar, Amoon Dass, Nigel Bobby, Simal Nafees, Wajahat Siddiq, and Sabeen Nawab Khan.

"There's truly something extraordinary about Ghalib's contribution to the Urdu language. I am talking about his prose," said Mohyeddin in his opening words. "The unmatchable wit in his letters and the sense of restraint and elegance in his conversation holds a priceless position in Urdu literature."

The recital was structured in a similar fashion to his signature program of Ghalib recitals often showcased as Andaz-e-Bayan Aur.  Mohyeddin read letters that Ghalib wrote to various acquaintances around India. They spoke of socio-political scenarios, his loyal friends, one of whom had actually sent him a bucket full of mangoes which he had confused for Faize-e-Khaas (Liquor) not Lutf-e-Aam (Mangoes), despite the obvious financial pressures which Ghalib expressed his concern about.




The poet also wrote about the friends and family who left the world too early, leaving him alone to lament over how much he misses each one of them. Whether it was a son who couldn't see his best years or the courtesan who fell in love with him and he couldn't love back. Each emotion, each ounce of sorrow was neatly supported by sweet sitar interludes by Khan as Mohyeddin's voice sketched images in the audience's minds, like that strange moving finger at Balthazar's feast.

Supporting musicians also sang new Ghalib compositions. Mae Hun Mushtaq-e-Jafa and Nuktacheen Hai Gham-e-Dil, in particular, was quite catchy and beautifully sung, with the potential to be produced and released properly as semi-classical pieces. Mohyeddin is known for choosing all the singers and even the raagas in which ghazals need to be composed himself, and that meticulousness reflected in the short but absorbing pieces.

Towards the end, Mohyeddin didn't exit the stage for the music section to take over. He stood upright with the podium, looking in the air with all his facial muscles twitched and wrinkles even more curled, expressing the perpetual misery of the man who had just said:

Munhassir marnay pae ho jiski umeed
Naumeedi uski dekha chahiye   

The sold-out show ended with roaring applause and a standing ovation. That is also when the irritating audio disturbance in the setup vanished after persisting throughout the course of the performance - something the organisers should have taken care of, particularly in a vocal/musical recital.

Have something to add to the story? Share it in the comments below. 
COMMENTS
Comments are moderated and generally will be posted if they are on-topic and not abusive.
For more information, please see our Comments FAQ