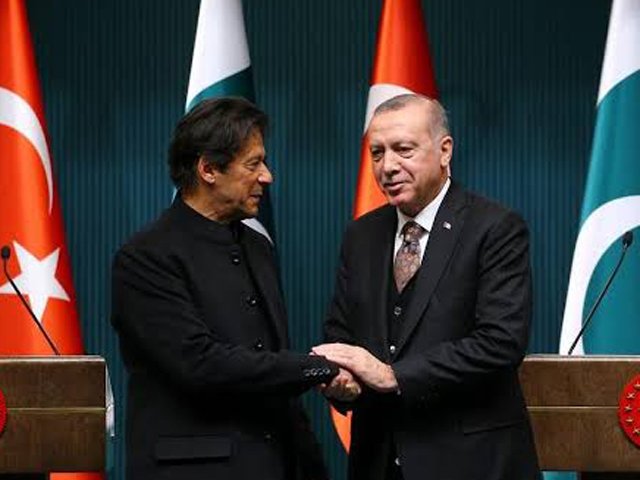 ---
KARACHI:

After garnering worldwide praise as a 'mediator' and being regarded as a true representative of Muslim world, Prime Minister Imran Khan heaped praise on Turkish president saying "I can safely say that he [Erdogan] can win next elections in Pakistan".

He made the remarks while addressing a joint press conference with President Erdogan following Pakistan-Turkey Business and Investment Forum, meeting co-chaired by both leaders in Islamabad on Friday.

Turkish president along with his high-powered delegation held talks with Pakistani officials on wide ranging issues covering bilateral as well as regional and international matters during Erdogan's two-day visit to Pakistan.

The premier went on to say that it was a rare occurrence when lawmakers belonging to both opposition and government thumped their benches to hail Erdogan's joint address to the parliament earlier in the day.

"It is a great tribute to you Mr President. It shows love and affection people of Pakistan have for you, no matter what political party they belong or opinion they hold to, Pakistanis perceive you as someone who stands for Muslim world," he maintained.

Erdogan's growing fame is acknowledged not only in Pakistan, but around the world. According to an annual popularity index of world political leaders released by Gallup International in collaboration with Gallup Pakistan, President Erdogan has emerged as the most popular Muslim leader in the world.

While the acclaimed Turkish leader marks the top spot as the most popular Muslim leader around the world with 30 per cent favourable opinion, Erdogan also receives the honour to be included among the top five most favoured political leaders in the world where Germany's Merkel leads the list with 46 per cent, followed by Macron of France at 40 per cent, Russia's Putin at 36 per cent, Trump at 31 per cent and Erdogan at 3o per cent while sharing the rank with UK's Johnson at the same percentile.




The list also mentions Chinese President Xi Jinping with 29 per cent of favourable opinion, followed by India's Premier Narendra Modi on the 7th rank with 26 per cent.




Other prominent world leaders including Saudi Arabia's King Salman bin Abdul Aziz al Saud, Iran's Hassan Rouhani and Israeli Prime Minister Benjamin Netanyahu have also been mentioned in the list.

The Gallup International End of Year Survey (EoY) is an annual tradition, which was carried out in 50 countries across the world this year.

According to a statement from Gallup International's press release, a total of 50261 persons were interviewed globally.

"In each country a representative sample of around 1000 men and women were interviewed during November-December 2019 either face to face, via telephone or online," read the official communiqué.


COMMENTS
Comments are moderated and generally will be posted if they are on-topic and not abusive.
For more information, please see our Comments FAQ