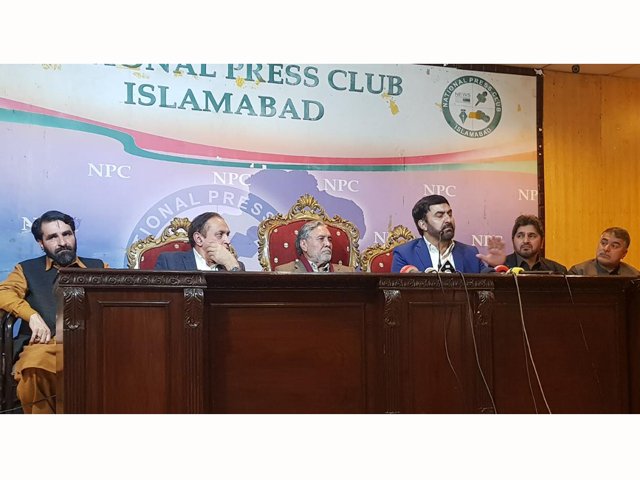 ---
GILGIT: At least six parliamentarians on Friday threatened to resign from the Gilgit-Baltistan Legislative Assembly in case the federal government tries to introduce changes to the governance order in violation of the Supreme Court ruling.

The development is seen as an effort to pre-empt the Centre's reported move of introducing 'the Gilgit- Baltistan Empowerment and Self Governance Order, 2020' with slight changes in the governance order 2018-19.

The 'warning' was issued by lawmakers from both sides of the aisle - including Speaker Fida Nashad, Minister for Works Dr Muhammad Iqbal, Opposition Leader Muhammad Shafi, PPP lawmaker Javed Hussain, Sikandar Ali and Imtiaz Haider – while addressing a joint news conference at the National Press Club in Islamabad.

"We will resign in protest as we can't be run through ad hoc orders in sheer disregard to the Supreme Court orders," said the minister while referring to the apex court's larger bench judgement of 2019.

The verdict ordered the federal government to grant rights to the people of Gilgit-Baltistan. Iqbal said frustration ran deep into the minds of the younger generation of G-B for being given a cold shoulder from the Centre, adding that they have been venting their anger through the social media.

He asked the federal government to take stock of the situation before "it boils over". Speaker Fida Nashad said:

"We are the citizens of Pakistan and, therefore, our representation is a must in parliament."

He said the people of G-B after getting independence from Dogras joined Pakistan unconditionally but regretted that their sacrifices were not honoured.

Shafi appealed to the Supreme Court to take notice of the violation of its judgement passed last year. "This is contempt of court warranting the court notice." He said the government wanted to run G-B as a "cooperative society", which the people won't accept any more. "Our love with Pakistan is one-sided and one-sided love is bound to fail," he said.

The G-B people did not launch a separatist movement despite the fact that successive governments in the past neglected them which showed their patriotism with the country, he added. The lawmakers said giving rights to G-B won't harm the Kashmir issue, as the Supreme Court had already ruled in this regard.
COMMENTS
Comments are moderated and generally will be posted if they are on-topic and not abusive.
For more information, please see our Comments FAQ