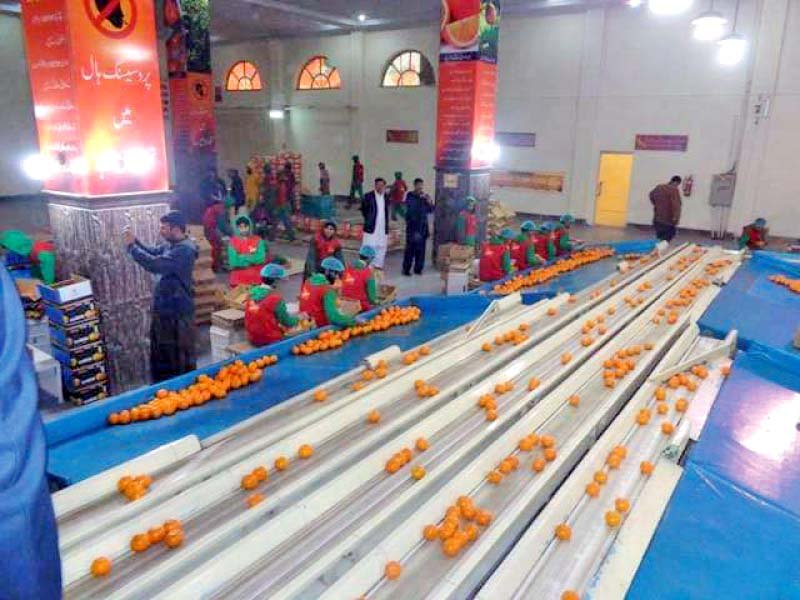 ---
SARGODHA: Sargodha district contributes the largest mandarin produce in the country. More than 80 per cent of the total kinnow production in Pakistan is obtained from Sargodha, which is estimated at over two million tonnes annually, and exported around the world.

More than 100 kinnow processing factories are situated in Kot Momin tehsil and they start functioning from the beginning of the season. As the period of plucking fruits from kinnow orchards begins, thousands of labourers from southern Punjab flood Sargodha to start work.

These labourers usually work on low wages and are available throughout the season. For exports, the first step is plucking kinnow, after which the citrus fruit is sorted and then transported to the processing units.

Zafar Iqbal, manager at a kinnow factory in Mateela, told The Express Tribune that the fruit arriving at the factory is washed in different machines. "After washing, the waxing process is conducted. Food grade material for waxing and washing is also imported."

Kinnow exports to go down this season

The grading phase starts afterwards and fruits are separated and categorised according to their size, he added. "Kinnow are then packed according to their weight and put into cartons and plastic baskets."

The fruit is later kept in cold storage and preserved at a certain temperature so that it does not rot, he explained. "The waxing process increases the life of the kinnow and its shine attracts the buyers."

For export and transportation, there are private companies which deliver kinnow containers to Karachi port, keeping fruits in a controlled temperature of four degrees Celsius, he further said.

Zafar Hayat Naeem, manager of a private company, said that it takes 48 to 50 hours for the kinnow containers to reach Karachi port from Mateela. "Our company ensures power supply to the containers at our trucking stations located at Jhang, Sadiqabad, Moro and Kathor so that they reach the port at the set temperature of four degrees Celsius."

Adnan Shahzad, export manager of a processing unit, said that the product is delivered from Karachi to Dubai, Saudi Arabia and Central Asian countries in seven to 10 days, while it usually takes a month to reach Russia, Malaysia, Indonesia and Europe. "The shelf life of kinnows can extend to 90 days if stored at specified temperature."

The kinnow gardeners are generating heavy foreign exchange for the country, he maintained. "Meanwhile, factory owners, business owners and exporters, who are not provided required guidelines by the agriculture department, have to face certain issues in orchards which affect the overall kinnow production."




Sargodha Division Horticulture Officer Dr Basharat Ali said that more than 80% of the total kinnow produced in the country comes from Sargodha, which is around 2.3 million tonnes. "Only 15% of the kinnow produced in the country is exported."

Approximately eight tonnes of kinnow is produced per acre and one tree produces 500-600 kinnows, he highlighted. "To pluck the fruit from trees, labourers arrive from different areas of southern Punjab."

Kinnow growers reject new purchase price

An agreement is made with a senior labourer, referred to as the chairman, he added. "The chairman is given Rs1,000 per day, while labourers are paid Rs600 per day with meals."

However, the food that the chairman provides to the workers is often not up to the standard, he explained. "Grade A kinnow is not easily available in the local market. In large stores, it is sold at Rs90 per kg, while grade B kinnow is available for Rs50 per kg."

In Sargodha district, kinnow is sold at Rs60 to Rs120 per kg, he further said. "In gardens there are fruit diseases such as scabies, melanomas and citrus canker. About five years ago, the rate of the disease in fruits was quite high."

As per experts, if gardeners complete timely spraying of plants and leave them in fresh air and sunlight, decay can be prevented. "Diseases do not reduce production, but affect the quality of the fruits."

Published in The Express Tribune, February 7th, 2020.
COMMENTS
Comments are moderated and generally will be posted if they are on-topic and not abusive.
For more information, please see our Comments FAQ