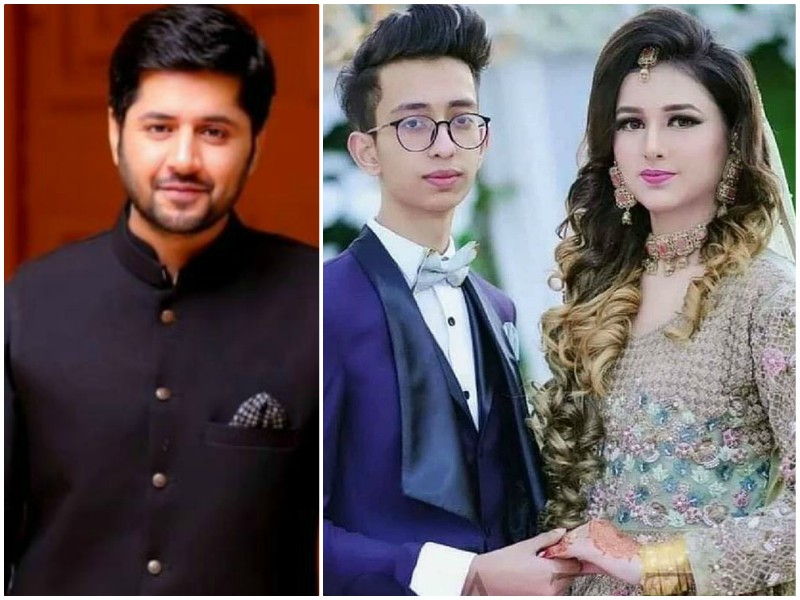 ---
An 18-year-old couple is being trolled on social media since quite sometime now, that too for all the wrong reasons. From being mocked for getting married at a legal age, to being body shamed, the two have heard it all.

Users rallied to Twitter sharing videos of their marriage, a closed ceremony that went viral after the photographer, Moazzam Azam, shared their pictures on his page.

https://www.instagram.com/p/B8MXfweH-We/

In a country where 21% of the girls are married before the age of 18 annually (according to a UNICEF report of 2013), for some reason, these young adults are being accused for marrying too soon.

Not only that, but the boy is being criticised for being 'too thin' while the girl is being mocked for 'looking like his mother', according to certain Twitter users.

At a point in life where these youngsters should have been garnering blessings, their fate is unfortunately being dictated by these users.

https://twitter.com/GoStudyAkXxuuu/status/1224520479677067265


Ksi ka mazak nhi banate
Hoskata hai us ne goad liya ho :p https://t.co/daHMaaAe5a

— م‏ــوڈ مکی‏ـــنک (@Rehmanismm) February 3, 2020
Koi maroo mujy maroo😭😭😭💔 pic.twitter.com/cFHtmf1Cph

— V҉E҉N҉O҉M҉☠️ (@Mr__wafaa) February 3, 2020


https://twitter.com/fauji_manmoji/status/1224758469670195201

https://twitter.com/cravingbiryani/status/1224381158756175873


Is sehat pe itni Bari zimedari https://t.co/nCjckD4iNS

— Zonob (@Mute_hun) February 3, 2020


Some however, have spoken in favour for the newly weds, including Imran Ashraf, a popular local celebrity who schooled the critics.




"So now we will be the ones dictating whether someone's decision to be married is right or wrong?" asked Ashraf. "We have started barging into people's houses now! The internet has become such a court where everyone passes a judgement according their own level of frustration."

"They have gotten married, give them prayers, wish them well. May Allah fill their life with happiness," said Ashraf as he closed off his comment on a local outlet's post with prayers.

Nevertheless, some users also rallied in support for the couple.


They both are 18 tears old. Adult and married with consent. I cant find anything wrong https://t.co/tZqO7xSnn5

— A. (@friesologyyy2) February 3, 2020
Can we just stop judging people in 2020????? Let people live ffs please. https://t.co/YeJCZUmm8T

— zainab chughtai (@z_chughtai95) February 4, 2020
I mean what's wrong in this? can we stop being so judgy and jealous? husan is not everything, the thing that matters is what you feel about each other. They look gorgeous and happy don't spoil it with your bullshit https://t.co/R9w1clE8Hi

— a sad trash (@iumairshuja) February 3, 2020
To all ppl who are mocking on them. Remember Nabi karem (SAW) was 15 years younger than Hazrat khdija nd they were the best couple ever.They're cute MA. You can accept youngest girl for older man but can't digest this,thier age difference is lil bit. You're just shit as a society https://t.co/fMrFRV0Igx

— Kashaf Warraich🇵🇰🇵🇸 (@Antseverafter81) February 3, 2020
Have something to add to the story? Share it in the comments below. 
COMMENTS (2)
Comments are moderated and generally will be posted if they are on-topic and not abusive.
For more information, please see our Comments FAQ