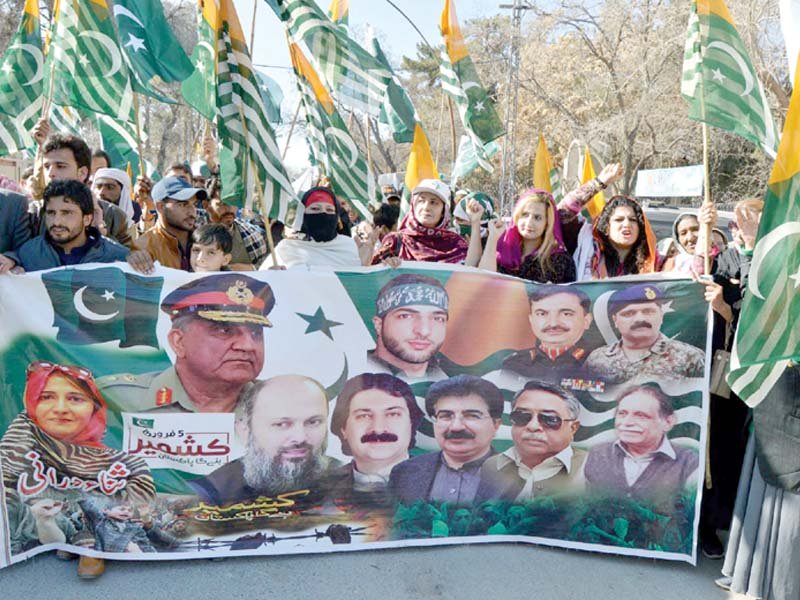 ---
QUETTA: Kashmir Solidarity Day was celebrated with enthusiasm throughout Balochistan, with rallies and protests being staged in all cities of the province in which participants carried banners, placards, and national and Kashmir flags as they raised their voices against Indian oppression.

Rallies were held at various places in Quetta to express solidarity with the people of Kashmir. Pakistan Tehreek-e-Insaf Balochistan, All Balochistan Clerk and Technical Employees Association, Jamaat-e-Islami Women's Wing, Awami Khidmatgaar Foundation, Jamaat-e-Islami Quetta Youth Wing, Hazara Town residents and others staged rallies and protests in favour of Kashmiris.

"The day is not far when our Kashmiri brothers will win their independence from Indian oppression. We have come out today to express solidarity with the Muslims of Kashmir", said protesters.

"Pakistanis' hearts beat with our Kashmiri brothers. We will never tolerate Indian atrocities against Kashmiris and will sacrifice our lives to see the dawn of independence in Kashmir", said protesters as they chanted slogans against Indian Prime Minister Narendra Modi's government.

The main Kashmir Solidarity Day ceremony was staged by the Quetta Boy Scouts and was attended by Balochistan Governor Amanullah Yasinzai, Chief Minister Mir Jam Kamal Khan Alyani, provincial ministers, members of the Balochistan Assembly and a large number of citizens.

Addressing the ceremony, the governor said the purpose of the day's national celebrations was to draw the international community's attention toward Kashmir. "According to United Nations (UN) resolutions, Kashmiris should have their right of self-determination. The people of Balochistan stand with them in their struggle and Indian atrocities in Kashmir have been exposed to the world", he added.

In his address on the occasion, Balochistan Chief Minister Jam Kamal said every person in Balochistan today stood against the oppression being perpetrated against their Kashmiri brothers. "The Indian government's policy in Kashmir is a policy of terrorism", Kamal said.

He said Muslims living in India today were also deprived of their religious freedom. "The real face of India is in front of the whole world", he added.

Kamal further said that, as Muslims and Pakistanis, "it is our duty to raise our voices for Kashmiris. The international community must take the Kashmir issue seriously", Kamal said.

During the ceremony, children also performed a tableau depicting the ongoing Indian atrocities in Kashmir.

Earlier, the district administration and civil society participated in a rally that began at the Quetta Deputy Commissioner's (DC) office. Rally participants raised slogans against Indian aggression and in favour of Kashmiris and demanded that the world community play its part in ensuring Kashmiri rights according to UN resolutions.

Motorway police also organised a prayer ceremony for the martyrs of Kashmir at Lak Pass.

Rallies, demonstrations and ceremonies were held to express solidarity with Kashmiris in all of Balochistan's districts including Mastung, Kalat, Khuzdar, Sibi, Dera Bugti, Kohlu, Pishin, Qilla Abdullah, Qilla Saifullah, Zhob and Loralai.

Published in The Express Tribune, February 6th, 2020.
COMMENTS
Comments are moderated and generally will be posted if they are on-topic and not abusive.
For more information, please see our Comments FAQ