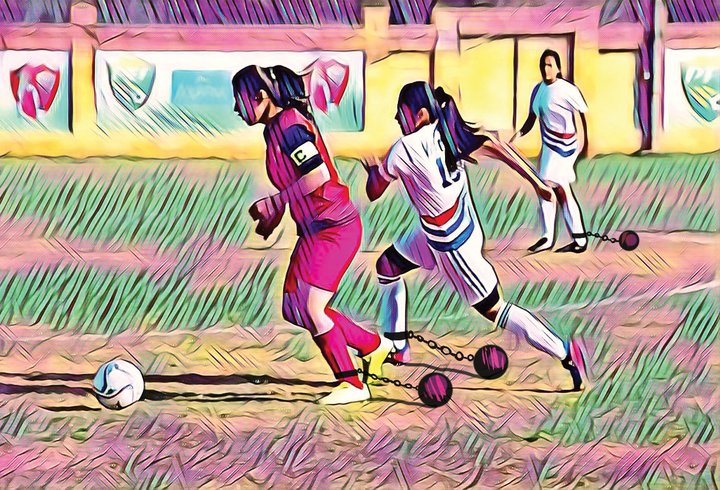 ---
KARACHI: While football has risen to become one of the most popular sports in the world and many countries are working hard to forge forward women's equality in the field, most Pakistanis do not even know that a women's national team exists in the country.

"We've dedicated more 10 years of our lives to this sport, we play because of our passion, and people still look at us with surprise when we mention Pakistan women's football team to them," says Sahar Zaman, the top scorer of the National Women's Football Championship.

Women's football is no joke, neither just a trend. Pakistani women players have dedicated their entire lives to master the game and change the world through it. They deserve better, even better than the National Women's Championship that concluded on January 12 in Karachi.




Women T20: Pakistan beat India by 1 run

A national championship is not enough, not even close as in many ways, it only dissuades the purpose. Women's game should not be just a trend, or a formality like it has been considered by the Pakistan Football Federation (PFF) since 2010. On the other hand, the men's team is still getting a five-month league, the Challenge Cup, Division B league, friendly tours, and the sporadic international events.

But for women, their game has been adversely affected because of negligence, and they remain the biggest givers in an environment that does not give back like it should.

Since the 2014 South Asian Football Federation Championship, the national women's team has not played any international tournament. This year, however, the national championship was held by the Normalisation Committee that Fifa appointed last year.

All is not lost, but more needs to be done

Fortunately, there have been positives, as Sahar points out. She plays for WAPDA and her team finished third after a thrilling semi-final that they lost to Pakistan Army.

The event saw some big margin wins like 18-0 when better teams like Army and WAPDA played, whereas the upside this time was the live-streaming of the women's matches, healthy prize-money for the players, the winners, and a qualifying round.

However, Sahar's question is similar to what the top striker for Army and the national team Hajra Khan, defender Malika-e-Noor from WAPDA, and the national goal-keeper Mahpara Shahid have asked: what is next?

They all unanimously agree that a full-fledged league is the way to go forward, while international matches are key to keep the sport alive for women.

"We need more matches, events, and a league; only one championship is not enough," Sahar says. "We used to have an inter-club championship too before the national championship, but that's about it. I saw so many brilliant girls this time, with a lot of talent and skills, but it is up to the PFF to give them opportunities, and the time is now."

Sahar thinks that if nothing is done about supporting the girls right now, they will go elsewhere because in Pakistan, there is no scope for female footballers. If a player is from a middle-class family and they have no opportunities offered to them, they will give up and do something else.

"If the PFF does not organise anything in the next month or so, they will have no players, and if there are no opportunities for girls, the sport will die."




Passion is the only driving force

For Sahar – like Hajra, Malika and Mahpara – the only driving factor to continue as a footballer in Pakistan has been her passion for the game and how it can inspire future generations. However, the lack of action and events only leave the passionate players struggling and pursuing ways to stay in the field on their own.

After the championship, all the women players are resting, but Sahar urges that they cannot just sit and wait.

"My passion for football has kept me going, I've played for more than a decade now, like Hajra and Mahpara, and we just can't sit and wait for sponsors and opportunities to come our way on their own. We've worked so hard to build women's game in Pakistan, and it is good to have my name in the national team as well, but people still get surprised when they hear that we play football. We need a league, a system that can be of quality. It isn't easy for women footballers to even go abroad."

"There are younger players who have contacted me on social media, they see me as an idol and it is my goal to guide them and refer them to the relevant clubs but they need opportunities," says Sahar.

Sahar, who is currently finishing an undergraduate degree, also reveals that she wishes to play in an international club and represent Pakistan. Her participation in the latest women's championship will also help her apply to universities abroad as the event had been streamed live and there is footage to prove how good she is.

Importance of women's sports

"There are so many sponsors for cricket and women's cricket but there are no sponsors for women's football. That's why, my achievement would be to play internationally, play in a club, represent my country and my family, and for that we need to do things for ourselves right now," she explains.

Sahar also expressed how scoring 27 goals made her happy, but with a tinge of sadness too, as she has scored 12 goals in a single match and her heart went out to the opponents who couldn't defend their team against Sahar's strikes.

"It made me feel bad for the other team but when I heard that there will be a special prize for the top scorer, I tried my best," she confesses.

Hajra shares a similar sentiment. Recalling her experience, she reveals that there had been times when the opposing team was too young or did not have enough experience on the field, which shows that there is a dire need for direction within the clubs and departments.

"The national championship was motivating, but we are not progressing as long as we are not working on our development. For me, it was a sweet moment to lift the trophy. It was my second national championship gold and first with Army. I enjoyed it and now I am just looking for what is next now, we need an international event, we need a league."

Breaking the stereotypes

On the other hand, winning captain Malika believes restructuring is important for women's football, and she wants to continue playing despite being a mother to a toddler, just to prove that there is hope for women footballers.




"Most girls quit after getting married, and if there are going to be no opportunities for them, and just a national championship, they will eventually lose heart. We need more events, there should be more activity, but after the championship, there is nothing for us," rues Malika.

She adds that even with the latest edition, she saw emerging talent which was impressive, but there are no pathways for the players.

"I started playing football in 2007 and things got better, but there is a lot of work that needs to be done. There is a craze for football and even now I try to train younger girls but there is a lack of professionalism in women's football. The training standards need to improve, there are modules now for coaches too. But in Pakistan, even the coaching isn't up to the mark. They make us run around the football ground to keep us fit, but that is that. We don't have good coaches, and yet we try our best," says Malika.

She adds that even when training for the national championship, she had to leave her son at home and during the matches, she would nurse him during half-time.

"Our people think that if a woman is married and has a child, she cannot play. Some seniors did that, and that is fine, but I wanted to play. Even before my son was born, my husband and I had planned on how to become physically stronger to play again."

Malika thinks owes a huge part of her success as a footballer in Pakistan to her community that always backed her, particularly girls from Gilgit-Baltistan (G-B) who are thriving in every field, including football, because they view sports as a way of emancipation out of societal pressures.

She also says that the development of coaches is the solution to improve footballers' standards domestically.

"I propose that a women's league should be formed and matches should take place over the weekends to include more women who are working or studying. Women footballers are hard workers, we are mothers, students, having many jobs to do, so I feel a league that can accommodate our needs can be very helpful in developing and expanding the sport," she adds.

  Goal-keeping is no easy task

While strikers and defenders struggle to get proper coaching, WAPDA captain Mahpara feels that the dearth of goal-keeper coaches is a serious problem for Pakistani footballers.

She thinks that the national championship defeat in the semi-final was tough against the Army, but the way she feels about clubs and newer players not getting any goal-keeping coaching is worse.

"The scores were heavy but there is no specific coaching for goal-keepers, even their basics are not correct," says Mahpara, who has been an accidental goal-keeper herself, but now she cannot imagine herself in any other position.

"Being a goal-keeper is a part of my identity. I still feel I need to improve, learn more and get coaching at international academies because right now we are not good enough to even give trials for any international clubs."

"I don't think we are on the same level, we are far behind. Therefore, my goal is to go abroad for training, improve myself with good coaching and then apply for a trial."




"Locally, there is a lot of misconceptions when it comes to goal-keepers. If coaches see that a girl is big, they automatically push her to be a goal-keeper. This stereotyping spoils the game," Mahpara opines.

Regarding tournaments, Mahpara requests that the PFF should hold a camp soon even though a camp is not enough.

Afghan women swimmers defy threats for Olympic dream

"[Apart from the camp], we need to build the game and have a league because just playing amongst ourselves doesn't help us gauge how good or bad we are. We need competitions."

Sharing her plan, Mahpara says that she is looking for sponsors so that she can get coaching abroad, ideally in Europe.

When approached, the PFF acting Secretary Haris Jamil says that the Normalisation Committee is working on a limited budget and nothing is concrete for the women footballers at the moment.

"We are trying to keep women's football and men's football head-to-head. The prize money for the championship was the same for both men's and women's team this time, and so far, we are still making our calendar," he says. "There is nothing concrete as far as international matches for women are concerned but we want to keep women's football equivalent to men's."
COMMENTS (1)
Comments are moderated and generally will be posted if they are on-topic and not abusive.
For more information, please see our Comments FAQ