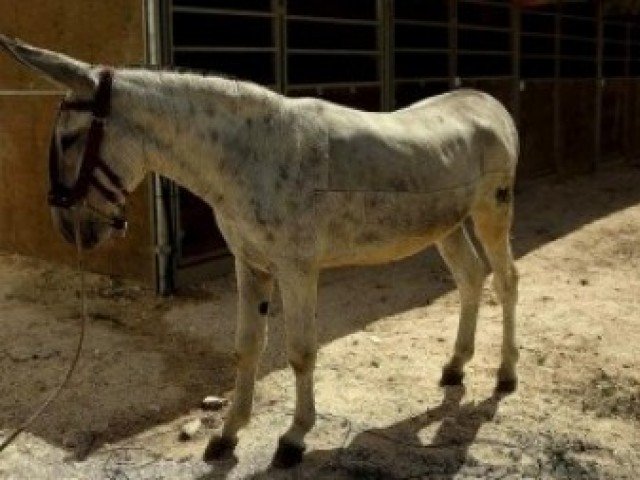 ---
The world had hardly come to terms with 'horse-trading', when another bomb-shell descended — this time it's donkey-trading. Two items of news relating to the donkeys of this world have come to one's notice lately. The first item relates to the "breaking news" that Pakistan has achieved the enviable distinction of becoming "the third largest country in donkey population". The second, datelined Beijing, conveys the equally momentous news that "China's demand for donkey skins used to make a traditional medicine (a beauty product of sorts) could wipe out more than half the world's donkey population".

Let us deal with each of these revelatory news items in turn. The first item should result in the raising of several eyebrows. Why should a country that is already reeling under the threat of over-population in the human field, engender a similar spurt in the population of donkeys? Horses — of horse-trading fame (remember?) — make sense, but why donkeys of all creatures? China's proximity, coupled with its demand for donkey skins, can be one plausible explanation.

The momentous news stated above should be enough to send shock waves among the donkey loving sector of the global population; that beauty-conscious females would go to ridiculous extents to grab donkey-based 'beauty products' is hardly a surprise. No wonder then that China's domestic donkey population has collapsed by 76 per cent since 1992. What is more, when this has come about in China how can its near neighbours be far behind?

One can hardly switch on the idiot box without being inundated by advertisements of skin-whitening creams of all ilks and genres. It would appear that the dream of becoming 'gora' is the end all! And if the creams in question have any relation to donkey skin, the donkey population in this blessed land may well be on the way to extinction.

The donkey has always had a very bad press in this land. For one thing, any human being who does not come up to our strict standards of propriety is derisively referred to as a donkey. The appellation 'donkey' has ever been the favourite appellation used in our 'maktabs' for pupils who do not pass muster. Even parents have the regrettable tendency to make use of it when referring to errant children.

Nevertheless, it would be a grave omission to write off the donkey altogether, as anyone living in mountainous regions would know, the donkey is the most useful animal to have around. Even such a developed land as the US would find traction in certain areas hazardous, were it not for this useful animal or its close relative.

The AFP reports, "nearly five million donkey skins are used every year to make a gel believed in China to be a remedy for troubles ranging from colds to aging, putting enormous strain on donkey populations around the world." That should be enough to shock animal (and donkey) lovers round the globe. The Donkey Sanctuary, an animal welfare group, put the current donkey population in the world at around 45.8 million, which was in serious danger of further depletion. There you have it in a nut-shell, as they say!

It is a trifle, exciting to note that humankind is so concerned about the donkeys when it cares so little about its own species. Donkeys have acquired a certain niche in contemporary dialogue, especially in native tongues. To be called a donkey can be both pejorative (as in: you have the intelligence of a donkey) and also somewhat complimentary (as in: hard-working as a donkey). Now, with the known Chinese interest in donkey skins, being called a 'precious donkey' may not have such a bad connotation after all! Be that as it may, donkeys do deserve the sympathies (and support) of humankind lest they end up extinct like the legendary dinosaurs!

Published in The Express Tribune, January 27th, 2020.

Like Opinion & Editorial on Facebook, follow @ETOpEd on Twitter to receive all updates on all our daily pieces.
COMMENTS
Comments are moderated and generally will be posted if they are on-topic and not abusive.
For more information, please see our Comments FAQ