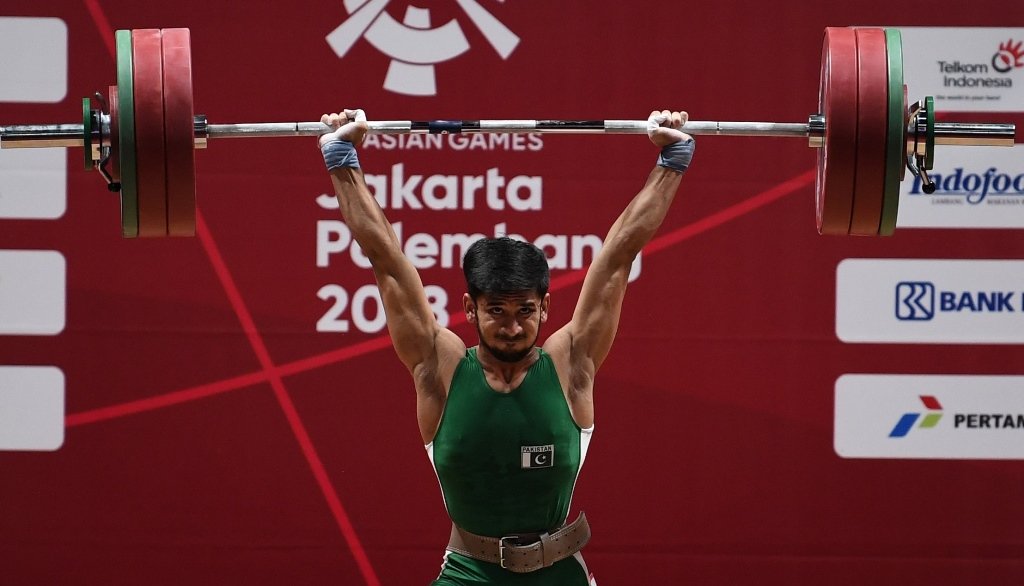 ---
KARACHI: Pakistan's Olympic Games hopeful and weightlifting star Talha Talib believes he can qualify for Tokyo as he will be defending his title in -62kg event at the International Solidarity Championship that will take place in Tashkent, Uzbekistan from February 7.

Talha, who also won the gold medal for Pakistan at the 2019 South Asian Games in Nepal is training at home in Gujranwala, while he is hoping for the best outcome after the two events scheduled for him before the Olympics in August.

The 2018 Commonwealth Games bronze medallist, however feels that it is imperative for him to get the gold medal in Tashkent as the time is running out.

"Of course my dream is to represent Pakistan at the Olympics, but I've got these two events, and I'm wondering if they would be enough," Talha told The Express Tribune. "I know I need to improve my international rankings and the International Solidarity Championship carries the points too. I should be able to have at least 1000 points in total after the event in Tashkent and the Asian Championship. But I feel I'm still lagging behind by two events."

The 20-year-old is described as text-book weightlifter when it comes to his technique and for him there has been no rest after the South Asian Games either.

Talha was to represent Pakistan and collect the precious points in North Korea at the Asian Junior Championship too, but he missed it because of flight issues as he was stranded half way to North Korea and could not make it to the championship in October.

By no fault of his own, while the event at the South Asian Games that was earlier carrying the points for Olympic qualification was marred by the fact that many participants had failed to send their whereabouts and doping details on time.

Talha was looking forward to the South Asian Games for the points too.

"We had found out that the event wouldn't carry the status for qualification or valuable points like that a few days before, but we knew that we needed to participate and win medals in Nepal. So we went along, it was disappointing at first because I know we need more events," added the 2016 Commonwealth Weightlifting Championship gold-medallist.

He had earlier said that for him, being an athlete for the country means he needs to train and work like a soldier, the confirmation for events can come anytime and he needs to be always ready.

He has been on his toes since September last year.

"I haven't had any rest, I didn't, I just couldn't, after the South Asian Games I was preparing for a championship in Qatar, but I couldn't go, because there are limited funds, and the federation is trying its best," said Talha.

He said that he is also waiting for better equipment to train on but at times he settles and believes that he can make the most of what he has got.

"I need international standard equipment, I have some, but I tell myself that I need to do my best with what I have. When I'll get to the International events I'll get to use better equipment there, the local government have promised to get me the equipment but I'm waiting.

"As athletes here, we get used to the equipment that we already have, we have to make do, because we need to," said Talha with optimism and patience that is incredibly wise for a 20-year-old.

He said that he wants to make sure he gets gold medals in every international event he competes at, while he wants to maintain his total of 304kg. He will have to gauge how much he needs to put up at the championships when he is there.

Wise for his years, Talha believes there is no room for selfishness when it comes to representing Pakistan.

"The event dictates it, I can't just say what my target would be, I'll have to see how others are lifting, but yes I want to top whatever the total is.

"I can't be selfish in this regard and I can't only think about bettering my record. If the highest total is let's say 265kg, I would want to put 266kg there. I can't push more because a lot of times that can back fire and one can lose. I would have to put my country first and I have to be smart," explained Talha.

But he added he wants to improve by five kilograms at least.

"I need those points and I want them with all my heart and there are expectations. I'm just hoping that by the time the qualification stages end, I'm there," said Talha.

The Pakistan Weightlifting Federation Secretary Amjad Amin Butt said that there are chances for Talha and Nooh Dastagir Butt to qualify for Olympics on their Sinclair score but the federation will need to wait till later, as the International Weightlifting Federation would announce the rankings.

"They can make it, and we are doing our best to send them at the events on our own. We are not getting any grant. The last time we got the funds was last year," said Amin.

The Pakistan Sports Board have not been releasing any funds for the camps either.

He confirmed that Talha is the key weightlifter, while Nooh will not be going to the International Solidarity Championship due to an injury.

"Talha is definitely going, I can confirm that, the rest we will see," said Amin.

Nooh confirmed that he is now targeting the Asian Championship and has to back out from Tashkent.


COMMENTS
Comments are moderated and generally will be posted if they are on-topic and not abusive.
For more information, please see our Comments FAQ