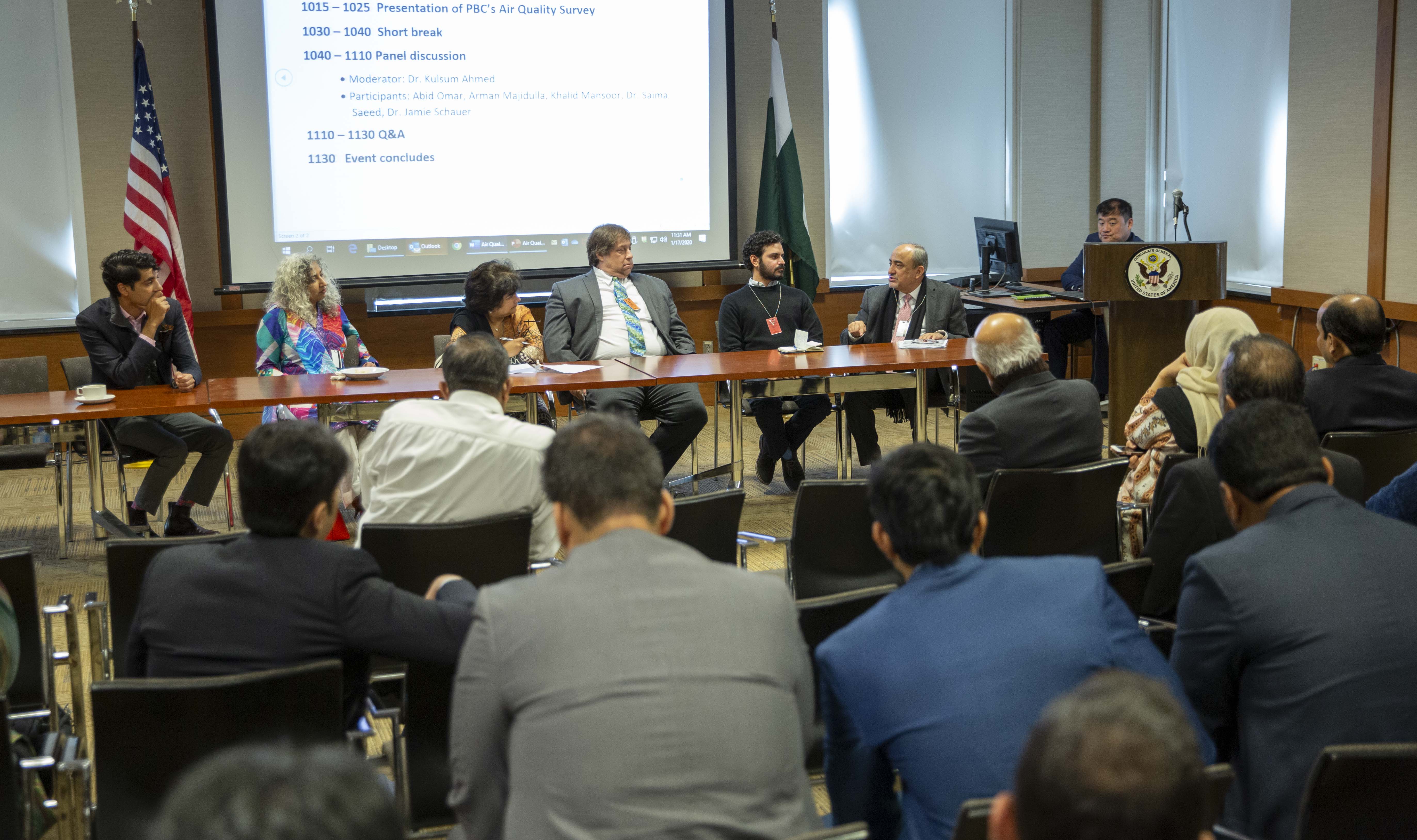 ---
KARACHI: Across the globe, air pollution is one of the biggest threats to the environment – something which indiscriminately affects everyone. Polluted air not only poses a serious risk to human health but it also has economic consequences.

To shed light on the topic, and specifically focus on Karachi's air quality along with the role that businesses can play to alleviate the problem, the Centre of Excellence in Responsible Business (CERB) – an outreach initiative of the Pakistan Business Council to build capacity and capability of businesses in Pakistan – recently conducted an event in collaboration with the US Consulate General in Karachi.

Entitled "Air Quality Monitoring: The Role of Industry," the event brought academics, environmental and climate experts, researchers and industry leaders under one roof to discuss the importance of air quality and its impact, the need for monitoring and ways in which different stakeholders can come together to resolve the issue.

The United States Consul General in Karachi Robert Silberstein and executive director of CERB Fuad Hashimi delivered keynote speeches to establish the main underlying theme of the event. The speeches were followed by an enlightening panel discussion, along with a question and answer session. Moderated by renowned international development, climate and environmental sustainability expert Dr Kulsum Ahmed, the panel included US State Department science envoy Dr James Schauer, chief executive officer of Hubco Khalid Mansoor, development sector researcher Arman Majidulla, consultant pulmonologist at the Indus Health Network Dr Saima Saeed and founder of Pakistan Air Quality Initiative Abid Omar.

A global problem

According to the World Health Organisation (WHO), nine out of ten people now breathe polluted air, which annually kills seven million people. The deaths, in turn, cost the global economy billions of dollars in lost labour.

While many countries of the world have significantly improved the quality of their air, for other nations, including Pakistan, there is still a long way to go as it does not actively monitor air quality.

Data compiled by the Global Alliance on Health and Pollution (GAHP) shows that in Pakistan, an estimated 128,000 people die each year from diseases related to air pollution.

What is air quality and why is it so important?

Air Quality is the degree to which air is suitable or clean enough for humans, animals and plants. It is impacted by the amount of particulate matter (PM2.5) it carries, which refers to tiny particles of copper, magnesium, lithium, nickel-cobalt, arsenic, selenium, and zinc, as well as complex gaseous aerosols. Being tiny, PM2.5 particles easily enter into the bloodstream and cause respiratory and cardiovascular diseases. Per CERB, in December 2018, Lahore, Islamabad and Karachi had Air Quality Index (AQI) levels of 336 (Hazardous), 159 (Unhealthy) and 141 (Unhealthy), proving to be an extremely unhealthy end for the year.

How can industries help?

One of the core purposes of the event was to discuss the role of industries and different businesses in mitigating the crisis of air pollution through sustainable solutions as part of their corporate social responsibility (CSR) initiatives.

Explaining the subject, executive director of CERB Fuad Hashimi spoke about his organisation's objective to assist businesses in Pakistan in pursuing long-term sustainability and value creation, with the mission to contribute towards inclusive social, environmental and economic development. He also thanked the US Consulate General in Karachi for supporting CERB's pursuit of environmental stewardship.

CERB's programme manager in environmental and sustainable development Farwah Shariff highlighted what Pakistani companies are currently doing in terms of air quality monitoring, adding that more and more senior-level managers are getting involved in the cause which is a promising trend. While appreciating businesses for seeking awareness about air pollution and air quality monitoring, the discussion also focused on areas where more work is needed.

Expounding on the role of industries in monitoring and controlling air pollution, CEO of Hubco Khalid Mansoor talked about corporate social responsibility and its need in today's world. Giving the example of Hubco, he clarified some misconceptions about pollution from power plants and explained how his company strictly carries out an environmental and social impact assessment in accordance with international standards.

Bringing everyone on the same page

Commenting on the discussion during the question and answer session, assistant manager ESG at Lakson Investments Ramesh Advani mentioned the CSR initiatives taken by Lakson Group and how it is playing the role of a front runner in bringing different companies together to meet the challenges of air pollution.

While generating profits, Lakson is aware of the sustainable management of its operation to increase economic growth and competitiveness while ensuring environmental protection and promoting social responsibility.

"Lakson is not only increasing its individual social responsibility by monitoring air quality but it is also the first company in Pakistan to invite other stakeholders to join the initiative," he said. "At present, Lakson is working with 17 companies under its umbrella to address the challenge of air pollution and looking for ways to resolve it in a scientific manner."

Some of the companies which are contributing to Lakson's one-of-a-kind initiative include McDonald's, Lakson Investments, Colgate-Palmolive Pakistan, Century Publications and Express Media Group, among others.

"Lakson has started this initiative so businesses can join hands and work together to mitigate the crisis," he said.

Collaboration is the key

One big take away from the event was the need for collaboration between different stakeholders to recognise the issue, join hands and do something about it. Wrapping up the event, Dr Kulsum Ahmed stressed on the need for public-private partnership and also cited the example of Lakson Group's initiative to bring everyone together to help mitigate the crisis of air pollution.

She said that there is a need for companies, scientists, non-governmental organisations (NGOs) and governments to come together and seek solutions to control air pollution, not only to improve people's health but also for an economically progressive Pakistan.