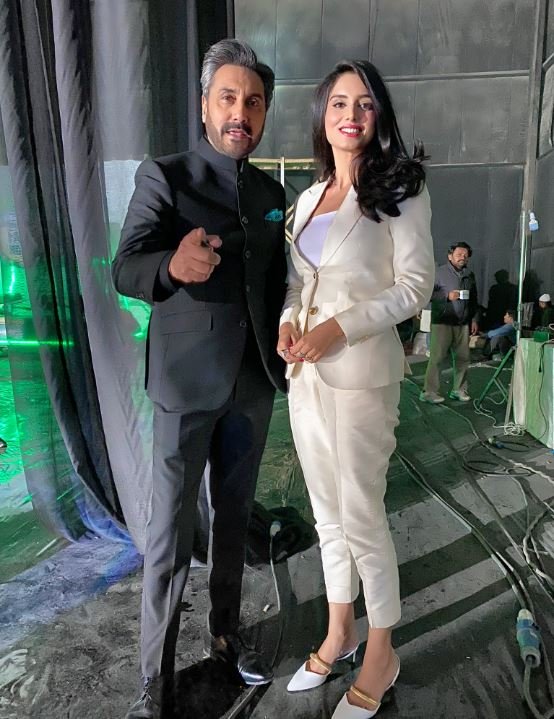 ---
Sports presenter Zainab Abbas is a fixture on our TV screens come PSL or any other major cricketing event. Now, Abbas is making waves way before PSL kicks off by posing with none other than the country's favourite bad boy, Adnan Siddiqui.

Playing Shehwar in Meray Paas Tum Ho, Siddiqui has gained considerable notoriety as a 'player' and 'womaniser'. So naturally, when Zainab posted a picture with him on Twitter people had a lot to say!


Today's shoot with Shehwar! He's all geared up for this year's PSL anddd the grand finale of #mpth pic.twitter.com/09fZSJ7XVS

— zainab abbas (@ZAbbasOfficial) January 18, 2020


People expressed worry about 'Shehwar' taking Zainab away, much like he did with Mehwish.


Ap ko na ura ly jay!

— SohailSafeer789 (@humayunafzal22) January 18, 2020


Some thought it was a moment of shame. We need a minute to figure this one out.

https://twitter.com/Fazalazmat1/status/1218373499384946688

One person seemed genuinely worried about Shehwar. With Maham as his wife, we can imagine.

https://twitter.com/BeingHuman51214/status/1218383613328269313

Does Zainab really look like Mehwish, or Ayeza for that matter? We don't see it.


You looks Mehwish

— Aftab Aslam (@aftab6264) January 18, 2020


Oh, he sure is one man that should be avoided. Shehwar, not Adnan...


Shahwar OMG 💀💀,, Very poor man is to be avoided.🤪😂😂😂😂😂

— Muhammad Irfan (@Muhamma47055720) January 18, 2020


With Mehwish out of the scene, one person thinks Zainab is all set to replace her. How about... No?


Looked like u r all set taking up mehwish role.

— Umair Malik (@MalikUmairRash1) January 18, 2020


This person's got it right.


Lol... be careful...
He's a trap... 🤭😆

— Saqib (@saqib_tweet) January 18, 2020


Here are some more tweets for your viewing pleasure so you can have a good laugh, much like us.


Be careful u also newly married 🤓😉

— Akmal (@AkmalBaig15) January 18, 2020
Nae nae shadi hui hai is kameeny sy door raho

— Gibeon Blackley (@GibeonBull) January 18, 2020
Matlab....
Ye ... Abhi insan ka bacha nhi bana... Danish ker gher berbad ker ke ab ye tumharey pechey he😜

— 99KKK99 (@kkk99_99) January 18, 2020
Mtlb ab ap b apny husbund sy divorce ly k shehwar k pass ruk jao gi 😜

— Danish Qureshi (@Daniraz0) January 18, 2020


One thing's for sure - with Meray Paas Tum Ho ending next Saturday, desi Twitter will be desperately in need of a new topic to talk about incessantly and we can't wait to see who bites the dust.

Have something to add to the story? Share it in the comments below