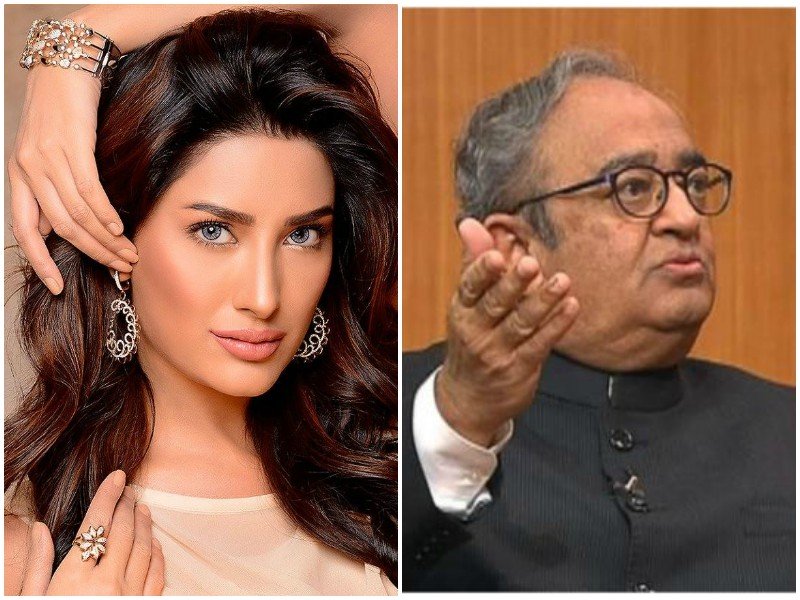 ---
A clip from Mehwish Hayat's film Load Wedding did rounds on Twitter after Tarek Fatah posted it as a real-life event. This led to the celebrity clapping back at Fatah.. like a boss!

The video is part of BTS from the film, showing the part where Hayat walks door to door distributing polio vaccine, in response to which a woman starts shouting at her.

"What is your problem?" the lady responds to the polio worker in the video, "I will not get my children vaccinated for polio, never! My children will get diarrhea after that and I do not have the money to go back and forth to the hospital. These drops are worth Rs 800 right? get me groceries worth that much instead."

https://twitter.com/TarekFatah/status/1217209562433871872

Fatah tweeted the video with the text, "Pakistani mother slams the door shut in the face of Polio workers. Screams at the two female volunteers."

Being shot from a phone on a rooftop with Hayat facing away from the camera, it is difficult to tell if it was a leaked video or something from the film's actual BTS. The voice of the actor is also not audible.

However, Hayat left no chances to school Fatah in getting his facts straight before commenting on a matter.


Thank u for giving ur 2 cents on this but pls first verify the source b4 posting next time. It's a scene frm my movie"loadwedding",the polio worker is me & that woman an actress.Through the film we were raising awareness of the issue.Glad 2 see our performances were so convincing https://t.co/ididoJJcxL

— Mehwish Hayat TI (@MehwishHayat) January 15, 2020


"Thank you for giving your two cents on the matter but please verify the source before posting next time," said Hayat as she pulled the verbal trigger. "This is a scene from my movie Load Wedding with me playing the polio worker and that woman being an actress," she continued.

"Through the film, we were raising awareness of the issue and I'm glad to see our performances were so convincing," concluded the star as she fired the verbal bullet.

Twitterati could not help but add to the thread, mocking the misjudgment further.


Hahaha tarek fatah has gone nuts.. he is actually posting the scene of a Pakistani movie.. I have watched that movie and it was the first Pakistani movie I watched like after ages .. u and fahad were brilliant and that guy who played aamir liaquat hussain was just outstanding 👏

— 𝓢𝓨𝓜 (@Silent_deserts) January 15, 2020
Tarek Fatah is total bad news. He is a hate monger. Claims he is from the left and then openly supports India's extreme right government in discrimination against Muslims. Sits on TV channels and espouses hate against the very religion he claims to belong to.

— Saleem Bikanerwala (@sbikanerwala) January 15, 2020
@MehwishHayat it seems Tarek Fatah is running out of bullets. He has always been a liar, but now getting more and more desperate..sign of last convulsions.

— roxana (@roxmiaen) January 15, 2020
OMG HAHAHAHAHAAHAHAHAHAHAAH I began watching the clip and I thought hey that looks familiar and then I saw your reply 😂😂😂😂

— Mahwash Ajaz 🇵🇰 (@mahwashajaz_) January 15, 2020
It is his destiny to be ridiculed wherever he goes :).

— Ahmed Nadeem (@Ahmed__Nadeem) January 15, 2020


https://twitter.com/NikhilJ27019624/status/1217306092620791809


Replying to @MehwishHayat
and @neeleshmisra
You think he doesn't know the reality of the video? He also knows anything he uploads as anti Pakistan or anti Islam bhakts will get easily fooled. He knows both the the reality of video and foolishness of bhakts

— KSHITIJ (@kshitijsaxena71) January 15, 2020
Have something to add to the story? Share it in the comments below.