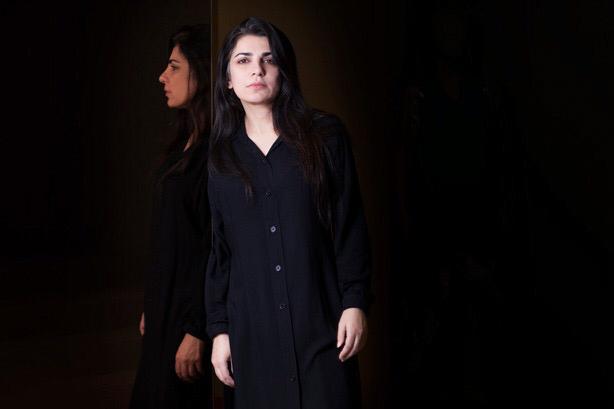 ---
KARACHI: Sonya Battla, a name so often heard in the realm of fashion but so little seen over the past decade. Battla knows the importance of a meaningful appearance and her prominence does not require her to be prominent all the time.

"I showcase when I have something to say, this year marks two decades of my presence in the industry – so I have a few surprises up my sleeve including a solo fashion show this year." Battla told The Express Tribune as she went onto reminisce her years in fashion. The designer talked about her inspirations, accomplishments, and how her presence made a notable change in the way fashion is perceived in Pakistan.

INNOVATIONS OVER THE DECADES 
PHOTO: Urdu Collection inspired by poetry from Late Ameer Khusro

"The industry has been kind and testing – when you start out you're only thinking about yourself and how to project your creativity.  But then commercialism sets in and you realise you need to sell. People have demands and in that moment, a designer either sells out, or makes an idea sell. I'm glad I managed to change certain demands." Battla started off with reflecting on the hard truth, admitting that she had to show flexibility as an artist and inventor, while confessing that she adhered to her ethos.

"I am proud to say that I have changed many things that weren't there when I entered the industry. I started off in 1998 and people would either wear really fitted shirts or a kurta, there was no in between. In 2011 my brand introduced a kurta intervention that we called the Irish. It later came to be known as the boyfriend cut. By 2015 it turned into a fashion norm. What was important to me was the compliment that my vision, something developed by my hand cut pattern, became largely accepted."




PHOTO: Humayun Saeed and Sohai Ali Abro as showstoppers at the Bridal Coutire Week 2016

Laughing at the plagiarism, the designer explained how time has made her more forgiving "You need to develop the acceptance that not everyone is meant to invent."

She recalled her first collection ever while talking about the change she brought. "It was a colonial collection that showcased the birth of Pakistan – inspired by Jinnah and the fight for Kashmir. The white and gold represented the golden goose that both the countries were chasing. So we imbibed the idea of incorporating stories into our designs."




PHOTO: AFP

"Our next collection was showcased in Mauritius in 2001 for Pakistan day. It was a coral collection and was quite well received. It showcased the sea and the sunsets while recalling how Karachi used to be, as opposed the crime scene it had turned into. My finale piece was a red organdy bridal outfit and instead of jewelry, I made the model wear an armor of steel," she continued. Denoting how women would hide their jewelry at that time out of the fear of being robed. "The design went onto to become the main image on The Telegraph," recalled Battla proudly.

INSPIRATIONS AND ETHOS

"My designs are for the independent woman. She's not someone who seeks approval – she has a mind of her own. So whether she is fierce, feminine or both, she knows what she wants," quoted Battla as she sifted through her neatly knitted outfits that had a serious and bold outlook..

"Like an artist, I use the body as my canvas. Before designing I start with a few questions," noted the designer "Why am I doing this? How is it satisfying something that needs to be said inside of me? It's the basic distinction between a commercial designer and a designer with core principals," she remarked.




PHOTO: (2018) Block print, Kashmiri inspired article

"For a lot of consumers clothes are also just about dressing instead of being a reflection of their inner self. That's why I stay shy of heavy embroidery because when there's so much on top you, your feelings will not be projected," she opined.

"Allah has created a body with both a negative and a positive space, it's not straight – after the head you have a neck, after the neck you have the clavicles, which are the most beautiful part of a person. You also keep that shape in mind when you're designing a neck of an outfit, you need to look at the core things in order to determine what you want to enhance in that person."




PHOTO: Bridal Asiz hand worked gota on a classic bridal

While explaining what her designs had that other didn't, Battla said that she likes to enhance what others loves about themselves in their body. "My ethos is built around the body, and it's because sculpting was one of my favourite subjects as a child. You could design around the body, the cut away space such as the spaces between your elbows and hands; everything could be enhanced in a very beautiful way, or even ruined."

She then revealed another inspiration that came from a childhood activity, "Another thing that inspires my designs is dance, due to the particular style of dancing in our culture we wear ghagras. But abroad, where dancing is slower, women wear stiffer ball gowns, where their movements are limited. So dance, whether you like it or not is a very big influence.  I'm a dancer myself," rejoiced the otherwise serious artist.

SPECIALITIES

"When I went to study fashion abroad, my teachers instantly detected I was really good at draping, and so she honed that skill of mine. Draping allows the fabric to fall with the body, and then you can add yards of fabric to create movement," claimed Battla as she remarked her deisgns excelled when it came to comfort and movement.




Sonya Battla's showcase at Amsterdam International Fashion Week. A hand carfted pieces inspired by bandni (tie-dye) draped in a modern jacket silhouette

"My teacher used to work for Paul Smith so she had extensive experience in the industry, yet she would love my draping in particular."

Battla emphasised on how clothes did not need to heavily embroidered for them to look pretty, nor did they require to be stiff and uptight. "I like to cut my arm holes bigger, that's also because it allows more movement. A lot of people have copied that as well but they won't say it. I understand the relationship of the body with the dress, so that's what I work with."




PHOTO: Mawra Hocane in a signature organza cut SB jacket



But when it came to embroideries at all, the designer noted that she was a sucker for Kashmiri embroidery and also took inspiration from 1800 french garments. "We specialize in fusing these parallels, constructing something completely different. Even that jacket over there has Kashmiri embroidery patterns. We also work with block prints and Rajasthani designs," concluded Battla.

Have something to add to t he story? Share it in the comments below.
COMMENTS
Comments are moderated and generally will be posted if they are on-topic and not abusive.
For more information, please see our Comments FAQ