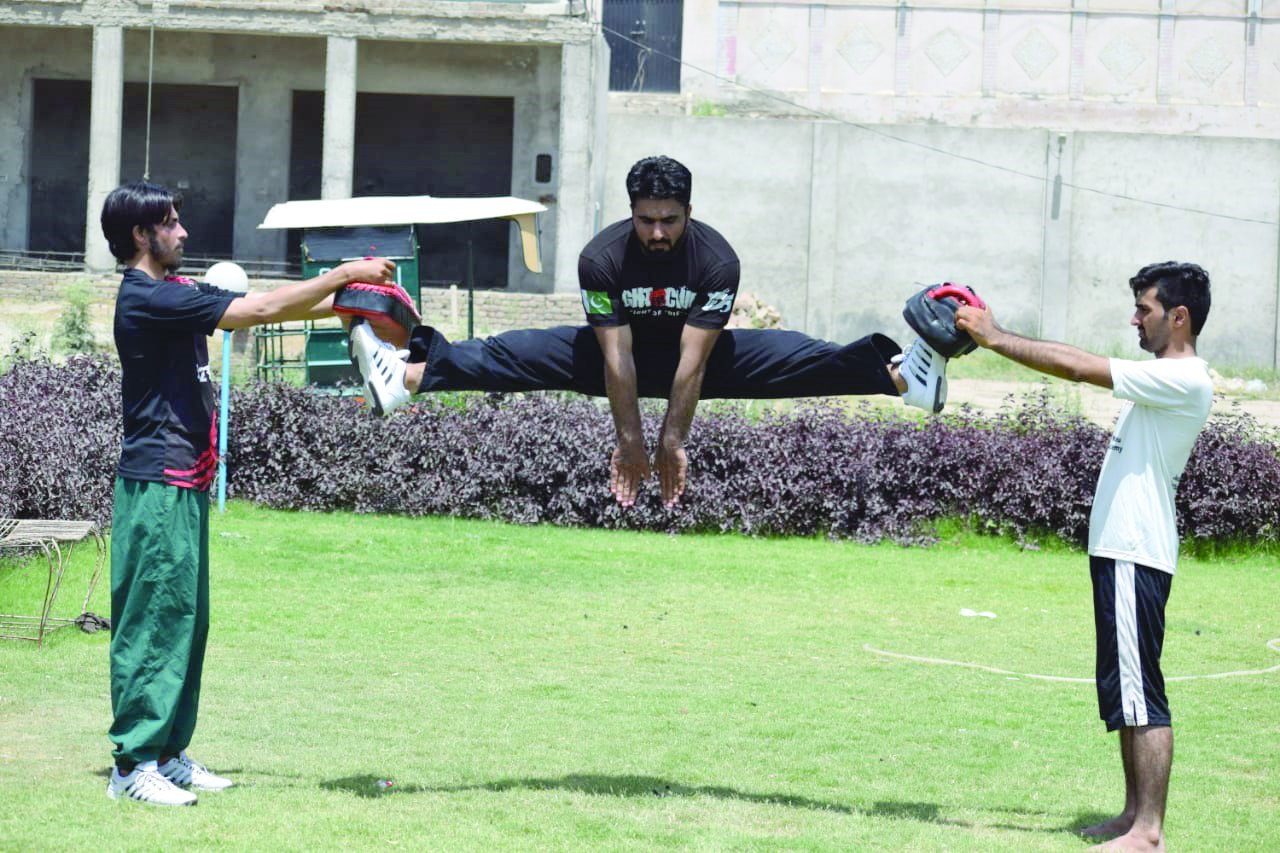 ---
PESHAWAR: Pakistan's long struggle with terrorism may have had a devastating impact on infrastructure in the former tribal areas, but one thing the scourge could not extinguish was its resilient residents' love for the sport. Despite losing invaluable training and sports facilities, talented athletes from the once federally administered tribal belt have strived day and night to hone their abilities driven only by pure passion.

On such athlete is 30-year-old South Waziristan resident Irfan Mehsud who has taken it upon himself to dominate the record books. With some 25 world records to his name in the Guinness Book of World Records, the practitioner of gymnastics and martial arts now runs a club to train youngsters from the newly-merged district into a generation of world record beaters.

Irfan set his first record in 2016 by performing 87 knee strikes in one minute. He set his latest one just last year, by performing 48 push-ups on one foot in a minute while weighing himself down with 60 kilogrammes, breaking the previous record by Indian national Ishwani Kumar.




"I developed an interest in martial arts and gymnastics in 2005, shortly after I had passed matriculation," Irfan told The Express Tribune. "I started practising gymnastics, callisthenics and knee strikes at home, and would do so day and night."

Lawlessness and extremism in South Waziristan forced Irfan and his family to migrate to Dera Ismail Khan. But instead of letting the move hold him back, the youth opened up a club in the district with the aim of teaching other displaced youngsters about physical fitness. Once peace was restored to his native district, he moved back along with his club.

"Since 2016, I have trained more than 400 children from the tribal areas, many of whom have gone on to win plaudits at the domestic and international levels," he said beaming with pride.

A nine-year-old student of his, Rizwan, who also hails from South Waziristan, set a world record himself by performing 30 helicopter spins in 30 seconds. His name too rests in the Guinness Book of World Records.

"We are highly motivated and want to promote Pakistan on the world stage," said Rizwan. "I go to the club every day after school to enhance my skills, but we would do so much better if we had more equipment and resources. At present, we can only practice in the small ground of a private school in the evening."

The youngster lamented that the government had not stepped in to support the South Waziristan Children's Club which had already made a name for the country despite modest facilities. "If we were provided with a proper gymnastics training facility, we could secure even more prestigious titles for Pakistan," he said.

The South Waziristan Children's Club currently hosts 46 children and young adults, providing them with physical training and advice on practising gymnastics and martial arts. "If the government will provide us with a building or proper space, dozens of children from this region will win accolades for the country in many physical disciplines," said Irfan, who at present, runs the club single-handedly.

When contacted, Khyber-Pakthunkhwa Sports Minister Atif Khan said the provincial government is paying special attention to sports in the tribal districts. "We have allocated Rs2.16 billion for sports projects in the province in this year's budget and plan to build as many as 1,000 stadiums, both big and small," he said. "Rs8 billion have also been approved to promote sports in the former tribal areas and this money will be used to provide the region's residents world-class facilities."

Published in The Express Tribune, January 13th, 2020.