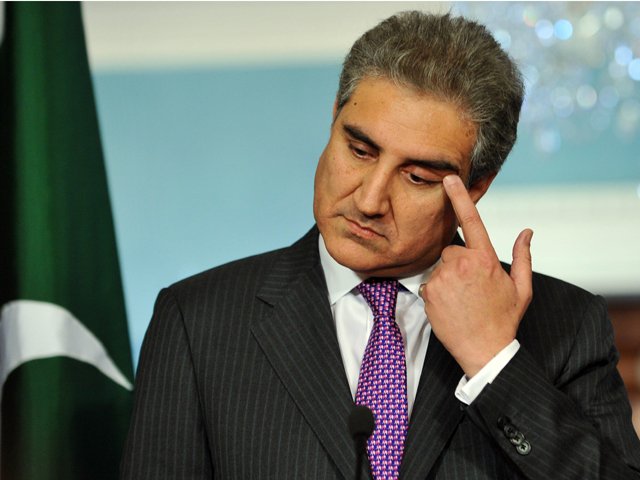 ---
Foreign Minister Shah Mehmood Qureshi is on a three-nation tour including Iran, Saudi Arabia and the United States as part of Pakistan's diplomatic initiative to seek de-escalation in tensions in the Middle East. He has been undertaking these visits on the direction of Prime Minister Imran Khan, who wants to contribute for peace in the volatile region. But questions are being asked as to whether Pakistan should take such initiatives on its own given the fact that concerned countries including Saudi Arabia and Iran have not asked us for any such role. This fact was admitted by the Foreign Office spokesperson at a weekly news briefing. No one is questioning the intentions of Pakistan, seeking rapprochement in the Middle East. But the point is: should Pakistan utilise its energies on external front when so much is at stake at home? There is no doubt that Pakistan has in recent years been trying to stay neutral as far as Iran-Saudi conflict is concerned. But can Pakistan get rid of its baggage?

If anything we can learn about neutrality, Oman is a perfect example. Sultan Qaboos of Oman, who passed away on Sunday, had shown us how to stay neutral. Sultan Qaboos was the longest serving Arab ruler. He took over the reins of power in 1970 by staging a coup against his father with the help of Britain. His father was ultra conservative and Oman remained an impoverished country under his rule. But under Sultan Qaboos, there was a dramatic shift in the outlook of Oman. Using oil wealth, he drew the country to the modern world and brought prosperity to his people. But the secret of his success was that he kept Oman completely away from regional conflicts in the volatile Persian Gulf region. That unique aspect positioned Oman to play the role of an honest mediator. Sultan Qaboos was credited with initiating secret talks between Iran and the US in 2013 that eventually culminated into a landmark deal in 2015. Not just that Oman was also mediating between Iran and Saudi Arabia on the Yemen conflict. But Muscat has done all this in a manner that hardly anyone noticed nor has it boasted about its role. That was the reason glowing tributes were paid to Sultan Qaboos from the world over because of his country's neutrality and uplifting of its people.

It is true that Oman may not be facing the kind of internal and external challenges that Pakistan does. But our leaders can take a leaf out of his book. His strategy was simple: stay out of regional conflicts and focus on developments at home. Pakistan lagged behind because of its past follies. Be it the decision to join the US-led campaign against former Soviet Union in 1979 or changing course after the 9/11 attacks, all such misadventures we committed to for short-term gains have caused irreparable damage to us. In many instances we compromised on our interests to help others.

It is ironic that when Foreign Minister Shah Mehmood Qureshi was undertaking a tour to regional countries, the Indian army chief threatened to use force to annex Azad Jammu and Kashmir. Wasn't it appropriate for our government to focus on the Kashmir dispute and the Indian belligerence? It is a noble cause to seek peace in the Middle East but has any Muslim country ever come forward and volunteer itself for seeking mediation between Pakistan and India on Kashmir?

The idea of seeking peace between the Muslim countries may sell well domestically but the truth remains that such an approach cannot pay dividends if you sidestep your own priorities.

Published in The Express Tribune, January 13th, 2020.

Like Opinion & Editorial on Facebook, follow @ETOpEd on Twitter to receive all updates on all our daily pieces.

 
COMMENTS (1)
Comments are moderated and generally will be posted if they are on-topic and not abusive.
For more information, please see our Comments FAQ