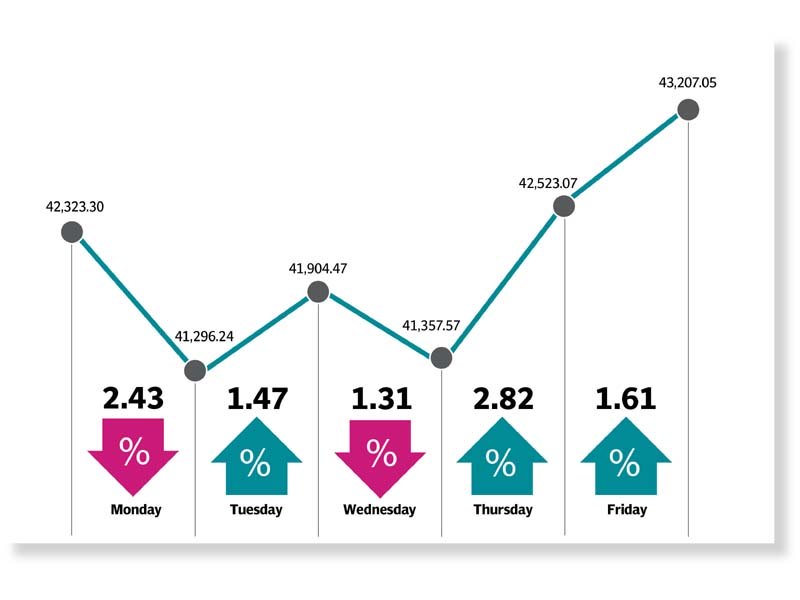 ---
KARACHI:

A highly volatile week at the Pakistan Stock Exchange ended on an upbeat note as the market managed to breach the 17-month high level of 43,000 to finish 884 points or 2.1% up to close at 43,207 points.

In a rather unexpected development, the US killed top Iranian military commander Qassem Soleimani in a drone strike in Baghdad. This triggered a sell-off in global equity markets, the impact of which was also felt at the local bourse. Additionally, relative calm at the domestic front and improvement in trade data helped the index make a decent recovery into the green zone.

In the wake of heightened global tensions, the week kicked-off trading on a negative note as the KSE-100 index dived over 1,000 points amid panic selling by investors.  Tuesday provided a respite from the rampant selling pressure as strong economic data helped turn the tide. A robust recovery in global equities due to less reaction to US-Iran tensions also helped improve matters. On the domestic front, political unity that helped in the smooth sailing of the Army (Amendment) Bill 2020 also supported the rally.

Unfortunately, the uptrend in the market could not be sustained as the index bears staged a comeback on Wednesday. In retaliation to the US killing a top Iranian commander, Iran launched missiles at US-led forces in Iraq. The fresh development once again stoked fears of a new Middle East war, sending investors in to a panic frenzy. However, tweets by US President Donald Trump and Iran's foreign minister, later in the day, appeared to signal a period of calm.

Despite a surge in global oil prices during the day, the oil and gas chain bore the brunt of the war hysteria as stock prices went down In line with the tumultuous ride, Thursday witnessed a sharp gain of 1,165.5 points on back of improved investor confidence. US President Donald Trump's speech hinted at de-escalation of tensions, which greatly soothed fears of another war.   Moreover, yields of Pakistan Investment Bonds (PIBs) fell 10 basis points, which also bolstered investor sentiment as they expected a reduction in the key policy rate in the next monetary policy announcement.

The rally continued on the last trading day of the week, in line with expectations. Analysts anticipated the index would resume its advance following de-escalation of tensions between Iran and the US. Washington expressed its intention to enter into serious negotiations with Tehran in a bid to bring an end to the looming tensions.

Participation picked up slightly as volumes increased 8% in the outgoing week to settle at 303 million shares, while average value traded was up 13% to clock-in at $78 million.

In terms of sectors, positive contributions came from commercial banks (403 points), oil & gas exploration companies (178 points), fertiliser (111 points), power generation (86 points), and cement (77 points). On the other hand, automobile assemblers (44) were among the sectors that dragged the index lower. Extension in plant shut downs and price increase announcement in the ongoing sluggish demand kept auto sector in the red.

Scrip-wise, HUBC (105 points), HBL (95 points), PPL (88 points), LUCK (87 points) and UBL (73 points) helped the index advance. Foreign buying was witnessed this week clocking-in at $7 million compared to a net sell of $7.3 million last week. Buying was witnessed in fertiliser ($5.9 million) and E&Ps ($1.8 million). On the domestic front, major selling was reported by mutual funds ($5.9 million) and individuals ($4.0 million).

Among other major news was; Pakistan moved US court to stop over $6 billion fine in Reko Diq case, govt expects economic recovery by end of FY2020, Pakistan to seek reduction in cost of gas import under TAPI project, public debt inched up 1.08% to Rs32.1 trillion in July-Nov. 

Published in The Express Tribune, January 12th, 2020.

Like Business on Facebook, follow @TribuneBiz on Twitter to stay informed and join in the conversation.