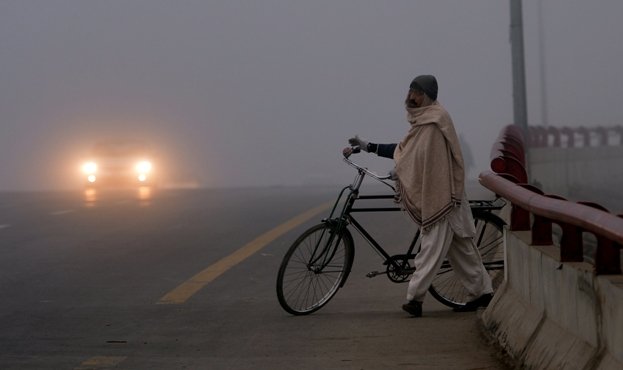 ---
ISLAMABAD: Advisor to the Prime Minister on Climate Change Malik Amin Aslam on Wednesday explained that the federal capital is currently afflicted with dense fog, not smog, severely reducing visibility in the city affecting vehicular traffic and even flights.

Speaking to the media outside Parliament House on Wednesday, Aslam said that a record decline in temperatures across the country has been recorded. He added that the smog mostly exists during October and November.

He added that the quality of air in the city was not hazardous.

In response to a question, Amin said they were setting up nurseries under the 10 Billion Tree Tsunami (TBTT) project after funding was released to the provinces. The project, he hoped, would help generate millions of jobs across the country.

"The 10 Billion Tree Tsunami project will help generate the decayed plantation in national parks such as Changa Manga, and some areas in Pattoki and other places across the country," he said.

He said that Pakistan is the only country in the world which has seen its mangroves population increase and the government is planning to plant a billion mangroves under TBTT, adding that the plantation drive is expected to commence in this month.

The climate change adviser further said that 2020 will be the year of development and economic revival as all the initiatives and reforms of the government would bear fruit.

Explaining the hike in prices of petroleum goods such as petrol and diesel on new years, Aslam explained that the increase was allowed in line with the global rise in crude oil prices.

NAB Bill

Referring to the opposition's resistance against the National Accountability Bureau (NAB) Ordinance Amendment Bill, he said the opposition's disagreement was incomprehensible.

"The opposition has been raising its voice for amendments in the NAB Ordinance but now they are opposing it. They want to defend the looters of public money and this will not happen," he said.

Ministry of Inter-Provincial Coordination Parliamentary Secretary Syma Nadeem said that the major challenge and goal of the government is to relieve the country from the huge debts taken by past regimes which entrap it.

Welfare projects such as the Kamyab Jawan Programme, the Naya Pakistan Housing Scheme, Health Insurance Card and others will facilitate the poor masses in times of inflation and economic crunch.

Rejecting the claims of the government, Senator Abdul Rehman Malik, while speaking to the media said economic development with over 30.9 per cent inflation, low growth and increased debt was not possible.

Published in The Express Tribune, January 2nd, 2020.