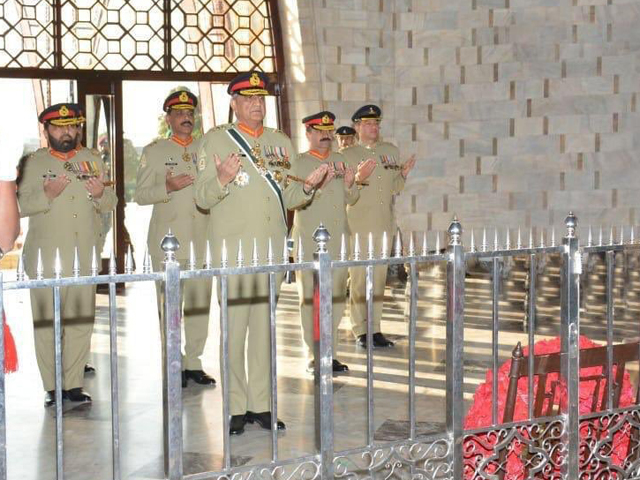 ---
KARACHI: Amid systematic marginalisation of Muslims in the Narendra Modi-ruled India, army chief Gen Qamar Javed Bajwa has said that the Quaid-i-Azam's vision about creation of Pakistan based on the 'Two-Nation Theory' has been vindicated.

"Quaid's vision about creation of Pakistan based on Two-Nation Theory is an even more acknowledged reality today," Gen Qamar said while speaking at the Quaid's mausoleum in Karachi on Wednesday. He visited Mazar-e-Quaid to pay homage to the father of the nation on his 144th birthday.

"We can't thank him enough for having got us Pakistan. Even in most difficult times, all Pakistanis, including minorities, have come together without compromise on respective identity," the army chief said.

"His [Quaid's] vision will always guide the way for us to take Pakistan ahead following principles of faith, unity and discipline," he added.


"Even in most difficult times, all Pakistanis including minorities have come together without compromise on respective identity. His vision will always guide the way for us to take Pakistan ahead following principles of Faith, Unity and Discipline", COAS. (2/2). pic.twitter.com/lJfIW6g6bx

— DG ISPR (@OfficialDGISPR) December 25, 2019


Quaid-i-Azam Muhammad Ali Jinnah, who was an advocate of Hindu-Muslim unity before his disillusionment with the Indian Congress attitude, was not the first to articulate the Two-Nation Theory, but with the creation of Pakistan he transformed it into a political reality.

"Hindus and Muslims belong to two different religious philosophies, social customs and literary traditions. They neither intermarry nor eat together, and indeed they belong to two different civilisations which are based mainly on conflicting ideas and conceptions," he said in a seminal speech at Lahore in 1940 setting out the need for a separate state for Muslims on the subcontinent.

Though the Congress party asserted its secular values, many Muslims were sceptical and feared that the Hindu majority would seek to marginalise them.

The fears are now coming true under the rule of Prime Minister Narendra Modi who has launched a systematic campaign to marginalise religious minorities – Muslims in particular – and to turn India into a Hindu state.

The minorities and liberals are growing increasingly uneasy with Modi's Hindu agenda, which appears to have gained emphasis since his re-election in May. Religiously motivated lynching of Muslims by Hindu cow vigilantes have spiked under Modi's regime.

Prime Minister Imran Khan has repeatedly warned the international community that India has been captured, as Germany had been captured by Nazis, by a fascist, racist Hindu supremacist ideology and leadership which was a threat not only to Pakistan but to the minorities in India and in fact the very fabric of Nehru and Gandhi's India.

PM warns world against India's sinister plans

"One can simply Google to understand the link between the Nazi ideology and ethnic cleansing and genocide ideology of the RSS-BJP [Rashtriya Swayamsevak Sangh-Bharatiya Janata Party] founding fathers," he wrote in a tweet before adding that Muslims in India face oppression and discrimination.

As part of BJP's agenda to marginalise Muslims, the Modi government has passed the Citizenship Amendment Act which offers amnesty to non-Muslim illegal immigrants from Pakistan, Bangladesh and Afghanistan.

The highly divisive and controversial law has triggered widespread protests in numerous Indian cities in which dozens of people have been killed thus far with no signs of abating.

Protesters say the law will be followed by a national register, which they fear is designed by the Hindu-nationalist government to expel Muslims who do not have sufficient citizenship documentation.

The citizenship law comes after a November Indian Supreme Court decision that handed Hindu groups control of a contested site where the 16th-century Babri Masjid was razed by Hindu zealots in 1992, paving the way for the construction of a temple there, as long promised by the BJP.

That followed a government decision in August to strip Muslim-majority Jammu and Kashmir state of its special status in what the government said was a bid to integrate the restive region with the rest of India.