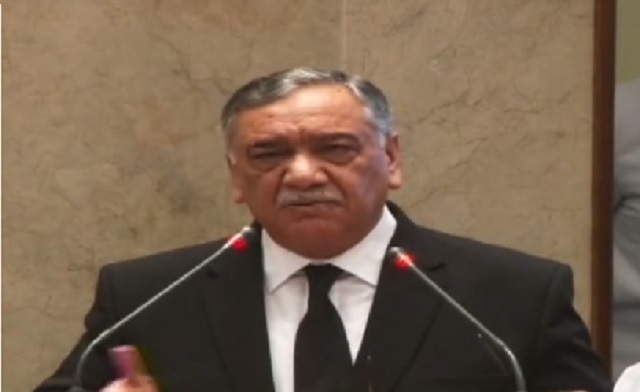 ---
ISLAMABAD: As the nation commemorated the fifth anniversary of the bloody APS rampage, Pakistan's top judge has lamented the failure of successive governments to implement the National Action Plan (NAP) which had been devised as a concerted national strategy to wipe out terrorism.

"December 16 reminds us of two unfortunate incidents: the fall of Dhaka and the attack on Army Public School in Peshawar. Both incidents have taught us profound lessons," said Chief Justice Asif Saeed Khosa, who is retiring on the 20th of this month, while speaking at a farewell lunch hosted by the Police Reforms Committee of the Law and Justice Commission at the National Police Academy on Monday.

The outgoing judge explained how the separation of former East Pakistan has underscored the importance of the state honouring its social contract with its citizens. "That contract is broken when the state starts ignoring the fundamental rights of its citizens. This is what had happened when Bangladesh came into being," he added.

"A mechanism to keep the social contract intact is provided in the Constitution: the rule of law. That is why it is imperative for the state to ensure its citizens have the fundamental rights guaranteed to them in the Constitution," Justice Khosa said.

"Unfortunately, a perception has been created in Pakistan that the police infringe on the rights of citizens rather than protecting them," the chief justice said while regretting that the governments could not introduce the much-needed police reforms as envisaged in the National Action Plan (NAP).

Speaking at the lunch, CJP-designate Justice Gulzar Ahmad promised to continue the mission of his successor to improve Pakistan's judicial and police systems. "It is unfortunate to hear people say the police institution has become redundant. I believe they should have the capacity to provide security," he added.

On the APS carnage, Justice Khosa said it had shocked the nation and forced Pakistan to "reconsider our approach to deal with terrorism". "We said enough is enough. The National Action Plan was formulated and the entire nation backed it," he said.

"While the judiciary has taken a number of steps to implement NAP, nothing significant has been done by the government in this regard," he regretted.

The 20-point National Action Plan has been chalked out by the National Counter Terrorism Authority, an administrative entity under the interior ministry, in consultation with all stakeholders and approved by parliament on December 24, 2014 to counter terrorism and extremism.

The NAP spelled out the specifics for the counter-terrorism drive in the country. Monitoring committees were formed at the federal and provincial levels to oversee NAP implementation. However, NAP implementation has come to a grinding halt over the past few years following a dip in terrorism incidents in the country.



According to the NACTA website, the 20 agenda items of NAP 2014 are:


Implementation of death sentence of those convicted in cases of terrorism.


Special trial courts under the supervision of Army. The duration of these courts would be two years.


Militant outfits and armed gangs will not be allowed to operate in the country.


NACTA, the anti-terrorism institution will be strengthened.


Strict action against the literature, newspapers and magazines promoting hatred, extremism, sectarianism and intolerance.


Choking financing for terrorist and terrorist organizations.


Ensuring against re-emergence of proscribed organizations.


Establishing and deploying a dedicated counter-terrorism force.


Taking effective steps against religious persecution.


Registration and regulation of religious seminaries.


Ban on glorification of terrorists and terrorist organizations through print and electronic media.


Administrative and development reforms in FATA with immediate focus on repatriation of IDPs.


Communication network of terrorists will be dismantled completely.


Measures against abuse of internet and social media for terrorism.


 Zero tolerance for militancy in Punjab.


 Ongoing operation in Karachi will be taken to its logical end.


Balochistan government to be fully empowered for political reconciliation with complete ownership by all stakeholders.


Dealing firmly with sectarian terrorists.


Formulation of a comprehensive policy to deal with the issue of Afghan refugees, beginning with registration of all refugees.


Revamping and reforming the criminal justice system