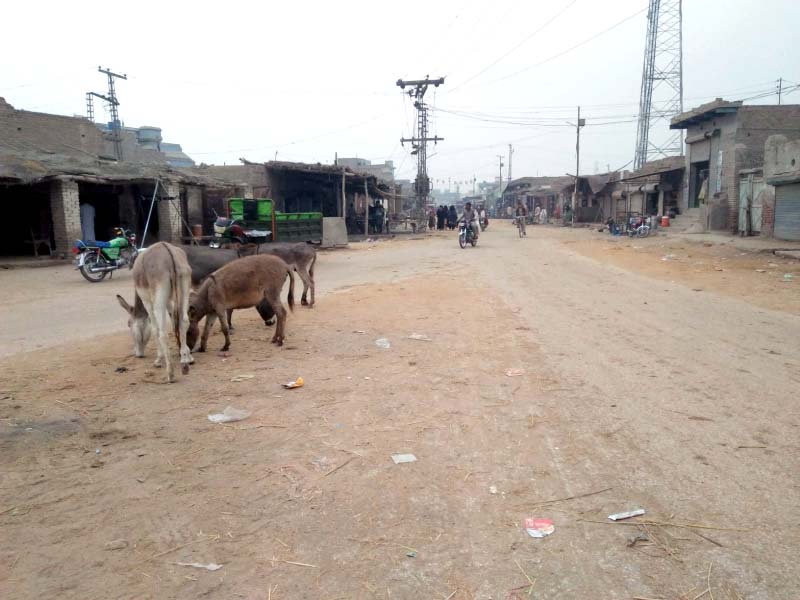 ---
RATO DERO: What do you expect to see when you visit a town in the stronghold of Sindh's ruling party, in the very constituency of the Pakistan Peoples Party (PPP) chairperson? Probably not what greets you in Rato Dero, the second largest city in PPP's bastion of Larkana and a stone's throw away from Garhi Khuda Bakhsk, where the Bhutto family's mausoleum lies.

Perhaps it can be said that Rato Dero is a perfect encapsulation of development in Sindh, capturing the governance, infrastructure and lack of interest of the public representatives of the province.

Huge posters of PPP leaders such as chairperson Bilawal Bhutto Zardari and MPA Faryal Talpur adorn electricity poles and shops across the town. Slogans of 'Jeay Bhutto' (Long Live Bhutto) and 'Bhutto Zinda Hai' (Bhutto Lives) are scrawled on the rough plaster of walls everywhere you look, visible evidence of the town's attachment to the party that has been winning seats here since its formation.

HIV patients in Ratodero suffer from lack of test, treatment facilities

Though towns like Rato Dero, which has a population of around 0.33 million people, were not developed with a structured plan in mind, it appears that the government has never thought of adapting them to the growing needs of their people.

In Rato Dero, the roads are not just ill-maintained; the unpaved paths are barely worthy of being called roads. Unencumbered encroachments by shops make it even more difficult for vehicles to pass through. Open sewers line the streets, full of filth flooding over onto the pathways that is ignored by the sweepers. By now, the residents here don't really smell the stench anymore.

The only water filtration plant in the town doesn't function. Half a dozen taps are mounted on one of its walls, looking like they haven't been used by the public in ages. In front of the plant, there are two electricity poles with two feeders hanging six feet above the ground, posing a constant threat to passersby.

Nearby is the Muhtarma Benazir Bhutto Park, a small park that is the only means of recreation the people of Rato Dero can name. It boasts a broken foundation, rusty swing sets and street lamps without any bulbs. Few families are tempted to bring their children there to play.

Talking to The Express Tribune, citizens complained that Rato Dero lacks all basic facilities. "There is no sweeping or cleaning. There are piles of garbage, overflowing sewers and no water supply - that is our identity," bemoaned Anis ur Rehman Junejo, a shopkeeper and social activist. "We don't even have any underground sweet water left."

Junejo mentioned that the PPP had established a water supply scheme a couple of years ago. But, he added, its pipes burst on the day it was inaugurated.

"Look at Rato Dero and imagine the rest of Sindh!" he exclaimed. "Our town is still a bit more developed than others in the district."

No budget, no scheme

"There are no schemes for my town," said Ghulam Mustafa Ghanghro, the municipal committee chairman of the town. "I don't have enough money to launch any new schemes," he maintained, adding that Rato Dero had an annual budget of Rs15.1 million. He revealed that not a single mega-project had been announced by the PPP leadership.

"Yes, the city has no proper infrastructure. The water supply scheme was constructed very far away from the main town so it did not work properly," he told The Express Tribune. The 71-year-old chairman said that he understood the basic issues the citizens have been facing, promising to build roads in Rato Dero soon.

HIV outbreak sparks panic in Larkana's Ratodero

Abdul Hadi, a citizen, said that they had never asked the authorities to rebuild the town in the image of modern cities, but he added that Rato Dero would look very different if its elected representatives took a personal interest in its development.

"About 20 water tanks were built here 25 days before the general elections, painted red, black and green," he explained, referring to the colours of the PPP party flag. The tanks never functioned.

However, Hadi still believed that the leadership he had always supported was not responsible for the lack of development across the province. "It's the inefficient bureaucracy that does not know their work well," he maintained. "The situation will never improve until and unless our institutions have capable officials." 

Published in The Express Tribune, December 15th, 2019.
COMMENTS
Comments are moderated and generally will be posted if they are on-topic and not abusive.
For more information, please see our Comments FAQ