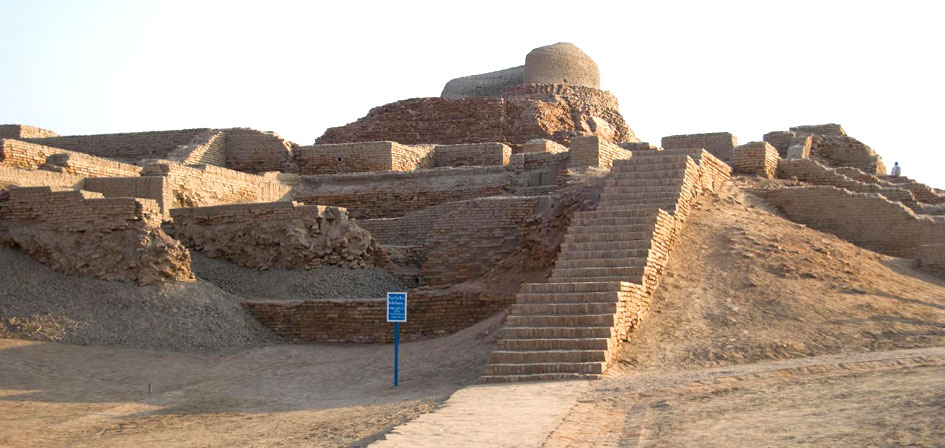 ---
KARACHI: In an alternative universe, Mohenjo Daro could have been to us what the pyramids of Giza are to Egypt. In both historical importance and as a sightseeing attraction, the remains of the ancient city believed to be the hub of the Indus Valley Civilisation rival any other wonder of the world.

Official neglect, insufficient preservation measures and lack of tourism infrastructure have long kept the Bronze Age remains from being tapped to their full potential. Other activities around the ancient site, such as the ill-advised 2014 Sindh Festival, have caused more harm than good in the name of preservation.

In a further blow to any hope of developing Mohenjo Daro into a historic tourism attraction, Pakistan's national flag carrier has now suspended commercial flight operations to its airport, leaving both local and foreign visitors struggling to reach the 5,000-year-old heritage site.

There was once a time when Mohenjo Daro Airport was the third busiest in Sindh. According to the Civil Aviation Authority (CAA) website, it was inaugurated in 1967 during the tenure of then president Ayub Khan and upgraded in 1973 by Zulfikar Ali Bhutto's government. Acknowledging the ancient city's anthropological and historical significance, the United Nations Educational, Scientific and Cultural Organisation (UNESCO) designated it a World Heritage Site in 1980, drawing tourists and researchers from around the world.

Rs251m allocated for revival of Multan's heritage

Late last year, however, Pakistan International Airlines (PIA) stopped flight operations to Mohenjo Daro Airport citing a drop in the number of passengers. "PIA has suspended flights for all non-viable airports in the country, including Mohenjo Daro, under its drive to minimise losses which the national carrier has been incurring," PIA spokesperson Abdullah Khan told The Express Tribune while justifying the move.

"Mohenjo Daro-bound flights had no regular passengers. It was only occasional tourists who were using the airport," he insisted, dispelling the notion the suspension of commercial flights had any partisan interests whatsoever.

Although official records support the PIA spokesperson's explanation, locals hold the national carrier's staff responsible for deliberately minimising the number of passengers on Mohenjo Daro bound flights. "PIA staff had intentionally stopped booking tickets for Mohenjo Daro airport only to encourage passengers to rather use the Sukkur airport," alleged Sandeep Kumar, a businessman from Larkana.

Addressing the PIA spokesperson's claims, local archeologist and writer Abdul Haq Pirzado was of the opinion that unlike other airports, Mohenjo Daro cannot be judged on a commercial basis. "It is not an entirely commercial airport to begin with; the establishment of an airport at a historical site like Mohenjo Daro was meant to promote its ancient heritage," he remarked.

People had witnessed three to four PIA flights daily arriving at Mohenjo Daro Airport during former premier Benazir Bhutto's tenure. Though the number of flights was later reduced, daily flight operations still continued during the Pakistan Peoples Party's (PPP) tenure from 2008 to 2013. The PIA authorities later reduced its flights to twice a week during Nawaz Sharif's tenure, and finally stopped its flight operations completely in December 2018.

According to Pirzado, there is a common impression among the people of Larkana that the federal government has suspended flights operation at the Mohenjo Daro airport as part of a political rivalry against the PPP. Talking to The Express Tribune, Pirzado requested the PIA authorities to reconsider their decision to close down the airport. "A fully functional airport is needed at Mohenjo Daro, considering the archeological site is still under study and being actively researched upon," he added.

Preserving heritage: Govt planning to establish Sindh Museum in Karachi

One of the largest settlements of the Indus Valley Civilisation, Mohenjo Daro is believed to have been built around 2500 BCE, the peak of the historical period known as the Bronze Age. One of the world's earliest major cities, it was a contemporary to the great civilisations of ancient Egypt and Mesopotamia.

Mohenjo Daro was believed to have been abandoned somewhere in 19th century BCE as the Indus Valley Civilisation declined and was not rediscovered until the 1920s.

Significant excavation work was carried out in the subsequent decades until all such activities were banned in 1965 due to significant weathering damage to exposed ancient structures.

Further research resumed in the 1980s using less invasive archaeological techniques.  In addition to neglect from authorities and improper restoration, the site is also under threat from soil erosion.

Published in The Express Tribune, December 14th, 2019.