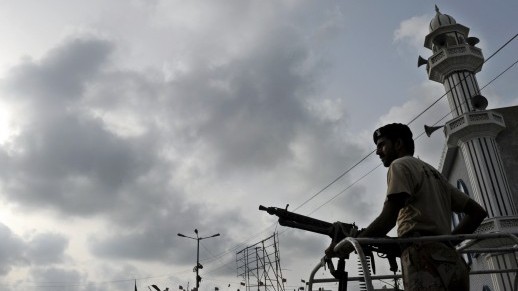 ---
The death of Nabeel Hoodbhoy, a resident of Karachi, in a police shooting last week has raised many questions about the tactics used to control crime in the city. This 40-year-old man was not only shot but also left to bleed to death by policemen when they panicked after realising what they had done.

According to the statement given later to the police by Nabeel's friend, Raza Imam, who was in the car at the time and was also injured, the incident occurred after Hoodbhoy made the fatal mistake of driving off after initially stopping at a police check point at Khayaban-e-Muhafiz in the early hours of Friday.

The reason for running away was, according to Imam, there was alcohol in the car and they wanted to avoid the hassle of having to deal with the police if this was discovered in the search of the car which was to ensue.

While this was a mistake made by Hoodbhoy, he did not deserve to be killed for it. One can only wonder what prompted the police to give chase to Hoodbhoy's car, which eventually stopped near Frere Hall and it was here that the police shot at it directly. Earlier the police had fired aerial shots to warn Hoodbhoy and possibly that is why he had stopped his car.

Time and again we have seen how policemen have shot and killed city residents and one has to ask what training is imparted to them which makes them shoot in the manner that they do. Is that the standard protocol?

To begin any discussion on this topic, we first have to accept the fact that the police in Karachi are under pressure from various quarters to cut down on the city's rising crime numbers. At the same time, most police personnel have neither the training nor the proper equipment or resources at their disposal to make this happen. The police staff in the lower ranks are poorly trained, underpaid and overworked. This affects their competence.

Possibly the policemen who shot at Hoodbhoy's car did not know what else to do. Now an inquiry has been launched into the incident. But there is little hope anything will come out of it. That is not because the police higher ups want to cover the incident but more so because in the past as well inquiries were launched and policemen punished. But no lessons were learnt.

At this time, the Sindh Police largely comprises of competent and sincere officials in the top ranks. There is a desire to make things better, but this is not translating into results.

The CCPO is an able officer. But even he knows that his writ does not extend beyond a certain point unless the officers at the thana level are also in agreement. Another example is the DIG Traffic of the city who is known to be a good officer. And yet the state of the city's traffic is in a mess. Hundreds of cars commit all sorts of traffic violations every day. The scheme to make motorcyclists wear helmets started off well but has now failed. People in 4WDs with tinted glasses and illegal number plates remain unchecked while poor motorcyclists are stopped and bribes are extracted in full public view.

To add to that, a number of initiatives taken by the police have failed because of the interference of the CM office and others. But not everything can be blamed on interference and corruption.

Coming back to the Hoodbhoy case, what protocols are in place for the police for their spot-checking activity or is it just a way for some policemen to make money? Without being a police expert, I wonder if shooting into a car is the best way to deal with such a situation.

There have been numerous incidents where innocent by-standers or victims of crime have been caught up in police firing. The most tragic of these incidents was the killing of 10-year-old Amal Umer by police officials in August 2018 is a case in point. There have been several incidents in between which possibly have not received much media attention and only a passing mention in the press.

The question of course is what to do about this? Will these killings continue? We need to learn some lessons from these tragic incidents. How long will the people suffer?

Published in The Express Tribune, November 25th, 2019.

Like Opinion & Editorial on Facebook, follow @ETOpEd on Twitter to receive all updates on all our daily pieces.