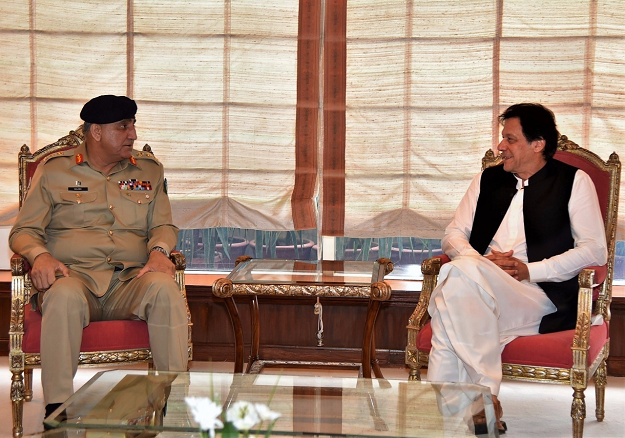 ---
Chief of the Army Staff General Qamar Javed Bajwa called on Prime Minister Imran Khan on Thursday.

During the high-level meeting, sources said the two reportedly discussed matters related to national security.

This is this second publicised meeting between the two within a span of around a week.

The prime minister and the army chief had discussed the security situation of the country, including the developments in Indian Occupied Kashmir (IOK) during the last meeting.

PM Imran had also hailed the Pakistan Army's efforts to defend the borders while also ensuring internal security and facilitating the ongoing socio-economic development.

Earlier this week, the military spokesperson refuted claims of an alleged divide between the country's civilian and military leadership, reiterating that both sides are on the same page.

DG ISPR shoots down talk of civil-military divide

"This is baseless gossip. There is absolutely nothing of the sort," said Inter-Services Public Relations (ISPR) Director General Major General Asif Ghafoor as he dismissed speculation that there was a lack of consensus between Prime Minister Imran Khan and Chief of Army Staff (COAS) General Qamar Javed Bajwa.

"The army is supporting a democratically elected government as per the constitution. There will be no let-up in this [support] as it is a must for the progress and prosperity of Pakistan."

Maj Gen Ghafoor also shot down assertions that the prime minister and army chief were not communicating as often as they were in the early days of the Pakistan Tehreek-e-Insaf (PTI)-led government.

PM Imran and COAS Bajwa had met on November 15 in the first such interaction between the two in recent weeks, particularly against the backdrop of a host of developments — both on the internal as well as external fronts.
COMMENTS
Comments are moderated and generally will be posted if they are on-topic and not abusive.
For more information, please see our Comments FAQ