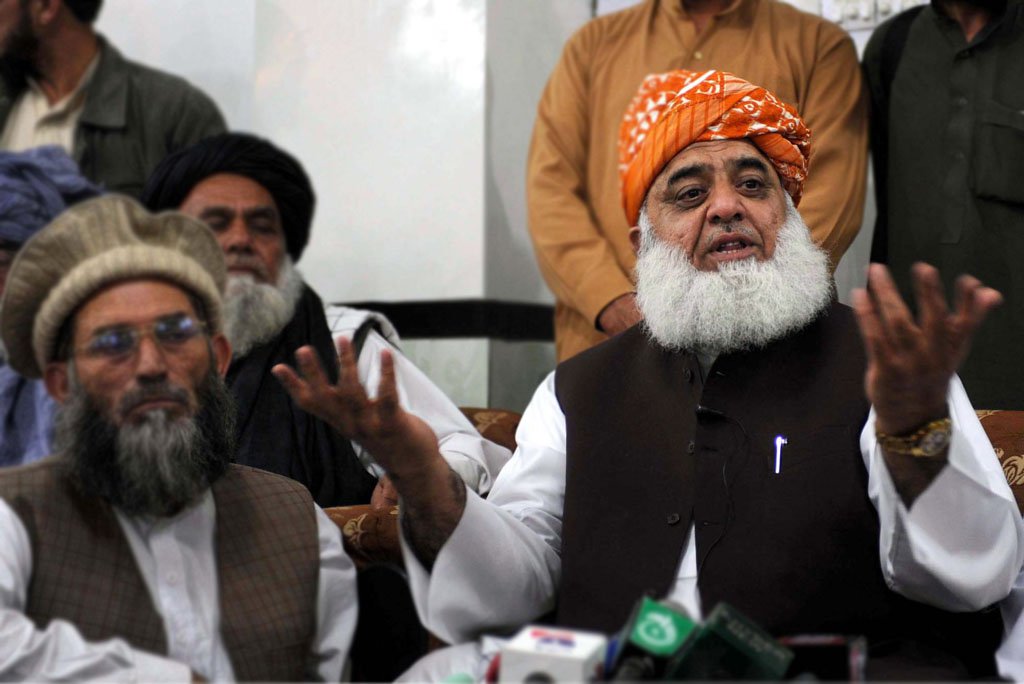 ---
A stormy affair blossomed in the dark during Maulana's dharna. Politics makes strange bedfellows but this one takes the cake: Pakistani liberals and Maulana in a warm embrace, grinning while sinning. Liberals called an illiberal Maulana, a champion of democracy. Might as well call Misbah Boom Boom. After decades of blaming each other for all of Pakistan's problems, liberals and mullahs have now found a common enemy: Imran Khan.

Let's talk about the doyen of democracy, leading light of liberalism, son of Pakistan's first woman PM, Bilawal Zardari, standing shoulder to shoulder with Maulana repeatedly using the religion card, slandering minorities, while addressing a dharna with no female participants. These are the same mullahs, who used language I cannot repeat, for the female participants of PTI's dharnas. All is fair in love and war, and this is love at last sight, I guess.

Bona fide progressive women on Twitter, aggressively supporting the Maulana on a dharna they wouldn't even be allowed to sit in, is a once-in-a-lifetime spectacle. Why so much hate? Mullahs are politicians who will say anything for more power. The liberals? At least stand by your principles for your small Twitter following. Why are you willing to compromise on your principles to point out PTI's hypocrisy.

The left has lofty ideas but no street power. The right has muscular street power but no lofty ideas. The only thing they can unite on: take down this system. I guess when opium mixes with the opium of the masses, it creates some dangerous delusions. The real issue here is fearing IK is occupying political space in the radical middle and exposing the liberals' and mullahs' hypocrisy.

Let's talk about the significant policy pushes of Pakistani liberalism in the last three decades. In the national security paradigm, two major pushes: stopping support of militant proxies within and outside Pakistan, and peace with India; for the country's social fabric, more tolerance for Pakistan's minorities to thrive. IK has pursued these objectives with reasonable success in one year.

Exhibit A: opening of the Katarpur Corridor as a game changer for peace and elevating minority rights despite criticism from both the religious right and liberal left. Once the liberal left realised it was hypocritical to criticise Kartarpur, they argued it was Nawaz and Benazir's idea to begin with. Opening Kartapur, while Kashmir is under siege, testifies to the political courage to make peace, dividends of which will be reaped by future generations, not maturing in time for elections in five years. No militants destabilising the region is also a testament to what Pakistan can accomplish when there is trust between the civil-military leadership.

The wildest liberal argument is that credit for these positive breakthroughs shouldn't go to IK, but to the boys. These are liberal policy platforms being implemented. Instead of encouraging them, you were supporting a dharna. The liberals have blamed the boys consistently for the country's problems. Now they do something right and you hate IK so much, that you rush to give the boys credit, while simultaneously opposing them on Twitter and in dharnas. Slow claps are in order.

Previously, liberals and the religious right used each other as political foil, gaining votes by scaremongering their base with the other. IK is a far more challenging political animal to defeat via arbitrary labelling. Liberals can call him Taliban Khan, while the right, a Jewish conspiracy. Meanwhile, he'll defy labels and push through policy no one has dared touch in decades, including Kartarpur as a seed of lasting peace with India.

In one genius masterstroke, IK has slayed the united opposition through the fizzling out of Maulana's dharna. Now, with the political capital gained by defeating the narrative of the united opposition, the PTI has finally arrived as a confident government, a force to reckon with.

Published in The Express Tribune, November 17th, 2019.

Like Opinion & Editorial on Facebook, follow @ETOpEd on Twitter to receive all updates on all our daily pieces.