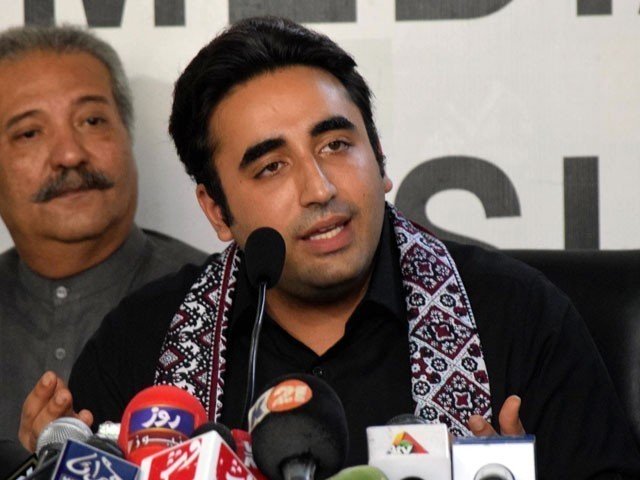 ---
ISLAMABAD: Pakistan Peoples Party (PPP) Chairman Bilawal Bhutto Zardari has claimed that the country would have a new prime minister by the next year and the current government led by Pakistan Tehreek-e-Insaf (PTI) would not complete its five-year term.

"A new prime minister will be in office by the next year. I am certain that Imran Khan will not be the prime minister [in 2020]. Pakistan will have a new prime minister the next year," Bilawal said on Friday while addressing media after a meeting of the PPP core committee.

Bilawal said the PPP desired new election but did not want that one selected government was replaced by another selected government.

In reference to Jamiat Ulema-e-Islam's (JUI-F) Azadi March that concluded on Wednesday without achieving its professed goal that is ousting Prime Minister Imran Khan, Bilawal said the chances of the prime minister's removal had increased rather than decreasing.

Bilawal warns govt against 'over-promising' on Afghanistan

Bilawal, however, added that the JUI-F had not informed the opposition parties' Rahbar Committee – which was holding talks with the government on oppositions' demands – about its Plan B and C in detail.

"The Rahbar Committee was not informed in detail about [JUI-F chief] Fazlur Rehman's talks with the Chaudhry brothers [who were mediating on behalf of the government] and the Plan B and C of the Azadi March," he said. Bilawal claimed that his party had fulfilled its promises to the JUI-F.

To a question, Bilawal said the PPP Co-chairman Asif Ali Zardari had not been allowed to meet his physician since his incarceration in connection with a fake accounts case. "[However] Zardari sahib has not applied for bail," he said.

Bilawal said the PPP would present its agenda on its founding day. "On our founding day, we will hold a jalsa in Azad Kashmir," he said. The PPP chief said India had turned the occupied Kashmir into a big jail since August 5. "The PPP would not stop raising its voice for the people of Kashmir.

He lambasted the PTI government for not having an economic plan.

"The economic situation has been worsening since July 2018 when the PTI came into power. The common people have to pay the price in the form of new taxes," he added.
COMMENTS (1)
Comments are moderated and generally will be posted if they are on-topic and not abusive.
For more information, please see our Comments FAQ