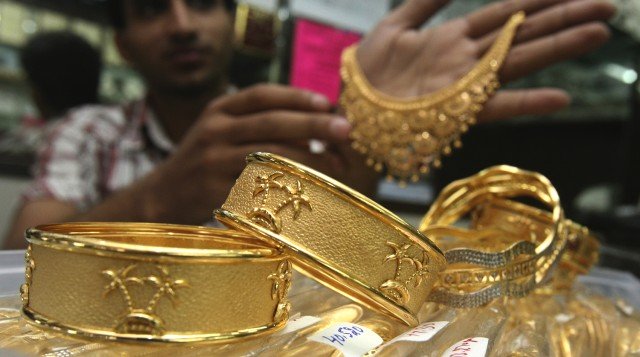 ---
KARACHI:
Gold prices rebounded by Rs850 in the start of the past week with US jobs data not showing any clear signs of recovery while the crude oil prices remained low.
A domestic market price average shows a tola of gold was selling at Rs38,850 last Saturday. But gold hit an all-time record on Monday, reaching Rs39,700 per tola and Rs34,000 rupees per 10 gm.
Gold price came down to Rs38,900 per tola on Thursday but that drop was just momentary.
According to latest market information, the current price is around Rs39,150 per tola and Rs33,600 per 10 gm.
Meanwhile gold rates in interational market on Saturday were at 460 dollars per tola and 1,200 dollars per ounce.
COMMENTS
Comments are moderated and generally will be posted if they are on-topic and not abusive.
For more information, please see our Comments FAQ