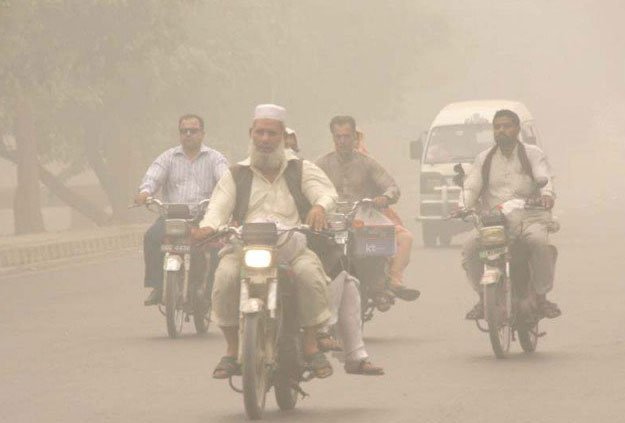 ---
BHAKKAR: Special steps are being taken at hospitals across Bhakkar by the district health authority to raise public awareness about smog.

Large banners have been hung at all hospitals across the district while awareness seminars are also being organised.

Speaking to The Express Tribune, District Health Authority Chief Executive Officer (CEO) Dr Muhammad Saeed Sheikh stated that the harmful effects of smog can be overcome by taking preventive measures. "Citizens should take certain precautions in order to protect themselves from the harmful effects of smog," he said.

He explained that the district health authority has organised awareness seminars and also interviewed several experts to raise awareness on social media. "Banners have been set up at all hospitals in the district and staff has been directed to alert all locals in their area," he said.

Elaborating on these preventive measures, he advised the public to increase their water intake and to spend more time indoors, as opposed to wandering outside, while also making sure to seal the windows and doors of their houses.

He added that citizens can also wear sunglasses and other protective eyewear when venturing outside and can rinse their eyes with water after coming back home. He maintained that using facemasks and wrapping handkerchiefs around the mouth can also stop smog from entering our respiratory system.

He also urged the public to refrain from setting crops and piles of trash ablaze. In case a person contracts an eye or respiratory infection, they should get themselves checked at the nearest hospital. He urged the public to take these precautionary measures so that people's precious lives can be protected.

"Smog is extremely deadly and can have an adverse effect on human health. However, people can save themselves from its harmful effects by adopting these precautionary measures," he added.

Meanwhile, Bhakkar Deputy Commissioner Asif Ali Farrukh stated that steps are being taken by the district administration in order to eliminate smog. He maintained that Section 144 has been imposed on burning crop remains.

"The agriculture department is monitoring the fields to ensure that crop remains are not set ablaze," he added.

In addition to this, approximately, 300,000 trees have been planted so far under the prime minister's Clean and Green campaign to combat environmental pollution. Moreover, announcements are also being disseminated through mosques. The agriculture department is reporting to the administration on a daily basis, he said.

He claimed that the agriculture department and the environment protection department are working tirelessly to eliminate smog. All departments concerned have been directed to follow through with the orders issued and to ensure that smog is eliminated. No negligence will be tolerated in this regard, he concluded.

Published in The Express Tribune, November 13th, 2019.
COMMENTS
Comments are moderated and generally will be posted if they are on-topic and not abusive.
For more information, please see our Comments FAQ