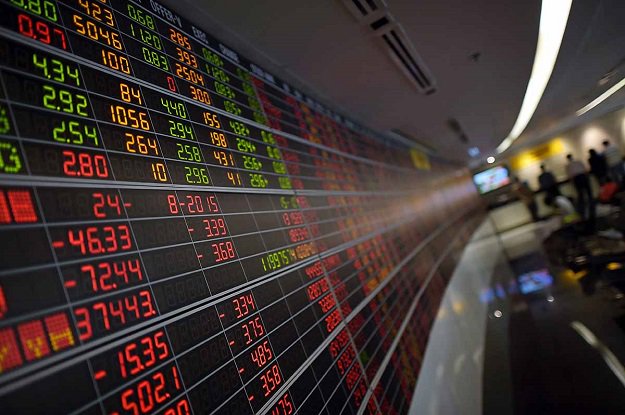 ---
KARACHI: Continuing the rising trend, the KSE-100 index gained 220 points on Friday as investor sentiment strengthened in the wake of an MCSI review amid hefty trading in large-cap banks and exploration and production stocks.

The cement sector, on the other hand, remained under pressure throughout the day and majority of cement shares closed in the red.

Earlier, trading began on a positive note and the index advanced 290 points within first hour, going above the 36,000-point mark. Later in the first session, the index erased some of the gains.

In the second session, investors briefly managed to uplift the market but the index closed flat with a loss of 10 points.

At close, the benchmark KSE 100-share Index recorded an increase of 219.64 points, or 0.61%, to settle at 35,978.16.

JS Global analyst Maaz Mulla said investor sentiment was positive in the market, which touched an intra-day high of +290 points and closed at 35,978, up 219 points.

"Volumes decreased as 210 million shares were traded as compared to 266 million shares in the previous trading session," he said.

WorldCall Telecom (+0.6%) was among the market leaders in terms of traded volume with 21 million shares changing hands.

News reports said Pakistan may remain on the Financial Action Task Force (FATF) grey list for a protracted period as it may be handed yet another action plan for implementation over one to three years on the basis of a recently approved Mutual Evaluation Report (MER).

Exploration and production and banking stocks were major gainers of the day, which included Oil and Gas Development Company (+1.5%), Pakistan Petroleum (+1.1%), UBL (+2%), MCB (+1.9%) and HBL (+1.1%).

Profit-booking was witnessed in the cement sector where Maple Leaf Cement (-5.1%), Pioneer Cement (-4.5%), DG Khan Cement (-3.1%), Fauji Cement (-2.7%) and Cherat Cement (-2.7%) received a hammering.

"Moving ahead, we expect the market to remain positive in the medium term, however in the short term profit-taking cannot be ruled out," the analyst added.

Arif Habib Limited, in its report, stated that the index moved in one direction and gained 230 points by the end of first session while hitting a high of +290 points. It finally closed the day up by 220 points.

Cement and steel sectors continued to trade in the red and kept the index under pressure.

The MSCI review, announced on Thursday evening, proved to be a sigh of relief for institutional funds, which had expected exclusion from the index and the resultant heavy selling in the outgoing stocks.

To the contrary, the MSCI review largely proved to be a non-event, which gave confidence to investors in large-cap banks and exploration and production companies, particularly MCB Bank, HBL, Oil and Gas Development Company and Pakistan Petroleum, the report added.

Overall, trading volumes decreased to 210.6 million shares compared with Thursday's tally of 266 million. The value of shares traded during the day was Rs6.6 billion.

Shares of 370 companies were traded. At the end of the day, 206 stocks closed higher, 144 declined and 20 remained unchanged.

WorldCall Telecom was the volume leader with 21.5 million shares, losing Rs0.01 to close at Rs1.69. It was followed by Hum Network with 11.1 million shares, gaining Rs0.22 to close at Rs3.05 and K-Electric with 10.1 million shares, gaining Rs0.13 to close at Rs4.

Foreign institutional investors were net buyers of Rs871.6 million worth of shares during the trading session, according to data compiled by the National Clearing Company of Pakistan.