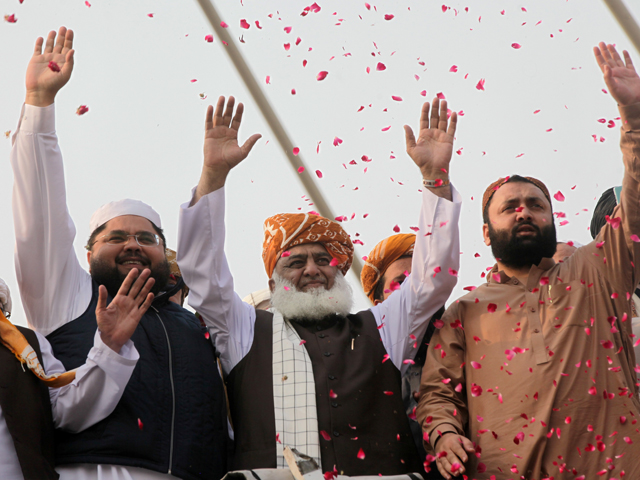 ---
LAHORE: The Jamiat Ulema-e-Islam-Fazl's (JUI-F) 'Azadi march', led by it chief Maulana Fazlur Rehman, is expected to reach its final destination, the federal capital, on Thursday (today) as it continued its journey through Punjab without any hurdle on Wednesday.

The government has kept its promise to allow the march to proceed without any hurdle. By midnight, the marchers had crossed Gujranwala after leaving Lahore in the evening. They were scheduled to stay in Gujar Khan for the night before embarking on the last leg of their journey.

The march reached Lahore in early Wednesday after resuming its journey from Multan on Tuesday. Upon arrival, the participants were given receptions at Thokar Niaz Baig, Chowk Yateem Khana, Samnabad More, Chuburji Chowk and Data Darbar by the Pakistan Muslim League-Nawaz (PML-N).

Fazl spoke briefly at two of the reception camps but delivered his main address before leaving for Islamabad on Wednesday. He stressed that the 'Azadi march' was a movement and not just a sit-in and expressed his confidence that "this movement" would succeed.




The participants of the march had set up their tents at the Greater Iqbal Park for the overnight stay in the Punjab capital, whereas the JUI-F leadership stayed at a school on Wahdat Road—located at some distance.

Despite giving the warm welcome, the PML-N that had promised its support for the march, was conspicuous for its absence during Fazl's main address. However, a surprise presence was of Qamar Zaman Kaira of the Pakistan Peoples Party (PPP).

During his stay in Lahore, Fazl did not visit the ailing former prime minister Nawaz Sharif. Fazl said that he wanted to meet Nawaz but changed his mind given his condition. He said that doctors were of the view that Nawaz was not meeting guests.

Speaking to the media, Fazl said "the Azadi march is now a national movement" which would not stop even in case of any momentary defeat. "It is not a dharna [sit-in]," he said. "If the public opinion is not respected, this movement will intensify."

Later, he addressed the march at Azadi Chowk flyover where he shared the stage with PPP leaders mainly Kaira. Fazl said they took out 15 million marches in the last nine months but did not cause any problem, proving that they were peaceful people.




"We started our journey on October 27 from Karachi. Caravans from Quetta have joined us and are now on the way to Islamabad, again without causing any problem. Every city, we passed through welcomed us. It proves that the entire country is with the Azadi march," he added.

Fazl emphasised that the political parties are welcoming this march, adding that even if circumstances did not allow any parties to participate in the march, yet showing their association meant that they had joined the march.

He particularly mentioned PML-N, PPP, Markazi Jamiat Ahal-e-Hadees, Awami National Party (ANP), Pashtoonkhwa Milli Awami Party (PkMAP), Jamiat Ulema Pakistan (JUP), National Party (NP) and the Qaumi Jamhori Party (QJP) for showing their association with the march.

"Our basic demand is that 25 July 2018 elections were rigged and the stolen mandate must be returned to its rightful owners. Not only is this government illegal but also an incompetent one," he said, adding that his march was for the survival of the country.

"Whenever, economy sinks, existence of the country comes under threat. Our doctors are bleeding on the roads of Peshawar, while protesting against the government; teachers are being dragged on the streets of Islamabad, female teachers are being physically assaulted," he added.

"Today, traders are in protest, because doors of business are closed on them. Common men are crying in agony due to price hike and inflation. Millions of people are left with no roof over their heads in the name of encroachment drive," the JUI-F chief continued.

"Youngsters were promised one million jobs but thus far more than two million have been left jobless. They claimed that people from other countries will come to Pakistan for jobs, but thus far only two people from abroad got jobs, one of them is the governor of the State Bank of Pakistan."

He thanked the political parties for making the 'Azadi march' a national movement and the voice of the people. "Today all Pakistanis are on the same page because of the 'Azadi march', he said. He also prayed for good health of Nawaz Sharif and Asif Zardari.

Preparations in Islamabad

In the federal capital, a high level meeting on Wednesday decided to deploy police as the first line of defence for safety of life and property during the 'Azadi march', followed by the Pakistan Rangers, while the army would be deputed for the security of sensitive buildings.

The meeting chaired by Interior Secretary Major (retd) Azam Suleman Khan was held to review arrangements for the march, attended by Islamabad Chief Commissioner Amer Ali Ahmad, Inspector General of Police (IGP) Amir Zulfiqar Khan and officials of the law-enforcement agencies, said a press release.

It was decided that the agreement signed by the organisers of the march with the Islamabad administration would be fully adhered to. The IGP and a Pakistan Rangers official briefed the meeting about the possible measures in case the agreement was breached by the participants of march.

The meeting was apprised that as per the agreement, the participants were allowed to enter the federal capital via Rawat. As per the agreement, the entry of march participants has been completely banned in the Red Zone, the participants were informed.

The relevant departments were directed to ensure protection to the life and property of the citizens and no one would be allowed to disrupt the routine life of the people. For the security purpose, it was decided that the first defence line will be manned by the police followed by the Pakistan Rangers while the army would be deputed at sensitive buildings.

A proper checking mechanism has been put in place to ensure non-display of arms and entry of non-custom-paid vehicles. The meeting was informed that a special traffic plan had also been chalked out to facilitate the residents and visitors of the surrounding areas of the venue of gathering.

According to the plan, the main gathering will be held at H-9 Metro Ground and the parking area has been specified for the participants of march. Those coming from Motorway or Peshawar GT road would come from Chungi No 26 via Kashmir Highway and park their vehicles on both sides of Project Mor and G-9 Turn.

Those coming from Lahore (GT road) will use Islamabad Expressway and those coming from Murree or Bahra Kau will reach Faizabad through Dhok Kala Khan flyover and approach 9th Avenue Chowk to reach the venue of the march. They will park their vehicles at service road west of 9th avenue. There will be traffic diversion from Chungi No 26 to Islamabad.

The people coming from the Motorway area to Islamabad may use Chungi No 26 flyover to Mehr Abad Pri Wadhai, IJP road, Flyover, Faizabad, Murree Road, Expressway and Faisal Avenue. There will be diversion on Kashmir Highway (G-11) towards Islamabad and traffic at Haji Camp Chowk will be diverted towards Mehrabad IJP road.

Those going to Motorway Peshawar or New Islamabad Airport from sectors G-9, G-10 and G-11 can use service roads adjacent to their sectors and may use Kashmir Highway through G-11 signal. Those going to Islamabad Expressway, Bhara Kahu, Murree and Rawalpindi may use route of Margallah road, 9th Avenue, IJP Road or Faisal Chowk (Avenue), Faizabad, Expressway, Murree road and IJP road.

Those going to Motorway, Peshawar or New Airport from Murree of Bhara Kau will use Murree road, Rawal Dam Chowk and IJP Road. There will be another traffic diversion from Golra Sharif to Islamabad Chowk. Traffic coming from G-11 or Golra may use G-11 service and Margalla roads. Another diversion will be set up from Zero Point to G-11 Signal on Islamabad Kashmir Highway.

Those going from sectors G-5, G-6, G-7, G-8, F-6 F-7 and F-8 to Rawalpindi will use Faisal Avenue and to use Faizabad, Murree Road and IJP road. Those moving from sectors G-9, G-10, G-11, F-8, F-10, E-9 for Rawalpindi may use Margallah Road, 9th Avenue of Faisal Avenue. There will be another diversion at Faqir Ipi Road for those coming from Sabzi Mandi (I-10) Nescom Chowk to Police Line Chowk.

People may move through Sector I-10 Outer Road (Beeroni Road) for 9th Avenue or IJP Road. Diversion will be established from 7-Up Chowk towards Education Chowk (Bazaar Service Road). The residents of H-8/3, H-8/4 and I-9 may reach 7-Up Chowk from 9th Avenue or IJP Road. ITP's FM Radio 92.4 will air special transmission to update the citizens about situation on roads.

Separately, Rawalpindi City Police Officer (CPO) Deputy Inspector General of Police Muhammad Faisal Rana announced that plans had been prepared to maintain peace and the rule of law during the march. The CPO said it was the responsibility of police and the requirement of the society to maintain peace.

The CPO told his subordinate police officers that in the current situation, the final decisions would be taken by the higher authorities but the implementation of those decisions would be the responsibility of the police.

He added that officials concerned have been briefed how to handle any kind of situation.

(WITH INPUT FROM APP)
COMMENTS
Comments are moderated and generally will be posted if they are on-topic and not abusive.
For more information, please see our Comments FAQ