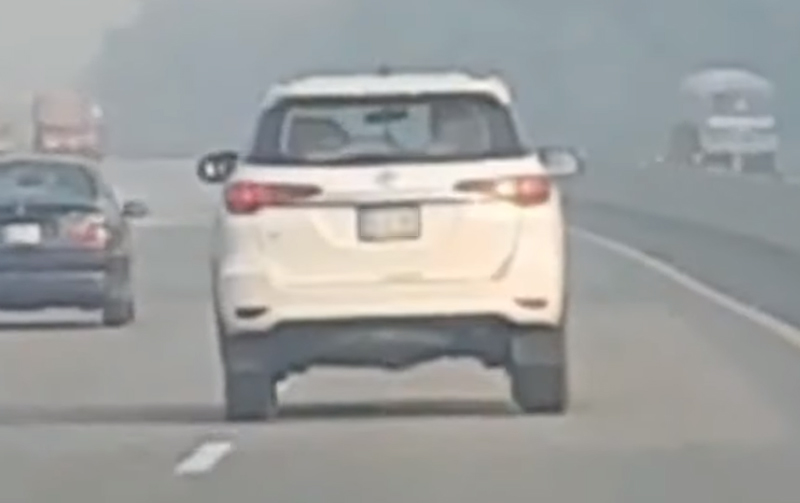 ---
KARACHI:


A couple has been charged for an act of public indecency after a video of them in a compromising position on the motorway in Sargodha went viral.

Filmed from another moving car, the couple can be seen in the backseat of a vehicle on the highway.




Sources inside the National Highways and Motorway Police (NHMP) told The Express Tribune that a probe was carried out soon after the video went viral.

They went on to say that scientific methods were employed to ascertain where the incident took place and the details of those involved.

"Whatever they were seen doing is a crime under our penal code...It is public indecency," the source said.

The Express Tribune managed to get its hands on an FIR lodged at the Kot Momin Police Station, Sargodha, against the alleged culprits.

"An indecent video on social media has been obtained on October 27 , 2019, in which a couple is doing indecent acts.The unidentified couple in the vehicle have committed indecent actions. Hence, it is requested that legal action against people riding in the vehicle be taken," the document read.


Canadian model harassed by hoodlums in Islamabad
Moral policing
"It is wrong for a citizen to try to take the law into his own hands and engage in moral policing as we can see here. If the person who made the video truly wanted to do their part...then they would have gone to the police to lodge a public indecency case," internet activist and lawyer Nighat Dad said.
Dad added that to post the video of the incident on social media was a clear violation of their privacy.
"To make it clear...this is an infringement under the Prevention of Electronic Crimes Act, 2016," she insisted. "It is wrong for their privacy to have been compromised in this manner."
Social media debate


The video stirred an intense debate over the power of social media as a tool for moral policing and whether the couple's privacy was infringed upon.


Many were of the view that the video was highly inappropriate and lauded the user for sharing the clip.
shamefull for us as nation, see what Gulf News is saying about it. https://t.co/qI2t7l8xDS

— Syed Tauqeer Ahmad (@tauqeer57) October 28, 2019
Meanwhile, a certain quarter slammed the user for posting the footage as it violated the privacy of those inside the car.
User @areebahaaq said: "Only in Pakistan you can film someone in the privacy of their own car without their consent, post it online and then cry about indecent behaviour […]."
https://twitter.com/areebahaaq/status/1188395541358616576
COMMENTS (3)
Comments are moderated and generally will be posted if they are on-topic and not abusive.
For more information, please see our Comments FAQ