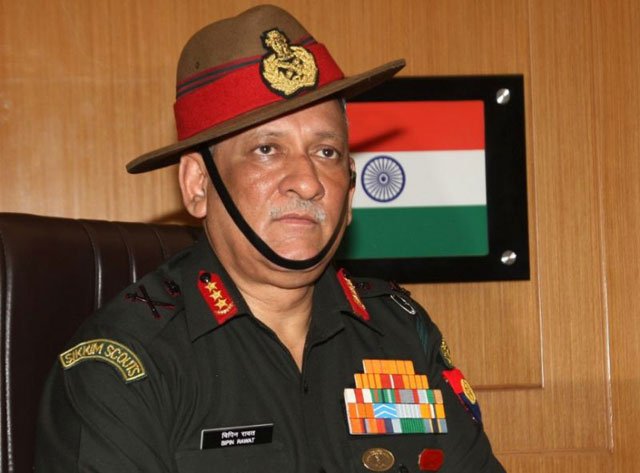 ---
On October 20, 2019, India Today quoted the Indian Army Chief, General Bipin Rawat, as saying, "Indian Army used artillery guns to target terrorist camps in Pakistan-occupied Kashmir" and that "6-10 Pakistan soldiers [were] killed, [and] 3 terror camps destroyed'. ISPR promptly challenged the Indian claim and flew journalists and diplomats (the Indian High Commissioner in Islamabad declined the invitation) on October 22 to belie the Indian Army Chief. Earlier on September 12, he avowed to "retrieve Pakistan-occupied Kashmir (PoK)" while reacting to Minister Jitendra Singh's statement. In a similar faux pas during the February 2019 stand-off with Pakistan, the Indian Air Force (IAF) had claimed comparable falsehoods, which were subsequently disproved. This is a dangerous form of brinkmanship at the highest military level, from the so-called "largest democracy in the world" with firm "civilian control of the military". The Indian Army under General Rawat today is at best a continuation of the BJP/RSS — a tragic decline for a professional force.

Some generals, like bureaucrats, can transcend the boundaries of ethical professional conduct and play second fiddle to politicians for promotions, lucrative appointments, post-retirement jobs, and at times, a legacy. Respect for authority is ingrained in any military culture; however, appearance of overt sycophancy is not appreciated anywhere by the rank and file. General Rawat — with his trademark tilted hat — would do well for his political endearment and legacy, if he addresses the structural inadequacies of his force, highlighted in "The Reality of Indian Might", published on August 15, 2019 in this space. He should also be aware of "The Dangers of Calling Pakistan's 'nuclear bluff'", as discussed here on September 3, 2019.

As inferred earlier, the Indian military leadership seems to be baying for a fight with Pakistan. They seem to have convinced their political masters, that the Indian military juggernaut would make a short work of the Pakistan Armed Forces over land, sea and in the air. And that conventional conflict is possible under a nuclear overhang. They also underestimate Pakistan's national resolve when it comes to "Pakistan proper". The dead crow and injured pines of Balakot bear testimony to the PAF exacting a befitting but restrained revenge from a much larger IAF. Adding insult to the injury, Pakistan returned the shot-down pilot with grace and dignity, after protecting him from the angry Kashmiri mob. The Indian military, understandably, would find and/ or construct a casus belli to salvage their injured pride.

General Rawat, the 27th Indian COAS, is likely "to get a three-year extension in service on attaining superannuation in December this year'" He is likely to be appointed as the first Chief of Defence Staff (CDS). Commissioned in 11 Gorkha Rifles, he is a veteran of Kashmir, where he commanded an infantry battalion, a brigade of the Rashtariya Rifles in Sopore and 19 Infantry Division at Uri. He and General Qamar Bajwa served in 2008 in the multinational brigade in Congo that General Rawat commanded. As Commander of III Corps in Dimapur in 2015, a Parachute Battalion from under his command launched cross-border strikes in Myanmar, in retaliation for a deadly ambush by separatist groups in northeast India. His gallantry award in counterinsurgency and fringe deployments like in Congo might colour his understanding of the conventional war in the Indo-Pakistan scenario under a nuclear overhang. Therefore, to highlight what he fails to perceive, a sobering summary of a widely seen YouTube exposé dated September 6, 2019, by a respected Indian analyst, Mr Pravin Sawhney (Editor of Force magazine) is produced.

Mr Sawhney explains why India must take Pakistan's military (PAKMIL) seriously as a professional force. He reckons PAKMIL has always "balanced" any emerging threat from India in a competent and professional manner. In military parlance, the environment (international and domestic) dictates threat. Militaries mount response on the perceived threat with maintenance of "balance" at various levels being the fundamental component of response. The response is backed up nationally by a "Developmental Strategy" comprising acquisition and production.

At the strategic level, a response includes keeping abreast with newer technologies through requisite "Developmental Strategies" and bringing capabilities to the theatre. When India tested nuclear weapons in 1974, Pakistan ultimately balanced it overtly in May 1998. Covert capability had existed much earlier.

At the operational level, the force differential with India is balanced competently by PAKMIL's combat experience, justness of cause, high morale, better motivation and the "will to fight" — as force multipliers. As per Mr Sawhney, "PAKMIL makes up for shortfall in numbers through sub-conventional means/capabilities, involving ISI — the nightmare of Indian state and society."

He identifies three verticals where Pakistan's military has had a clear advantage: the Strategic Plans Division (SPD) and Military Operations (MO) Directorate being under the COAS (ostensibly), enabling a seamless transition from conventional to nuclear war-fighting; establishment of the Air Defence Command well before India and the proxy war through ISI in IOK. Kashmir continues to sap Indian energies. In the 1990s, Pakistan was so concerned by the large presence of the Indian Army in IOK that the then COAS, General Asif Nawaz, complained to the US. Not anymore. Entanglement of the Indian military in Kashmir is complete, long term and with no end in sight.

Comparing the missile regime, Mr Sawhney mentions Benazir Bhutto's offer of a "Zero Missile Regime" to India in the 1990s which was rejected. Pakistan balanced the asymmetry when the army, under General Aslam Beg, produced and deployed indigenous missiles.

Similarly, the PAF balances the numerical superiority of the IAF through its professional relationship with the PLAF of China. Both air forces regularly conduct exercises with the Shaheen series, ensuring mutual interoperability accruing three huge dividends — commonality of equipment (Block 3 JF-17) through the Pakistan Aeronautical Complex; upgrades and assured availability of spares by China in crunch time; and understanding each other's doctrine.

He argues that by making CPEC (under the high stakes flagship One Belt One Road (OBOR) Project) a part of the Chinese Constitution, President Xi Jinping has virtually offered sovereignty guarantees to Pakistan. Pakistan's multi-dimensional relationship with China — the rising superpower that is next door, unlike a distant US — also makes PLA's "humongous non-kinetic capabilities available to Pakistan in Cyber Warfare and Electronic Warfare", balancing out any Indian advantage.

Supplementing the cited balancers, Pakistan has responded to the Indian Cold Start Strategy through a Proactive Strategy, and a full-spectrum nuclear war entailing tactical nuclear weapons and enforced ambiguity in the employment of nuclear weapons.

So, bravado and sabre rattling aside, General Bipin Rawat needs to rein in his wayward ambition and enjoy his extended tenure as CDS, rather than getting red-faced in an engineered conflict with Pakistan and its military, which does not shoot at crows and trees.

Published in The Express Tribune, October 29th, 2019.

Like Opinion & Editorial on Facebook, follow @ETOpEd on Twitter to receive all updates on all our daily pieces.
COMMENTS
Comments are moderated and generally will be posted if they are on-topic and not abusive.
For more information, please see our Comments FAQ