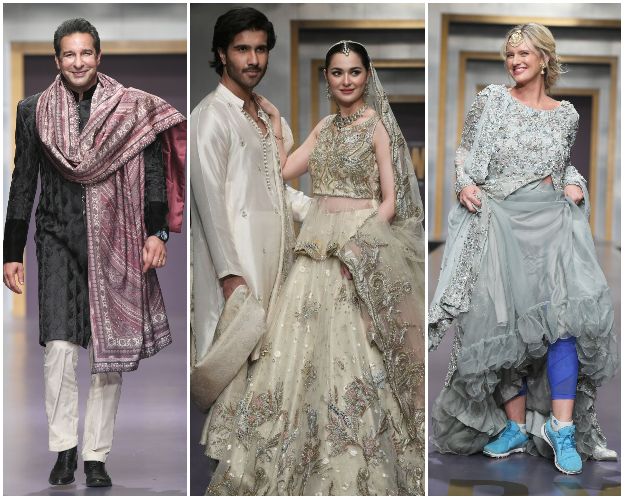 ---
It is no secret that the idea of love sells but love cannot be bought. On the third and last day of Fashion Pakistan Week, designers paid extra emphasis on making every moment count, from circulating roses to making the models walk in pairs with their eyes fixated on each other. Overwhelming background music made every outfit look romantic. But what did not work for some was the lack of emphasis paid on creating designs which would help revamp wedding wear altogether.






PHOTOS COURTESY: Dragonfly/Faisal Farooqui

On the other hand, some did make the effort of crafting and combining from scratch, which rendered the audience breathless. Ranging from unique frills on lehengas and shoulder wedges to bell-shaped bridal ensembles and A-line silhouettes, along with mirror-work and hand-crafted designs, here's everything the fashion finale had to offer.

Zainab Chottani

Collection: Khwahish
The romance of fabled craft kicked off with the opening show as the designer featured traditional motifs and embroidery on various forms of wedding wear. The technique involved zari and zardozi intricately embellished onto brocades. Contemporary silhouettes were spotted on the ramp as Chottani refused to let go of traditional means of creation.




PHOTOS COURTESY: Dragonfly/Faisal Farooqui

There were some alterations in terms of colour, given one particular ensemble which held together a plain black velvet off-shoulder paired with a blue lehenga. The sleeves of the blouse finished off with a multi-coloured embroidered lace, while the rest remained untapped. Geometric patterns on the lehenga comprising an odd choice of colours looked quite appeasing. Nevertheless, the remaining outfits appeared quite ordinary with the same old banarsi inners, traditional gota work and silhouettes including the show-stopping outfit worn by Mawra Hocane. Fahad Mustafa also walked the ramp with Hocane.

Huma Adnan

Collection: Darwaish
Adorning the evening with something new, and that too, sustainably amalgamated, Adnan showcased her new collection along with her jewellery line. Her ensembles aimed to provide a mystique outlook, combining resham with crystal aari, zardozi and traditional thread embroidery.


PHOTOS COURTESY: Dragonfly/Faisal Farooqui
Her offerings entailed bell gowns, tassels, beads and mirror work, as the pieces roared traditional craftsmanship fused with a modern twist. With the designer not in attendance, Darian Arky and Noor Zafar Khan closed the show. The latter strutted on the runway in a red and maroon lehenga, presenting all the delicacies of Adnan's collection. Darian was clad in a plain black kurta with velvet sleeves and a heavily embroidered dupatta and neck piece.

Nauman Arfeen

Collection: Uraan
Next up was Arfeen with his display which may have indicated his recent achievement surrounding Prince William's outfit on his recent visit to Pakistan. However, it could mean other things too, given the designer's use of a muted colour palette. He made use of green, cream gold and maroon, exhibiting bold cuts with embroidered bird motifs on various kurtas. Arfeen drew inspiration from the bond between a father and son for his menswear, also working with embroidered necks, backs and bottoms.




PHOTOS COURTESY: Dragonfly/Faisal Farooqui
One unique article among his ensembles was a shalwar that narrowed down to a trouser, appearing half-platted and half-fitted. Meanwhile, his overall collection seemed well-crafted and intricately planned out with showstoppers and father-son duo, Naseem and Ali Abbas expressing their love on the ramp with a long embrace.

Saba Asad

Collection: Limitless
This was by far the least interesting collection featuring designs that have been witnessed and worn, several times over. It was meant to be inspired by the strong, independent women of today who are "making a difference with their modern yet traditional family values". However, it seems the only unique article put forward by the designer was showstopper Shaneira Akram's lowers and shoes.




PHOTOS COURTESY: Dragonfly/Faisal Farooqui
As far as the ensembles were concerned, the ramp witnessed an array of intricately hand-woven zari and zardozi, paired with pearls and embedded studs. However, her show could not be saved by mixing a sporty article with wedding wear, nor did it make sense to show independence and strength through lehengas and joggers.

Shiza Hasan
Collection: Talea

This collection was an ode to modern brides as the design label aimed to reflect the beauty of a girl's big day. The 3D embellishments hit the mark as the floral motifs created out of thread work paired with classic and contemporary designs looked pleasing, except for one light pink ensemble which seemed to go overboard with everything.




PHOTOS COURTESY: Dragonfly/Faisal Farooqui

However, the collection primarily focused on the traditional designs, adding the frills where necessary and followed by Cinderella sleeves and empire silhouettes. These factors made her collection stand out slightly.
Not to mention, followed by his wife in the previous showcase, Wasim Akram also hit the ramp as he closed the show in a black velvet kurta, white trousers and Sindhi ajrak draped around him.

SFK Bridals
Collection: Adam & Eve
Moving onto the dreamiest showcase of the night. Mind you, dreamy not unique! It was solely because it could be transcribed so easily given the emotions that were exuberated on the ramp. Be it because of Fawad Khan's voice in the background or the models swaying their way across the ramp, or showstoppers Hania Amir and Feroz Khan looking into each other's eyes during the walk, it was all so well put together.




PHOTOS COURTESY: Dragonfly/Faisal Farooqui

However, the silver dreams were only embroidered traditionally with minimal experimentation; given it was the safest colour coordination of the night. There is no denying that Hania's white outfit with a touch of gold made for an exemplary bridal. Other outfits showcased an assortment of pastels, white, red and a lot of grey.

Ayesha Ibrahim
Collection: Ishq-e-Raag




The collection focused on the opulence and grandeur, featuring modern silhouettes. However, it was another average and casually curated collection that failed to deliver anything extraordinary. It also inculcated ruffles but they looked overdone on the dupattas, killing the look of some outfits. Ishq-e-Raag featured various shades of pink and white, with 3D embroidery adding pearls, studs and zardozi. However, nothing seemed to kill the monotony created by the same old cuts and craft.

Deepak Perwani
Collection: Shalimar Bridals
The night came to a close with Deepak Perwani's collection, inspired by the Shalimar Gardens and the bygone Mughal courts. It invoked old-world nostalgia with a modern twist. The ensembles were heavily crafted, with floral designs and tints of pink, red and golden completing the collection.




There was nothing that Deepak did not add in his craft, ranging from pearls, stones and 3D embellishments to all sorts of fabric. It was his final FPW line and he even gave a welcoming and farewell speech before the models took to the ramp, distributing roses to the audience. However, the inspiration taken from Shalimar was nowhere to be seen on the outfits, except for the inclusion of traditional floral embroidery. Sara Khan and Wahaj Ali turned showstoppers in contemporary white outfits that were heavily embroidered and paired with matching red drapery.

Have something to add to the story? Share in the comments below.
COMMENTS
Comments are moderated and generally will be posted if they are on-topic and not abusive.
For more information, please see our Comments FAQ