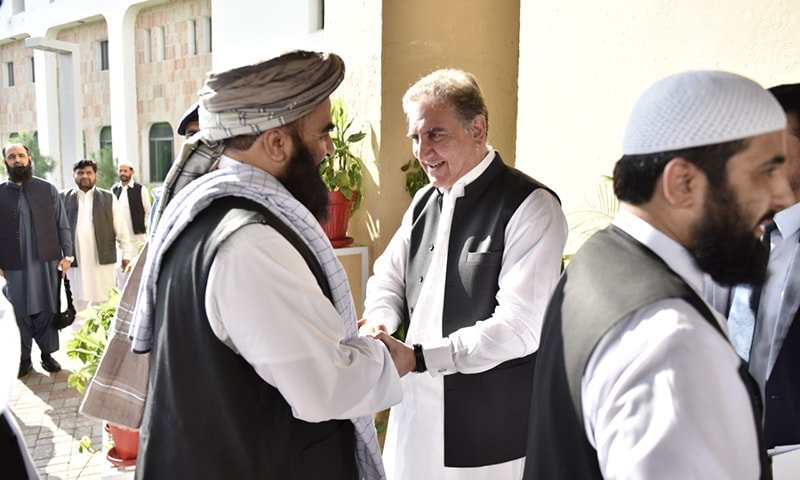 ---
ISLAMABAD: Pakistan, China and Russia on Friday urged the United States to immediately resume the stalled peace talks with the Taliban as they agreed that the 18-year long Afghan war could only end through negotiations.

Representatives of Pakistan, China, Russia and the US met in Moscow as part of renewed efforts seeking a peaceful solution to the lingering conflict in Afghanistan.

The four-party talks were attended by senior officials, including US Special Representative for Afghanistan Zalmay Khalilzad, who held a series of meetings with Taliban leaders in Doha for over nine-months to strike a peace deal.

Khalilzad was almost able to clinch the deal but President Donald Trump last month pulled out of the peace process at the last moment, citing Taliban's continued attacks targeting American soldiers.

Since then, efforts were being made to revive the peace process. Pakistan, in particular, had been playing a proactive role to break the deadlock. Earlier this month, Islamabad hosted a meeting between Khalilzad and visiting Taliban delegation led by Mullah Abdul Ghani Baradar.

It is believed that the Taliban were being persuaded to agree to a ceasefire or at least reduced the level of violence in order to create a conducive environment for the resumption of talks.

A senior Foreign Office official told The Express Tribune that the Pakistani side at the Moscow parleys stressed the need for returning to the negotiating table. China and Russia also endorsed Pakistan's perspective.

In a statement issued after the conclusion of talks in Moscow, Pakistan, China and Russia urged the US to return to the negotiating table for striking a peace deal.

It is not clear whether Ambassador Khalilzad agreed to the suggestion as Washington wanted Taliban to commit to a ceasefire before resumption of any peace process.

One of the reasons Trump walked out of the peace talks with the Taliban was the perception that the draft deal was nothing but a document of surrender for Washington. The main criticism was the absence of commitment by the Taliban to agree to a ceasefire or at least reduce the level of violence.

The proposed deal only focused on a timetable for US troops' withdrawal and commitment by the Taliban not to allow Afghan soil to be used again by terrorist groups such al Qaeda.

The Afghan government was not happy either with the proposed agreement as the Taliban refused to enter into any talks with the Kabul administration.

Taliban had all along insisted that they would talk to the Afghan government and other Afghan groups once the deal was signed with the US.

However, because of pressure being exerted by certain players, Taliban had agreed to the idea of holding intra-Afghan dialogue to be hosted by China in the coming days.

The intra-Afghan dialogue was meant to create a broader consensus for the future political dispensation in the war-torn country.




COMMENTS
Comments are moderated and generally will be posted if they are on-topic and not abusive.
For more information, please see our Comments FAQ