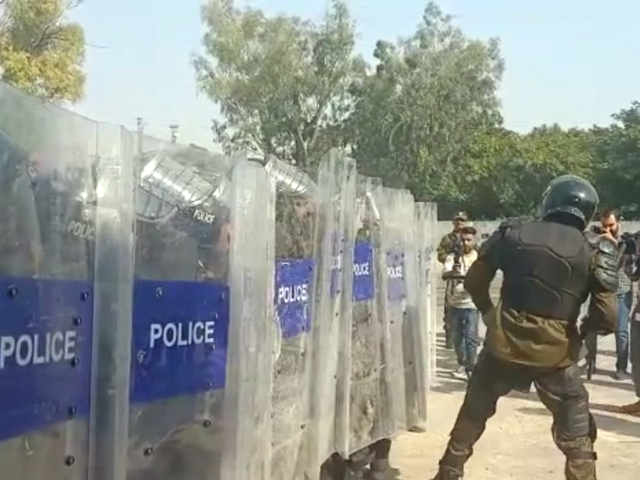 ---
RAWALPINDI: Preparations to deal with the participants of JUI-F chief Maulana Fazlur Rehman-led 'Azadi March' are in full swing as the city's police department conducted 'anti-riots drills' on Wednesday.

The anti-riots squad of Rawalpindi police performed different exercises involving water-cannon, teargas shelling and baton-charge among other similar formations.

Rawalpindi CPO Faisal Rana lauded his team's exceptional performance and also shared technical information vital for dealing with a charged crowd in different formations.

Speaking on the occasion, CPO Rana said 3,000 additional cops have been called in from outside the city to strengthen the force's capability to deal with any possible untoward situation. "No one will be allowed to take the law into their own hands," he maintained.




During the drills, the force performed different techniques to block stone-pelting and baton-charge. They also put on display skills required to save the lives of injured during violent protest demonstrations.

Senior police officers taught the young cops different skills needed to ensure minimum possible casualties while scattering protesters. Efficient use of oxygen masks during severe teargas shelling and effective use of rubber-bullets in accordance with the wind direction were also taught during the drills.




A health and food plan was also devised for the police personnel in case of a prolonged sit-in.

Similar drills would take place on a daily basis to keep the contingent warmed up ahead of the opposition's 'Azadi March', scheduled for October 31.




Anti-riots kits comprising shields, teargas guns and shells, full-body armors, bullet-proof helmets and baton among other items have also been distributed among all police contingents.
COMMENTS
Comments are moderated and generally will be posted if they are on-topic and not abusive.
For more information, please see our Comments FAQ