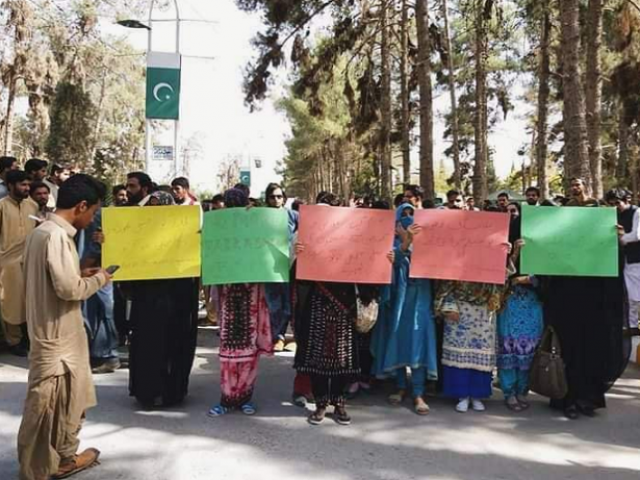 ---
The scandal that has erupted at Balochistan University needs to be taken seriously. It is not just about the future of thousands of young women of that province who want to enter the portals of higher education. It is also about the prevalence of harassment on our campuses.

The details of the scandal that are emerging talk of male and female students being harassed and blackmailed because some staff members decided to invade the private space of the students and film them in the process.

These so-called objectionable videos were recorded using at least six cameras that were secretly installed in the university's Quetta campus, This is in addition to the official CCTV cameras.

The cameras were installed in some washrooms and smoking areas on campus, and the video clips from there were then used to harass and blackmail students. The FIA traced 12 videos which were used to harass female students by some officials of the university's administration.

It is similar to a case that recently surfaced in Lahore where cinema patrons were filmed in so-called compromising positions while movies were being aired.

This case first came to light about a month ago when the Balochistan High Court (BHC) directed the FIA to investigate reports of students being harassed at the university. Till then the university administration had been sleeping. Many staffers of the university havenow been interrogated. But what is surprising is that despite the passage of more than a month, no one has been charged or arrested.

This inaction strengthens suggestions that some of these staff members are being protected by their senior colleagues. The obvious defense being that this scandal will bring disrepute to the university. Many now fear that like all other such cases, this one will also be swept under the carpet.

Students and staff who have come out to protest the incident have time and again alleged that the senior staff have been involved in this case as well as in sexual harassment cases in the past as well. They have little faith that the administration will do anything about this scandal as well. Students from across the country are have staged protests demanding action. So far there has been feet dragging.

The negative effect of this incident on the province of Balochistan cannot be underestimated. It will be huge. Families in this conservative part of the country will stop sending their daughters to universities here. For the greed of a few, thousands of women will suffer. Dreams of many innocent women will be shattered. Only because some senior academics chose to look the other way.

We all know that Balochistan is regarded as the least developed province of Pakistan. According to official figures, female literacy rate in the province is 33.5pc as compared to 52pc for the rest of the country. It is believed the actually the rate is even lower. Those women who make it to university are a select few.

What can be done? To begin with, it is important for the Balochistan government to set an example in this case. It must have a proper investigation done and give exemplary punishment awarded to those that have been part of it or looked the other way when they knew this was happening.

We all know that this issue is not one that is specific to Balochistan. Harassment is an issue that plagues our campuses all over. Be it public or private universities, in most instances, nothing much comes out of those who complain. In fact, as we have seen time and again, faculty closes ranks to protect their colleagues.

Not only should the HEC be more proactive, Kashmala Tariq as Federal Ombudsperson for Protection against Harassment of Women at Workplaces can also be brought on board. She has in the past intervened in harassment cases at educational institutions. The Bahria College harassment case as well as the National College of Arts are two examples.

The more important issue is public attitudes to harassment, People need to be named and shamed. But only after a proper investigation is done and proof gathered. Till now, one of the things we see is a witch hunt on social media. Such cases need to be dealt with severely but only after due process of law is followed. It is time for everyone to wake up.

Published in The Express Tribune, October 21st, 2019.

Like Opinion & Editorial on Facebook, follow @ETOpEd on Twitter to receive all updates on all our daily pieces.