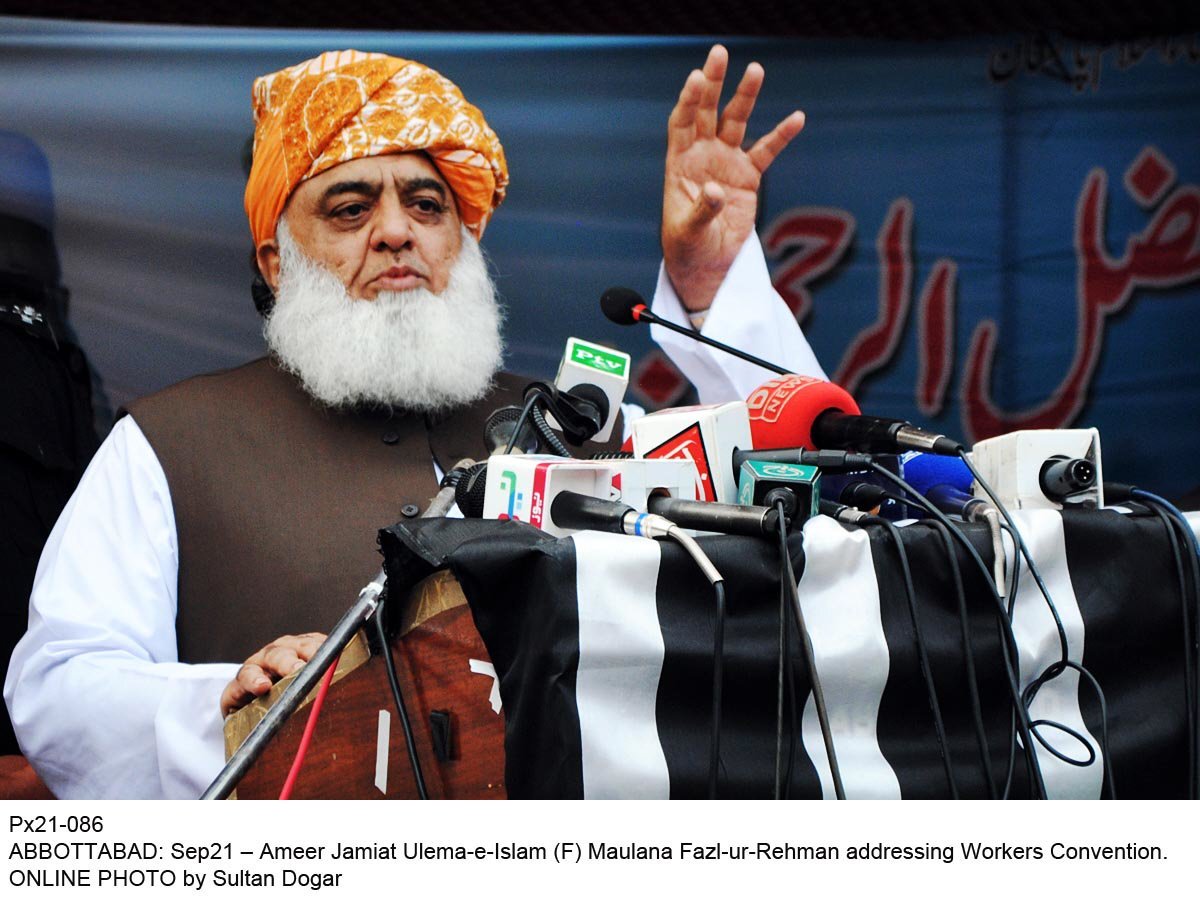 ---
"The measure of a man is what he does with power," said Pittacus, a Greek General almost 2000 years ago. Politics and governance was the barometer and the type of its conduct was the measure that laid bare the political selfishness and incompetence with which a given political leadership ruled us in the past. Having lost the elections, this leadership is still not satisfied with how the people have measured their conduct of siasat (politics) and now find no other alternative to achieve political relevance except by climbing the back of Maulana.

By the time this piece is published, PML-N President Shehbaz Sharif would have met Maulana and predictably a joint plan to execute Maulana's march must have been decided and shared with the public. There is no question that the PML-N is a major political party in the country that has enjoyed vast public support. Headquartered in Punjab, the party always takes the headstart in anything political happening in this country. It is also a "joint terminator" of another prominent political party which was once a political force in Punjab — the PPP. But having tied its political cart behind Maulana's political horse, the party has also not exposed and revealed the loss of its political space — much on the lines of its predecessor, PPP.

Dark shadows are being cast on the very possibility of whether democracy in its present shape will be able to run the country? When "controlled democracy" is difficult to sustain what would be the future of an "uncontrolled democracy" in Pakistan? At the heart of our struggling democracy and resulting political conflicts is the matter of distribution of power. The rising social conflicts on the political landscape are due to the current power distribution. Long-held in the hands of the mighty and powerful politicians of major political parties, that power is on the wane. In this period of transition of power and exchange of hands from the once-powerful political forces to another political force that has promised reforms, we as a country will continue to experience political turbulences like the one Maulana is trying to create. The major political parties, especially the PML-N, have not been able to mend their relationship with the Pakistani establishment. The naked onslaught on the military by former PM Nawaz Sharif has already created enough political chaos and confusion in an already not-so-mature political culture. Sharif, in his last-ditch battle, is finally seeking political redemption by harnessing and saddling an already run and lost horse in Pakistani politics. Before these losing politicians forget, Maulana is not the political force to bet upon. Maulana views politics only as a zero-sum game, rejects peace and negotiation offers and his only agenda is that Imran Khan must lose for him to win.

Although all governments are different in how they govern, they all perform one similar fundamental role — they exert control over the people they govern and cannot afford to fail in that. Maulana and his political partners want the government to lose that control. The poor people will be the bait that Maulana will offer and no matter how he dresses and arms them the whole political strategy is to provoke the law-enforcement agencies to resort to the use of blatant power to halt and undermine their protests.

The political culture in Pakistan is unique and if Pakistan has to march on the road of modernisation it needs not a nice talking and behaving leader but an "authoritarian moderniser". Imran Khan may only look around and see what the leaders that are most friendly with him have done — Turkey, Malaysia, China and Saudi Arabia, even Russia and our archrival, India. As I keep writing, in today's politics you have to be effective more than you have to be nice. All these countries have marginalised the reform blocking self-serving and selfish opposition and has also made "propaganda engaging media" subservient.

Maulana has recently showcased his Jammat much on the lines of the RSS in India. The khaki uniform and danda-bardari (carrying sticks) might be the new political hallmark of Maulana's party but is not anything that represents the ideal that anyone will want to seek and emulate.

The good news in all this developing political turmoil is in the bigger picture. Most of the discredited politicians that are creating "political turmoil" and preventing political reforms have only a decade or so of "active political participation" left in them. Unfortunately, their age and health will not allow them any further active political participation and maybe they all are aware of this and making last-ditch efforts for relevance. Many of them are huge names in our politics. It is my good hope that when these politically, physically and ideologically tired politicians finally wish us adieu they are replaced by a forward-looking young leadership that would want to take Pakistan forward by practising pro-Pakistan and unselfish politics. These old wines have intoxicated our politics enough and gifted us political crisis after crisis.

Historically, it is in these times of crisis that always a charismatic leader emerges and that happened in Pakistan too in the shape of Imran Khan. Crisis leadership always innovates and initiates radical reforms that ask the public to make sacrifices. Charismatic leaders — the Creasers, De Gaulles, Churchills and the Erdogans of this world have always asked for sacrifices for initiation of political reforms and they have always been opposed by the Brutuses and Maulanas of the time. Imran Khan's government must not allow itself to be blackmailed and because he and his government promised reforms, it must carry on and fight and not compromise. A compromising Imran Khan is not an Imran Khan that many people know or voted for.

Published in The Express Tribune, October 20th, 2019.

Like Opinion & Editorial on Facebook, follow @ETOpEd on Twitter to receive all updates on all our daily pieces.