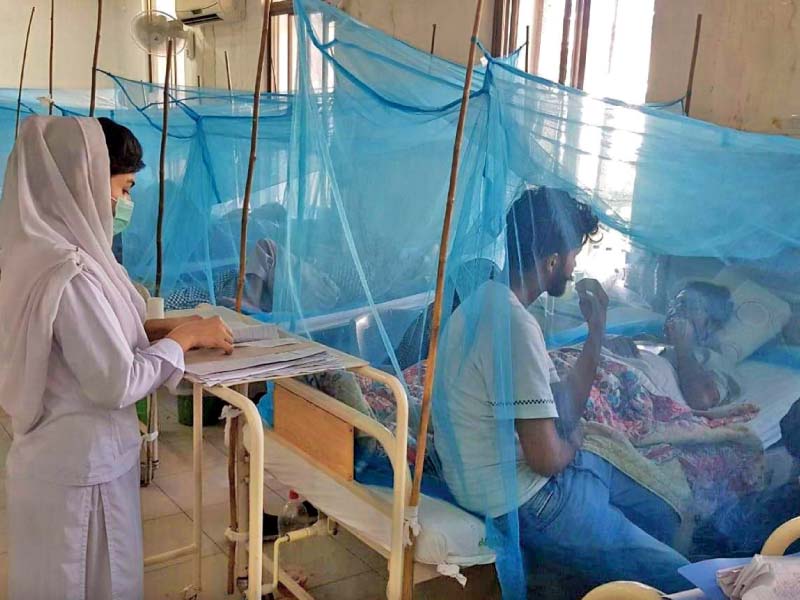 ---
RAWALPINDI: The devastation from dengue mosquito continues as the virus has caused another death on Friday, pushing the death toll in twin cities to 50.

The latest victim was 65-year-old Gul Muhammad who was under treatment in Holy Family Hospital (HFH). Health authorities said that the victim, a resident of Islamabad, was brought to the hospital on Thursday. However he died during treatment and his body was handed over to his family.

Four people died of the hemorrhagic fever on Wednesday, and another patient had expired on Tuesday from the otherwise curable disease.

The hospital officials said they were receiving a large number of patients from neighboring Islamabad where fogging was not conducted extensively.

The uncontrollable dengue epidemic has created difficulties for the new Rawalpindi Deputy Commissioner (DC) Saifullah Dogar who was assigned the responsibility measures of ex-DC Mohammad Ali Randhawa fell ineffective against the dengue mosquitoes.

In Rawalpindi,four succumb to dengue virus in a day

Only two days ago, the officials had pinned hopes on the onset of winter and said that the dengue mosquito would die off naturally, however the assertion remained elusive because of extended summer season which is a possible effect of global warming.

Besides Muhammad, as much as 250 patients from federal capital and 127 from garrison town were brought to the hospitals over the past 24-hours after which the collective figure in twin cities has escalated to whooping 15,700.

Majority of the cases in Rawalpindi were reported from the worst-hit dengue area of Potohar Town while other several cases also emerged from different parts of the Rawalpindi Cantonment Board (RCB).

To date, some 9,958 cases have been  reported from Islamabad while other 5,686 emerged from Rawalpindi.

Subsequently, the Poly Clinic Hospital (PCH) Assistant Executive Director and Focal Person for Dengue Dr Abdul Wali Khan said that as many as 420 patients were brought to Polyclinic on suspicion of dengue virus of which 108 were found infected and added that two patients were in a critical condition.

The focal person told that as many as 16,101 patients came to PCH during the current season while 4,473 of them were found dengue-positive. Seven people have succumbed to dengue in the hospital, he added.

Further, the Pakistan Institute of Medical Sciences (Pims) Spokesperson Dr Waseem Khawaja said that more than 5,000 people were found infected with dengue at Pims and added that around 500 patients came to the hospital daily of which roughly 80-100 were tested virus-positive.

The spokesperson said that currently 45 dengue patients were under treatment in the hospital.

Fresh recruitments

In a bid to expedite measures to control dengue, district health department has decided to recruit 17 entomologists and 24 sanitary inspectors on daily-wages.

Dengue cases soar past 5,500 in Khyber-Pakhtunkhwa

The temporary recruitment process would be completed by the end of October while the duration would be 89 days.

These people will help already deployed dengue surveillance teams to seek and destroy dengue larvae. Besides, dengue teams were also busy in preventive exercise like going from door-to-door asking people not to store water in open drums, checking workshops and warehouses for stagnant water where dengue causing mosquitos may spawn.

Reminder

Meanwhile, Deputy Commissioner Saifullah Khan Dogar has said that maximum arrangements for the treatment of dengue fever patients have been made in the city hospitals.

Around 1,100 beds were available at the allied hospitals while 806 beds have been allocated for dengue patients in the private hospitals of the city.

At least 306 FIR were registered and 111 were arrested on violation of SOP's regarding dengue, he said. The DC said that CM's Inspection Team was investigating the matter as to  what were the principal causes  for the spead of dengue epidemic in Rawalpindi. He said the district administration is on high alert and has full capacity and potential to meet any situation arising out of the seasonal disease's outbreak, adding that the chance of dengue fever would end in month of November when the weather conditions changed.

Currently, he said prevention of the disease was priority of the government and the district health administration was working day and night to wipe out the breeding of larvae completely

Published in The Express Tribune, October 19th, 2019.