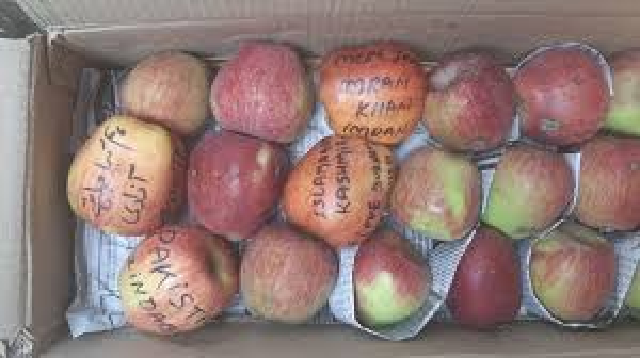 ---
Apples with inscriptions of anti-Indian and pro-Pakistan slogans were found in a fruit market of Indian Occupied Kashmir (IOK) as the brutal clampdown in the valley enters its 73rd day, reported the Kashmir Media Service.

A local fruit vendor found a crate of apples with messages such as "Pakistan Zindabad", "Love Burhan Wani" and "Meri Jaan [my life] Imran Khan" inscribed on the fruit.

Messages against Indian occupation, such as "Go India Go Back" and "We Want Freedom" were also inscribed in English and Urdu, according to a local.

Following the discovery, police in the occupied valley seized the consignment of apples.

Why are Kashmiri farmers letting their apple orchards rot?

Farmers in occupied Kashmir are deliberately leaving their apples to rot, undermining the occupied territory's most lucrative export as bitterness towards the Indian government grows.

Apples are a sensitive issue in Kashmir, which exports vast quantities of the fruit to markets across India.

Many orchard owners say they are refusing to harvest this year to protest against the government's move to scrap occupied Kashmir's autonomy.

New Delhi has deployed tens of thousands of extra troops since early August, when it scrapped the occupied region's decades-old semi-autonomous status and brought in a communications blockade that cut off Kashmiris from the outside world.

Either in anger or at the urging of Kashmiri freedom fighters, farmers have joined in the rebuke of India's actions by deliberately sabotaging a crop vital to the local economy.