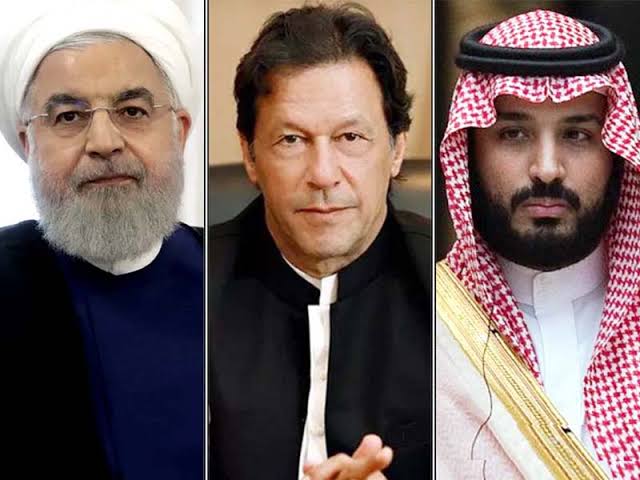 ---
KARACHI: At a time when his own country is locked in bitter tensions with longtime rival India over Kashmir, and grappling with an ailing economy, Prime Minister Imran Khan set out on an ambitious mission to defuse escalating tensions between arch rivals Iran and Saudi Arabia.

The prime minister on Sunday met Iranian Supreme Leader Ayatollah Khamenei and President Hassan Rouhani during a day-long trip to Tehran -- his second in a year -- and discussed issues ranging from the war in Yemen to US sanctions on Tehran.

While welcoming PM Imran's initiative for "peace in the region", Rouhani said his country would reciprocate "any goodwill gesture with a goodwill gesture and good words".

The former cricket player is likely to visit Saudi Arabia -- Pakistan's longtime regional ally -- on Tuesday to discuss the outcome of his meetings with the top Iranian leadership, according to diplomatic sources.

Already-inflamed tensions between the two foes further plummeted after an attack on two major Saudi oil facilities knocking out more than half of the top global exporter's output -- five per cent of the global oil supply, last month.

Pakistan offers to host Saudi-Iran talks

Yemen's Houthi rebels claimed responsibility for the attack. However, Washington cast blame on Tehran, which denied the allegation.

Conflicting statements

During his visit to Washington last month, PM Imran said US President Donald Trump had asked him to "mediate" between Riyadh and Tehran, a claim later refuted by Trump.

A day before the Iran visit, the Pakistani media quoted an Iranian government spokesman as claiming that Saudi Crown Prince Mohammed bin Salman had sent a message for mediation through the premier.

However, during the joint press briefing with Rouhani, PM Imran insisted it was Islamabad's "own initiative" to facilitate a dialogue between the longtime Middle Eastern rivals.

"We would like to play the role of a facilitator and not mediator. We want to facilitate two brotherly Islamic countries," he said.

Complex

PM Imran and the local experts recognised the "complex" challenge to bring the Sunni-dominated Saudi Arabia and Shia-dominated Iran closer.

"We recognise it is a complex issue but we feel that it can be resolved through dialogue", he said during the press conference.

Zafar Nawaz Jaspal, a professor of international relations at Quaid-e-Azam International University in Islamabad, argues that Imran is trying to facilitate rather than mediate between Riyadh and Tehran, what he described as a "very difficult" task.

"Differences between the two rivals are old, deep-rooted, and difficult to resolve. The two sides have had a totally different approach toward conflicts in Syria, Yemen, and Iraq," Jaspal told Anadolu Agency adding: "Even on Palestine, their approaches are different".

Though escalating tensions seem "very difficult" to dissipate, he found hope that both sides understood the gravity of the issues involved and showed a willingness to defuse tensions

Pakistan will facilitate Iran-S Arabia talks: PM Imran

Shahid Amin, a former diplomat, dubbed the prime minister's initiative "difficult", but "doable".

"It's not essential that you achieve all goals in one go. The start of peace negotiations itself is a big achievement", Amin who served as Pakistan's ambassador to Saudi Arabia, France, Libya and the now-defunct Soviet Union, told Anadolu Agency.

Asserting that both Tehran and Riyadh wanted to see a thaw in escalating tensions, Amin recalled that a similar move from incarcerated former premier Nawaz Sharif was resisted by the Saudi leadership in 2016.

"This is not the first time when Pakistan is mediating between the two rivals. But the difference is that Riyadh is also willing to sit on table this time", Amin said adding: "Riyadh has recognised that it had got nothing out of the Yemen War except for huge expenses and border tensions. Similarly, US sanctions have badly damaged Tehran, which is struggling to come out of an isolation in the region."

The mounting pressures of the conflicts, in one way or another, Amin thought, had forced the two old foes to come to the dialogue.

However, he cautioned that unless both sides proposed practical actions, the peace move would be futile.

"There are plenty of allegations against Iran regarding its involvement in Yemen, Syria, Iraq, and other countries in the region. Iran has to change its policies to regain the confidence, which will pave the way for any meaningful dialogue. Accordingly, Riyadh has to take some steps to address Tehran's grievances," he maintained.

US Role

Amin views PM Imran's move as in the interests of Pakistan, which has generally tried to maintain a balance between Saudi Arabia, and Iran but has slanted toward Riyadh -- its major financial and strategic ally -- in recent years.

"Pakistan is not doing this all as a goodwill gesture. It has its reasons," he said adding: "In case the spiraling tensions are not quelled, and turn into an armed conflict, Pakistan will be the one that has to face its direct impact in terms of sectarian violence, and ever-increasing oil prices."

Jaspal, however, downplayed sectarian divide, often highlighted in terms of relations between Riyadh and Tehran, saying: "It's more a geo-strategic issue between the two countries than sectarian divide."

Viewing the US role with respect to Imran's move as "just peripheral", he insisted that Washington -- Riyadh's biggest ally -- would remain at the sidelines.

"Washington has already played most of its cards by imposing sanctions and the scrapping nuclear deal with Tehran. It has nothing much in its sleeves to show. Therefore, I reckon it would not oppose the development and remain at the sidelines," Jaspal maintained.

Amin voiced a similar view, saying the US itself was in no mood to get involved in a military conflict in the Middle East.

Commenting on the latest deployment of 4,000 US soldiers in Saudi Arabia amid an increasing blame game in the region, he said: "Sending a few thousand troops does not mean a war. It's just a pressure tactic. Ultimately, they all have to come to the table."

If the process bore results, both Jaspal, and Amin agreed that it would increase PM Imran's international prestige and stature.

"If the process succeeds or even if it bears some positive results, Imran could be a strong candidate for the Nobel Prize," Amin thought.