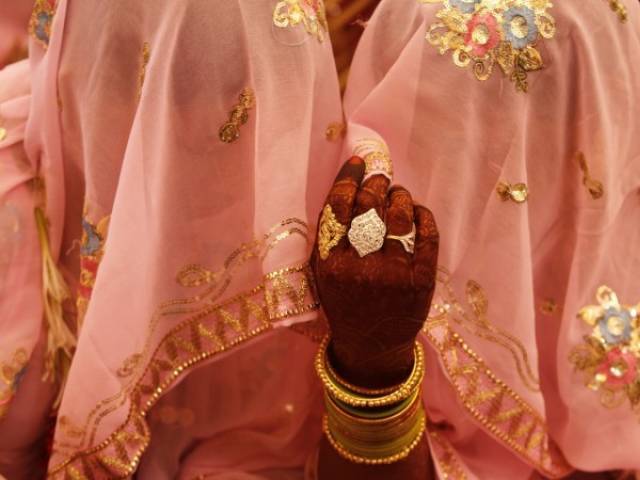 ---
Last week, in a shameful capitulation to religious fanatics, the Pakistan Peoples' Party (PPP) rejected a proposed bill in the Sindh Assembly against forced conversions.

If there was ever an argument to be made that constitutional guarantees mean nothing until the people believe in their worth, it is this. Article 20 of the Constitution guarantees religious freedom, but what religious freedom means is currently what the fanatic believes it should mean.

So, it is in Sindh, which has lately seen a rise in forced conversions of members of religious minorities. For those who may be blissfully unaware of the extent of the problem, here are some numbers: according to Aurat Foundation, around 1,000 women and young girls from religious minorities in Pakistan are forced to convert to the religion of the majority and marry their kidnappers every year. The Human Rights Commission of Pakistan believes that more than 20 Hindu girls are kidnapped every month.

The parents of the victims try to obtain that elusive concept known as justice. If you live in this country, you know that only people with a certain economic and social pedigree are allowed justice. The case of Rinkle Kumari should still be fresh in our minds, although it seems the PPP is suffering from temporary amnesia. Rinkle Kumari was 16 years' old when she was abducted, allegedly forcibly converted, and married to her kidnapper. Twice she wept and pleaded to go back home to her parents. Once before the civil court, and then, before the Supreme Court when it took up a pending petition on forced conversions initiated by the Pakistan Hindu Council. However, despite this, when the Supreme Court reassembled after a lengthy adjournment to hear the case, Kumari had somehow changed her statement and then accepted that she had changed her religion and married of her own free will. No proceedings ever tried to inquire into what happened to change her mind, but we can all guess, with a high degree of certainty, that her kidnappers coerced her (a bare reading of the case history shows this).

Those who follow such cases of forced conversions in Sindh are familiar with the landscape upon which these cases happen. The inequality of economic and political power between the abductor and the victim — as Kumari's case so starkly displayed; the sudden epidemic of helplessness that seizes the police; and the lack of proper investigation behind the marriages and conversions.

In 2016, an effort was made to end this practice with a bill being introduced in the Sindh Assembly. To be sure, a law by itself would not be enough to eliminate this practice, however, the bill had many features that would have helped and was a welcome first step. For example, it provided for judges and the police receiving sensitisation training on the issue, and that women be placed in a shelter, or in the custody of their parents during court proceedings in which the conversion and subsequent marriage was under challenge (normally, the woman is asked to remain with her husband during the entire proceedings). Perhaps the most important element of the bill was that it prohibited someone from changing their religion until they were 18 years of age.

All of this was welcome, and it would have sent a message of solidarity to religious minorities throughout Sindh.

But the zealots mobilised, and the PPP buckled. Asif Ali Zardari has always viewed his political ambitions as higher than fundamental rights. This is after all the man who once told the US that he didn't care about innocent Pakistanis being killed as "collateral damage" via drone strikes.

Despite the bill passing through the Sindh Assembly, the governor of the province, on the alleged urgings of Mr Zardari, refused to sign it. The opposition to the bill was rooted in the age restriction is proposed. Opponents said that one could convert to the majority faith no matter what their age was.

Such opposition is of course rooted in lifting concepts that have little to do with Islam without context. And the religious right seems to completely forget the verse about no compulsion in religion in these circumstances. It only comes out when it suits them.

Forced conversions are after all a part and parcel of the massive economic inequality that religious minorities face in Sindh and all over Pakistan. With many of them working under bonded labour — South Asia's version of slavery — the abuse they are liable to suffer is extremely high. They are at the complete mercy of those they work for who freely give them up for forced conversions and marriage. The families of victims have no wealth, no influence, no power through which they can obtain justice. Try getting the police to do anything when you have none of those three.

Solutions lie not just in legal mechanisms, but also in mechanisms to tackle the economic inequality that religious minorities in Pakistan face. Furthermore, an entire reworking of our criminal justice system is necessary. That starts with the police. So many of our country's problems could be solved if the police did their job regardless of the economic and social status of the person coming to them. This is not how a justice system works. You shouldn't need wealth, influence or power to get the basic features of the rule of law.

As for the PPP, it should wonder about where it stands regarding Article 20 of the Constitution. Will it allow it to materialise in the province that they claim, and have claimed, to reform so many times before? Or will it continue to turn a blind eye towards young women taken from their homes, sheared of their identity, and married to men who are their kidnappers?

Published in The Express Tribune, October 15th, 2019.

Like Opinion & Editorial on Facebook, follow @ETOpEd on Twitter to receive all updates on all our daily pieces.
COMMENTS (1)
Comments are moderated and generally will be posted if they are on-topic and not abusive.
For more information, please see our Comments FAQ