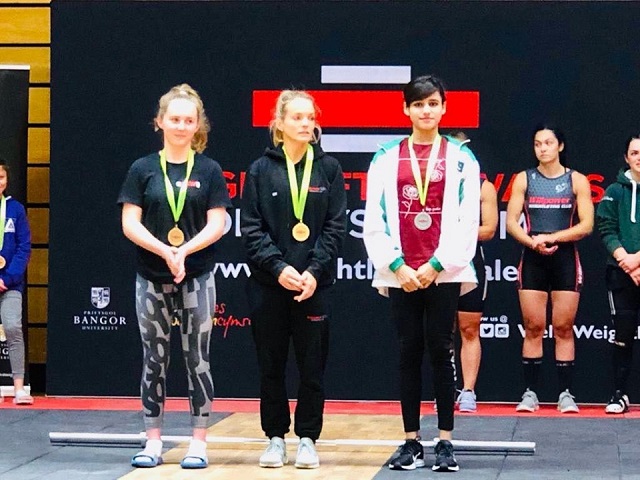 ---
KARACHI: Pakistan's Rabia Shahzad grabbed silver medal at the Welsh Open Weightlifting Championship 2019 49kg event.

Rabia won international medals for Pakistan earlier this year in Singapore and has previously won in Australia as well. Her goal was to make sure that she makes the country proud in weightlifting too, after power-lifting.

She lifted 35kg, 37kg and 40kg in all three of her snatch attempts, filed in 45k, 50 kg second attempt. However, she redeemed herself in the third attempt for the clean and jerk with 50kg to finish with a silver medal.

Rabia competed in the event - featuring around 200 athletes - without a coach and battling a fever. She took help from a local to make sure she secured all her attempts and her place in the 49kg event as well. But for her the challenge was to try the new category.

"I was on meds, and had the fever, but I wanted to compete," Rabia told The Express Tribune. "Even on the plan here, shedding weight is tough, and it can make you ill, but I tried, and I'm glad that I was not overweight even by a few grams, on the competition day i was 48.7kg, so I breathed a sigh of relief. This was my second international event of the year, I didn't want to miss it or get disqualified by any measure."

Rabia is going against the grain, in many ways and paving way for other girls to pursue a career in weightlifting and power-lifting. She wanted to make her stance clear, that women can lift weights and they are not a weaker gender.

But her decision to switch weight category did affect her, as being a girl in a culture that wants women to be dainty, it is difficult.

"I decided to shed the weight, because I thought there is a better chance in this category,' explained Rabia, "but there is a lot of fat-shaming in our society, so I tried competing in 49kg."

But one of the greater challenges for her was warming up in the UK weather.

"Its colder here, it's very, very, cold compared to Pakistan. There it is easier to compete because we are familiar with conditions, here I felt i required more energy even in the warm-up," she added.

But during her stay, the Karachi-based lifter said that she trained, and she trains all year round. This time, she also had the support from the Pakistan Weightlifting federation's head Hafiz Imran Butt and secretary Amjid Amin.

"Of course, it is all self-financed, but even moral support can mean a lot," concluded Rabia. It was better than to have federations holding you back. But I'm grateful, female weightlifters need encouragement."