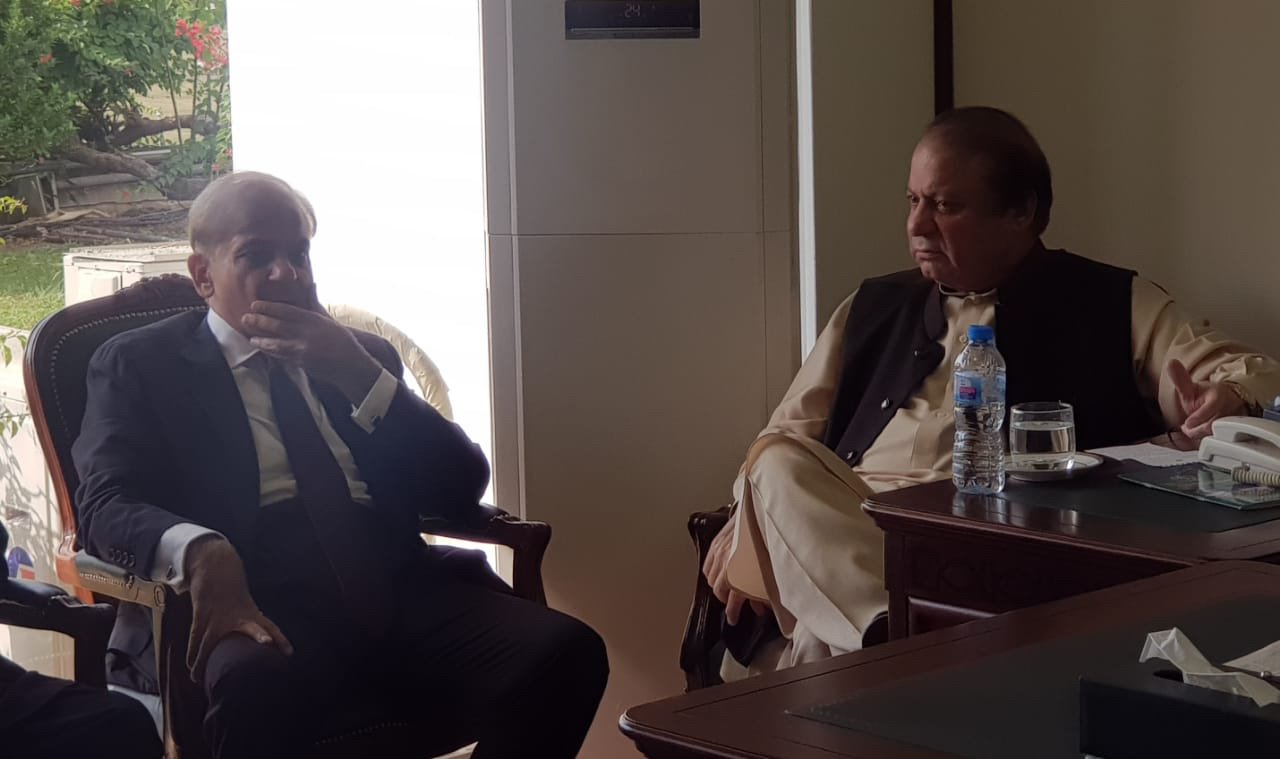 ---
LAHORE: The question of participation in Jamiat Ulema-e-Islam's (JUI-F) Azadi March has laid bare differences in Pakistan Muslim League-Nawaz (PML-N) whose jailed supreme leader apparently desires his party's full participation in the rally, contrary to his brother Shehbaz Sharif's cautious approach.

Shehbaz, the PML-N president, was to meet former prime minister Nawaz Sharif at Lahore's Kot Lakhpat Jail to communicate to him the party leaders' views with regard to the JUI-F's anti-government march which was rescheduled a day earlier and will now be held on October 31 in Islamabad.

However, Shehbaz did not go to meet Nawaz on – what some sources said – pretext of a backache. They said Shehbaz avoided Thursday meeting with the former PM, knowing that Nawaz would push him to take part in the march.

"This postponement of Nawaz-Shehbaz meeting seems to have allowed the PML-N president a few days to assess the situation," said a source. On Wednesday, Shehbaz had chaired around four-hour-long central executive committee (CEC) meeting to deliberate over Azadi March.

Sources had revealed that Shehbaz was not in complete favour of lending full support to the JUI-F chief Maulana Fazlur Rehman.  They said some leaders wanted that party fully participate in this movement while others favoured only limited participation.

"Shehbaz was leaning towards voices that were suggesting token participation, allowing second-tier leadership to represent the party in the march," said a leader while requesting anonymity.

However, the PML-N provincial spokesperson Azma Bukhari said Shehbaz Sharif was not well even during the CEC meeting. She said he was examined by his doctor on Thursday who advised him bed rest.

"Subject to his health, Shehbaz Sharif may request the government to grant him special permission for a meeting with Nawaz Sharif to discuss Azadi march. Shehbaz Sharif could even announce the decision on Nawaz Sharif's verbal communication," she said.

While the party did not make any official commitment with regard to its participation in the march, Nawaz's son-in-law – Captain (retd) Safdar who met him in the jail on Thursday – told reporters that whoever loves Nawaz Sharif and Pakistan would go to Azadi march.

"Maulana Fazlur Rehman would lead the movement and we would follow. The success of this march would dwarf previous movements in Pakistan," he said.

He said a lot would change with this march.  "A national commission will be made after removal of this government to probe into rigging in the 2018 election. This movement would pave the way for the supremacy of law and supremacy of vote," he said.

This was not the first time Safdar has expressed full support to Fazl even when the party is struggling to reach a consensus. Earlier in September, he had called Maulana to supposedly communicate Nawaz Sharif's support for his movement.

Safdar's claims that Nawaz Sharif wants his party to be a part of this movement is supported by a letter reportedly written last week by Nawaz to Fazl, promising the PML-N's full support to the march.

A PML-N leader said the party has already officially announced that it supports Fazl's Azadi March, so the letter should not come as a surprise to anyone. "Momentarily, Shehbaz was skeptical about the results of the movement, which is why he was not willing to risk participating in it."

He said Shehbaz had long been an advocate of the policy of reconciliation and has avoided confrontation unlike his elder brother Nawaz Sharif, who has locked horns with the powers that be in the past.

The PML-N spokesperson Marriyum Aurangzeb, however, denied media reports regarding the CEC meeting, saying that reports attributed to Shehbaz Sharif were the product of wishful thinking of the opponents.

"The CEC meeting deliberations were distorted and quoted out of context. It has been said before that the final decision would be taken under the leadership of Nawaz Sharif by PML-N president Shehbaz Sharif."

However, some media reports quoted Marriyum as saying that the minutes of the PML-N's Wednesday CEC meeting had been shared with Nawaz Sharif.