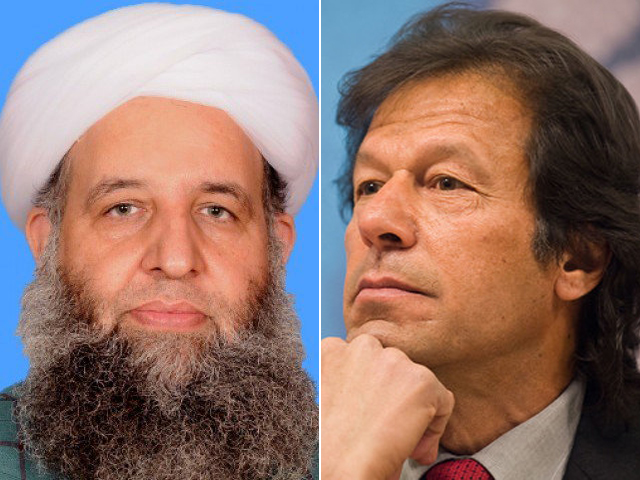 ---
ISLAMABAD: Prime Minister Imran Khan on Thursday tasked Federal Minister for Religious Affairs Noorul Haq Qadri to contact Maulana Fazlur Rehman to stop the Jamiat Ulema-e-Islam-Fazl (JUI-F) chief's 'Azadi march' later this month.
Quoting its sources, Express News reported that the prime minister directed the religious affairs minister to present a report about the planned march and prepare his recommendations to deal with the JUI-F rally.
The report further said that a meeting between Qadri and Fazl could not be ruled out. It was expected that Qadri would present his recommendations to the prime minister, which would be discussed in a high-level meeting.
Earlier, Imran chaired a meeting of the government's economic team and discussed matters relating to the promotion of small and medium enterprises (SMEs), revival of sick industrial units and incentives to the construction sector.
The prime minister said that his government's foremost priority was to run the economic system on a sustainable basis, which would help create job opportunities, boost investor confidence and promote local industry.
The meeting was attended by federal ministers Khusro Bakhtiar, Umar Ayub, Hamad Azhar and Muhammadmian Soomro; advisers Hafeez Sheikh, Razak Dawood and Dr Ishrat Hussain; and special assistants Firdous Ashiq Awan, Yusuf Baig Mirza and Shaukat Tareen.
Federal Board of Revenue (FBR) Chairman Shabbar Zaidi, Board of Investment (BOI) Chairman Zubair Gilani, National Disaster Management Authority (NDMA) Chairman Lt-Gen Muhammad Afzal and senior officers were also present.
The prime minister was informed that a total of 687 sick units could be revived immediately with certain measures and through the public-private partnership. Imran directed for finalising the legislation process and administrative reforms for the revival of sick units in 60 days.
The meeting was also apprised of the challenges and problems facing the SMEs, including investment, lack of modern technology, shortage of skilled manpower, legislative issues, reforms in Small and Medium Enterprises Development Authority (SMEDA) and lack of research.
In this respect, the prime minister said the private sector should be involved in the promotion of SMEs and ease of doing business should be ensured. "Priority should be given to small industrial units at local level to create job opportunities," he said. He directed for presenting a complete plan of action, including the time-bound targets for the promotion of SMEs, within a week.
Regarding the provision of incentives to the construction sector, the meeting was informed that tax incentives would soon be offered to the relevant industries in this sector. About sales tax on steel and cement industries, Imran asked Dr Hafeez Shaikh to finalise a strategy in coordination with the FBR, Naya Pakistan Housing Authority and the provinces and present a report next week.
COMMENTS
Comments are moderated and generally will be posted if they are on-topic and not abusive.
For more information, please see our Comments FAQ