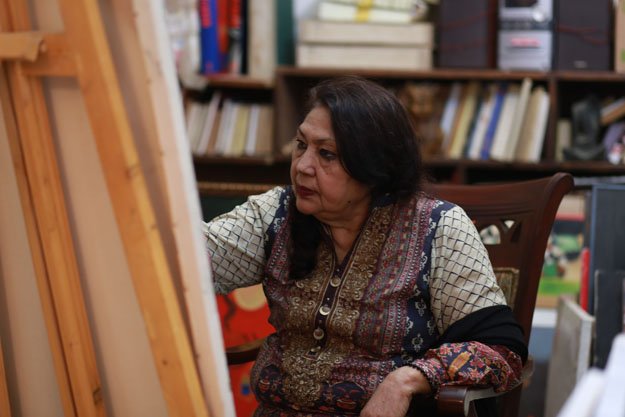 ---
KARACHI: While Pakistani society is slowly melting to the idea of the artist as a genius and a hero, there are contradictions that continue to scare us. The concept of a Pakistani woman artist as a hero is far from reality and patriarchy, like other parasitic superstructures, has a lot to do with it. It only lets a few stems shoot while the other saplings crumble as soon as they take root.

Needless to say, it isn't easy to break out from this social dry-rot and mould new spaces of expression and discourse for yourself. Delhi-born Nahid Raza is one such anomaly. She has been fighting these brutal constructs, one stroke at a time.

Raza is an advocate of women's rights and issues pertaining to gender discrimination and her vast catalogue is a testimony to her politics. Raza's highly renowned women series and Chawkandi Tomb series even earned her the much-coveted Pride of Performance in 2007.




Needless to say that running into her at exhibitions and social gatherings is always a humbling experience. But it is only in a close, intimate setting, that the artist and the woman truly amalgamate like a perfect mix of shades.

Express Tribune (ET): What is art for you and how do you see the changes in the art world these days?

Nahid Raza (NR): Art is not a joke or amusement; it's a very serious subject. One cannot paint if the thoughts are not coming from within. For me, art is to look into and talk to myself, giving colours to my thoughts. The process of sitting alone and thinking to myself prepares me to do art. It's very intuitive and personal. Every artist has a subject to paint and mine is women. I am a woman and I think about women and that is what I paint.




ET: What importance do women hold in your regard since you have done many successful series on them?

NR: A woman has countless attributes; she is a mother, friend, wife, sister, and daughter. Observing a woman's uniqueness and painting her, makes one appreciate her beauty. I prefer painting a woman as a mother because motherhood completes a woman. The whole process of painting a mother is another level of joy and satisfaction. The element of motherhood is praised a lot in my work; I feel the audience connects with it. My paintings are more like idioms because I paint the most beautiful creatures of God, and in my eyes- that are women.




There are many paintings in which I only use one symbol. I once used a tree to connote the attributes of a woman; strength [to bear the weight], sacrifice; by absorbing the heat of the sun and providing shadow to others. Women are unique; the deeper you dig, the more astonishing qualities you will find.

ET: How has being a strong woman affected your work?

NR: I speak the truth about women. There is no point of me being an artist if I lie in my paintings. I believe women are the strongest beings in this universe because they are mothers who sacrifice everything from the day they give birth to their child until they die; the responsibilities of a mother never end.

For example, my painting 'Divorce' was driven by a personal experience; where I painted a man and a woman standing at a distance, in opposite directions. It was an honest account which was widely appreciated and got sold in Germany.




ET: Do you think women in the art world are stronger today?

NR: The females of today are very strong. But the ethics have changed. Everything has become fake and superficial that there is almost nothing to learn or teach. It hurts me when I see the fast-changing attitude of this generation. Whatever my mother has taught me has made me the Nahid Raza I am today; my mother's lessons are still with me and gave me strength whenever I felt weak. Parents and children are not so closely tied today.

ET: How was your experience participating in Karachi biennale 17?

NR: I made a huge painting titled 'Vird' in which I made numerous small patterns linked with each other. I depicted the patterns of life and linking these patterns with one another symbolising that how everything in life is linked with the other.

The only expectation from Biennales is that they should not limit these events, they should expand. Let everyone be a part of this; students should be called from different universities so their minds develop. I am not pessimistic so I'm seeing KB'19 as another successful Biennale.




ET: Any suggestions that could improve the art scene of Pakistan?

NR: An artist should work on himself/herself and not rely on art institutes. There are so many artists who have never been to an art school, are self-taught and their work doesn't lack anything. Take Picasso, the most famous artist, who never went to an art institute.

Secondly, there is an immense need for a good art history teacher. I and the others who studied with me are blessed that Ali Imam Uncle taught the world's art history to us. He studied from London and was aware of the changes in the works of artists like Paul Klee, Pablo Picasso, and Henri Matisse.

Thirdly, people should invest time in visiting museums and art galleries to understand the culture and bring that knowledge back to their country. My recent trip to London gave me an opportunity to see Farida Kahlo's work. I spent my whole day in the museum observing her fascinating work.

ET: What advice would you like to give to the upcoming female artists?

NR: For the female artists, I would advise don't paint thinking that you are a female (laughs). You are an artist and should work like an artist. Your feminism should not become a hindrance in your art.

Have something to add to the story? Share in the comments below.