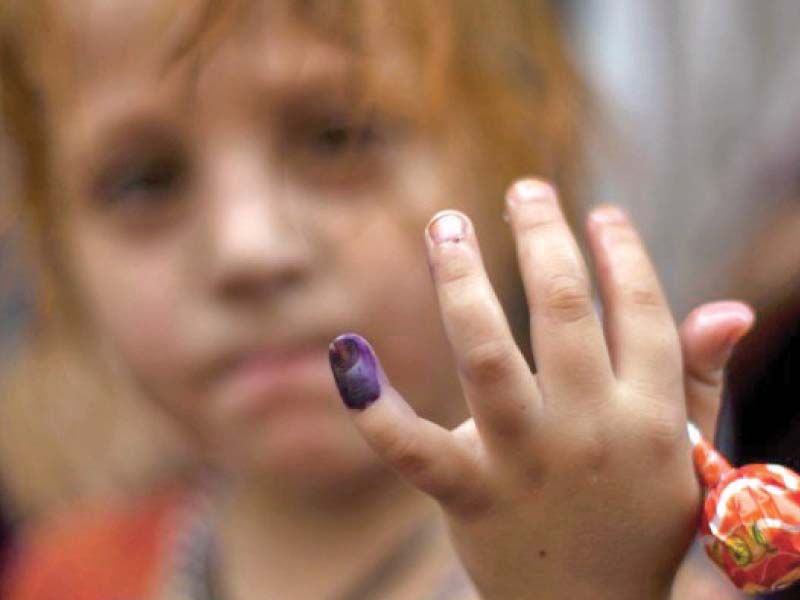 ---
PESHAWAR: The eradication of poliovirus, without a doubt, has been one of the biggest challenges for Pakistan. To top the situation off, there have been reports of fake polio marking in the district of Bannu in Khyber Pakhtunkhwa (K-P) which has resulted in 22 new cases. Consequently, the effectiveness of the entire polio programme has come under pressure and scrutiny.

Per sources, when polio teams recently visited homes to administer vaccines to children, they found that their fingers were marked in advance, indicating that they had already been vaccinated. Therefore, many children were deprived of polio drops.

Sources revealed that it was not just parents who came up with the fake marking tactic but certain polio workers have also been involved in the practice so that they could escape possible action against their failure to administer the vaccination to children in their designated territories.




A surge in cases

Among other kids, Zeeshan, a 17-month-old child from Jani Khel, Bannu, remained deprived of polio drops during the campaign. His parents lied to the polio team that the toddler had already been vaccinated. The family, however, had to bear the consequences of their action after the child fell prey to the disease.

Speaking to The Express Tribune, Zeeshan's uncle Sabir said that the child fell sick in the month of Ramazan this year. He was completely healthy and playful, but one day he suddenly experienced a high fever along with a pain in his chest.

"We took him to the hospital but his condition could not become stable. As a result, we also took him to Peshawar in May for treatment at the Northwest Hospital but to no avail," Sabir recalled. "Later, we shifted him to Islamabad where he was examined by a child specialist, but the attempt also turned out to be futile."

His condition continued to deteriorate and gradually, his legs stopped moving.

"Our child has become paralyzed. He can neither stand, nor walk. We have spent Rs400,000 on his treatment but his condition has not improved," his distressed uncle shared.

Sabir was later told that Zeeshan had contracted poliovirus. Despite the plight of the child, no private or governmental institution has stepped forward to help the family. Sabir added that his family had no idea about the consequences of not administering polio drops and now the child has to bear the brunt of his family's ignorance.

"I urge people to administer the vaccination to their children to that they don't suffer the same fate as Zeeshan," he lamented.

Another child name Shazia could not be administered polio drops because of fake marking. Like Zeeshan, Shazia also became paralysed for life because of the crippling virus.

Shazia's uncle Zaid Rehman said that her family administered polio drops to her but they didn't do it on a regular basis.

"We lied to the polio team that she had been vaccinated. Later on, her legs stopped working and we are still unable to get her properly treated because we don't have the financial means to save her future," shared the uncle of the victim.

Mugheesa, a 10-month-old toddler, hailing from Bannu, suffers the same fate as she was deprived of polio drops. Her serology report has not been received yet.

The child's father Anar Gul lives and works in Saudi Arabia while the child lived with her maternal uncle who deprived her of polio drops because of his suspicion.

"Her right leg is paralysed. We have spent Rs1.5 million on her treatment but to no avail. The government did not offer any help to us," complained Anar Gul, who added that he's been taking loans to treat his daughter.

The polio campaign has recently suffered a setback when an anti-vaccination propaganda video started circulating on social media.

Disturbing numbers

According to the Polio Emergency Operation Centre, the total number of polio cases in the country stands at 62, out of which 46 cases have been reported in K-P, six cases in Sindh, five in Punjab, and four were reported in Balochistan.

In K-P, the highest number of cases have been reported in Bannu where, according to the national health institution, 22 children have been tested positive for the poliovirus. Out of the total, 16 children in Bannu fell victim as a result of fake marking, while serology reports of the other six cases are not available.

After the promulgation of the Right to Information Act, polio statistics revealed by the Health Department indicated that 16 fake marking cases were reported in the district.

According to the health department's report, the blood samples of the affected children with fake marking were taken from February to July and sent to the national health center for a serological examination.

The blood samples of 13 victims from K-P and the merged districts were dispatched to the national health center in 2018, which disclosed that seven children were left unvaccinated during the polio campaign. Three of the cases were from Bannu, while five were from Bajaur. The report confirmed that the affected children contracted polio due to fake marking.

Babar bin Atta, Prime Minister's focal person for polio programme said that fake marking is yet another big challenge for the polio programme but the most important step is to remove the misconceptions among community members pertaining to the vaccine.

"As for the fake marking campaign in Bannu, the government has already taken action against the culprits and several vaccinators have been laid off," Atta explained. "However, we are changing the procedure for vaccination. The vaccinators have been instructed to avoid fake marking and write actual reports about refuting parents."

"In order to ensure that polio workers don't manipulate information through fake marking to save their jobs, no action will be taken against them if they fail to achieve the target," he added.

The polio campaign in charge in Bannu, Habib Wazir, said that anti-polio measures are taken each year, adding that a sample from the sewerage water is taken each month from all the five high-risk Union Councils in Bannu. The report of the sample has been testing positive since October 2018. According to him, fake marking is not limited to Bannu alone but it is also prevalent in Peshawar where some parents, along with certain polio workers, try to dodge the government.

Reluctant parents

Saima, a resident of Peshawar's UC 18, has been involved in fake marking and lied to the polio worker when they went to administer polio drops to her three-year-old child and forced them to leave.

According to the polio worker who went to her place, Saima has been doing the same for the past three months. Speaking about her reservations, a close relative of Saima revealed that her son is already suffering from a chest infection and gastrointestinal problems, because of which she fears that the vaccination might aggravate the condition.

Dr Imtiaz, the technical focal person of the polio operation center said that the fake anti-polio propaganda run on social media is also among the reasons behind the increasing polio cases in K-P.

"A video went viral on April 22 this year which showed children in Mashokhel fainting after being administered polio drops," he said. "As a result, it increased the number of refuting parents in Peshawar, Mardan, Charsadda and merged districts."

Per the Polio Emergency Operation Center report, 60 families in K-P refused vaccination in January. Similarly, 32,311 in February, 78, 961 in March, 69, 908 in April, and 381 families refused vaccination in June. In total 69,320 families did not allow vaccination which increased the number of refuting parents to a great extent.

Talking about the propaganda video, Faiza, a polio worker hailing from Peshawar, said that the video even forced educated people to refuse the administration of polio drops to their children.

"When we go to people's homes to administer polio drops, they ask us to leave. Even a school teacher did not allow us to enter her home and refused to vaccinate her children," she informed The Express Tribune.




Steps were taken to curb polio cases

Abdul Basit, a Coordinator At Polio Emergency Operation Center, K-P, said that Bannu and Lakki Marwat are among the worst-hit areas in terms of the recently-reported cases of polio.

"A total of 34 cases have been reported from these areas, and 70% of the children had not been vaccinated even three months after their births," he said.

"These children later became affected by poliovirus. The inaccessibility of the vaccination team to far-flung areas and the failure of lady health workers to visit each home is a major cause for the spread of the virus."

He added that some of the participating lady health workers have reached the age of retirement. As a result, the government has started administering polio drops to children on a daily basis and is availing the services of young vaccinators and health workers.

"We are also urging religious scholars to discuss the issue during Friday sermons so that they could convince people to vaccinate their children," Abdul Basit said.

The government has also planned to retrain the vaccinators, lady health workers, and monitoring teams to reduce polio cases and also decrease the number of parents who refuse to administer vaccines.

The University of Peshawar and the Polio Emergency Operation Centre, K-P have signed an agreement according to which the students of the criminology department of the varsity will visit Bannu to conduct a survey on fake marking. The polio vaccinators and refuting parents would be convinced through dialogues and a seminar pertaining to the reservations regarding polio vaccine in Bannu will also be held.

Dr Abrar, the Head of the Criminology Department at Peshawar University said that students well-acquainted with local procedures, customs and culture would be sent to Bannu, who will urge the community to administer vaccines to children according to the local Jirga and customs.

"The step will, hopefully, not only end people's aversion to vaccines but it will also improve intellectual development," Dr Abrar concluded.

Published in The Express Tribune, October 1st, 2019.
COMMENTS
Comments are moderated and generally will be posted if they are on-topic and not abusive.
For more information, please see our Comments FAQ