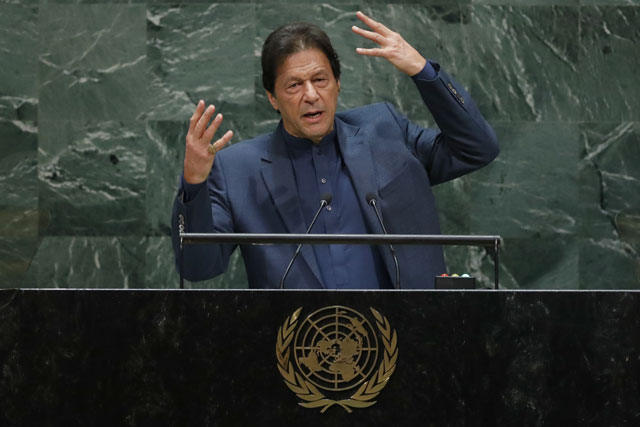 ---
The fourth part compensated for the first three ones. The speech left a good impact. Not bad for a leader's first appearance at the UN global forum.

Could it have been better? Sure. Did it do the trick at the end? Yes. And at the end, that is what matters at a time when the situation in Re-occupied Kashmir is inching towards an explosive stage. Prime Minister Imran's Khan's speech has set the tone for what must now follow as a substantive action-oriented policy on Kashmir. This policy will need to be multi-dimensional, multi-platform and multi-goal in every sense. Most importantly, it should be a stated and openly declared policy that has no "do-say" gap.

Such a comprehensive policy will need to emerge from within the institutional womb of Pakistan's state structure. But this time, the state structure that produces such policies may want to try something new: a deeply debated and thoroughly discussed array of options that are taken to the parliament for national consensus.

Let's get more specific.

1. The Kashmir policy should have a central premise: Pakistan will never renounce its legal and moral position on Kashmir that demands the implementation of UN Security Council resolutions. Will the plebiscite happen tomorrow? Probably not? But then our thinking should not be confined to timelines and deadlines. Instead we should declare to the world that we shall maintain our position against all odds and hold on to it for howsoever long is required — two years, ten years, twenty-five years or two hundred years. Let this premise quell all conspiracies about a "sell-out" or "quiet settlement".

2. The first stage of the policy debate should be conducted in the National Security Committee that is chaired by the Prime Minister. The members include Ministers of Defence, Finance, Foreign Affairs, Interior, Information, National Security Division, Chairman Joint Chiefs of Staff Committee, Chiefs of Army, Navy, Air Force and Chairman Strategic Policy Planning Cell. However, input should be taken from leadership of all departments that deal with media and communications. In addition the technical side of the state apparatus — IT ministry etc. — should also be invited into the debate. The forum should take as much time and as many meetings needed to come up with solid and substantive proposals.

3. This can only be done if every member of the forum gets his/her institution to come up with specific proposals and options to deal with the Kashmir situation. These proposals will then be examined and critiqued in the NSC and further refined if necessary. Or rejected. Given the membership of the NSC, the Prime Minister should receive detailed proposals dealing with military, diplomatic, intelligence, information, financial and technical options. In addition, he should also demand a detailed list of options that can feed into a popular narrative on Kashmir via "soft power" elements like music, drama, film and theatre etc.

4. Military options may address the following: Our clearly stated "red lines", our unambiguous policy on a "Balakot-type" misadventure by India, our well-thought out policy on any Indian drone incursion into our territory (keeping in mind how Yemeni drones hit the Saudi refinery, and also how Iran shot down an American drone and President Trump almost ordered a military strike on Iran). The military options may also address the missile threat from India (PM Imran had mentioned India had considered such an attack in February). Of course the nuclear policy needs to be reinforced and reiterated even though it cannot be stated publicly. At the same time, Pakistan Navy may also want to address the threats from the seas and include some naval options in the stated policy.

5. The diplomatic options will require ingenuity. Perhaps the Foreign Office may want to open up its doors to subject experts from the outside to expand the scope of diplomacy. Sending parliamentarians to foreign capitals to "lobby" for Kashmir has been done to death with nothing much to show for it. Instead perhaps specialists should be tasked with engaging key foreign stakeholders via diplomatic channels. One of Pakistan's finest lawyers has given a brilliant proposal on how to legally raise the issue of Indian use of pellet guns. It is a specific proposal on a specific issue which can have specific outcomes. Sadly the State of Pakistan is unresponsive. Such an approach needs to change.

6. Intelligence proposals that can become part of the stated policy are critical at this stage. For instance, it is in the interest of Kashmiris — ours too — that the leadership of Re-occupied Kashmir remains united and reinforced to lead the resistance that is shaping up against India. The pro-Indian Kashmiri leaders like Mahmooda Mufti and the Abdullahs are now disenchanted with New Delhi and still in detention. What happens to them now and can they have a role in the resistance? In this critical question we should help howsoever we can to bring them on board. In addition, the new generation of Kashmiri women and men also need to be elevated to leadership positions. All of this is for the Kashmiris to do but we should have proposals ready to help them ensure a strong, united and representative leadership is ready to take on India through all means except outright violence. Our intelligence will also need to come up with specific proposals to ensure no Non State Actors (NSAs) cross the LoC.

7. The information side is perhaps the most important element of this policy — and possibly the weakest today. Here too, the state institutions dealing with media and communications will need help from experts who understand modern means of media messaging as well as the audience that needs to be addressed. Proposals would need to spell out platform-specific ideas, their conceptualization, production and dissemination. The communication will need to be divided into two clear categories (a) aimed at Kashmiris in Re-occupied Kashmir to boost their morale and nourish them with the required information diet (b) aimed at the international community and especially the permanent members of the Security Council. So for example, communication will need to be done in at least English, French, Chinese and Russian languages for the P5 audiences. That's just one of hundreds of ideas that can be generated in the information and communication arena.

8. Technical options will deal with enabling Kashmiris to stay connected with the world even if India cuts off all means of communications. There are ways and means available to us to do this and the policy should include detailed options including the use of satellite, terrestrial and digital signals that can be made available to the people of Re-occupied Kashmir.

9. Of course, financials need to be ready. What should we fund, who should we fund, how should we fund and how do we keep this funding legal and above board? The Finance leaders will need to come up with exact options.

10. Once the policy proposals are given final shape, the Foreign Minister should introduce them as a policy statement in the Parliament and open them up for public debate. If required, key value add-ons from the debate can be included in the proposals before the policy is adopted as a national one owned by all political parties of Pakistan and backed by the national mandate that the Parliament signifies.

Then we go full throttle. Did someone say we don't have options?

Published in The Express Tribune, September 29th, 2019.

Like Opinion & Editorial on Facebook, follow @ETOpEd on Twitter to receive all updates on all our daily pieces.
COMMENTS
Comments are moderated and generally will be posted if they are on-topic and not abusive.
For more information, please see our Comments FAQ