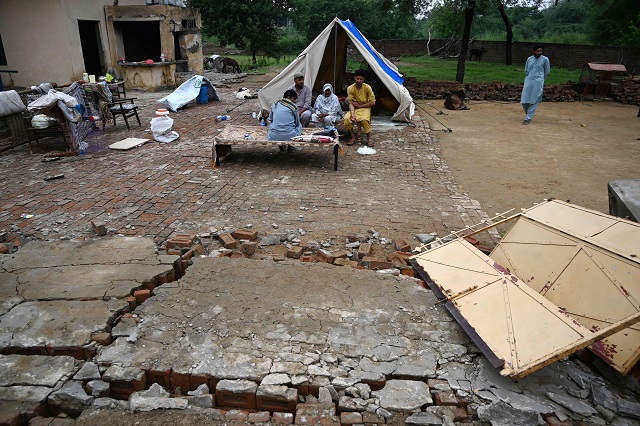 ---
The earthquake affected area of Mirpur experienced another aftershock on Thursday as relief activities suffered due to unexpected rainfall.

The shallow tremor sent terrified people running into the streets as area residents huddled in the streets following the quake, some still barefoot, while others recited verses from the Holy Quran.

The country's top meteorologist, Mohammad Riaz, said the epicentre of the 4.4-magnitude tremor was 12 kilometres deep.

"It's hell. I am running to save my life," Mohammad Bilal told AFP moments after the tremor.

Dozens of patients were evacuated from the main government hospital in Mirpur, some in wheelchairs or on stretchers.

The city's hospitals were already packed with hundreds injured by the quake earlier in the week. The tremor came as rescuers continued to pick through toppled buildings to reach victims from Tuesday's earthquake.

The village of Jatlan on the outskirts of Mirpur appeared to be one of the worst affected, while Mirpur was largely spared major damage.

In Jatlan, bridges, mobile-phone towers and electricity poles were badly damaged while its roads were ripped apart. Restoration work is underway on roads with the use of heavy machinery.

Azad Kashmir information minister Mushtaq Minhas said at least 6,500 homes were destroyed by Tuesday's quake, adding that officials had begun to distribute thousands of tents to affected residents.

Medicine and water shortages are also being experienced in the area. The National Disaster Management Authority (NDMA) has distributed rations, 50 thousand bottles of water and 200 tents among the affected families.

According to updated NDMA figures, at least 39 people died in the disaster and 614 suffered injuries of varying degrees.




At least 30 dead, 452 injured as earthquake jolts AJK, Punjab

Although rainfall has affected the relief work in the region, electricity has been restored to some areas and commercial activity is resuming.

The World Health Organisation (WHO) also supplied medicines and surgical instruments to the victims in Azad Kashmir and Special Assistant on National Health Services Dr Zafar Mirza appreciated the gesture, reported Radio Pakistan.

Mirza further said Pakistan stands with the people of Azad Kashmir in this time of sorrow.






A devastating earthquake rattled AJK on Tuesday resurrecting the haunting memories of a monster tremor that had wrecked the region 14 years ago.

The epicentre of the quake, which occurred at around 4 pm at a depth of only 10 kilometres, was near Mirpur city in AJK, roughly 20 kilometres north of Jhelum in Punjab, according to the US Geological Survey.

Pakistan straddles the boundary where the Indian and Eurasian tectonic plates meet, making the country susceptible to earthquakes.

In October 2015, a 7.5-magnitude quake in Pakistan and Afghanistan killed almost 400 people across rugged terrain that impeded relief efforts.

The country was also hit by a 7.6-magnitude quake on October 8, 2005, that killed more than 73,000 people and left about 3.5 million homeless, mainly in Pakistan-controlled Kashmir.


COMMENTS
Comments are moderated and generally will be posted if they are on-topic and not abusive.
For more information, please see our Comments FAQ