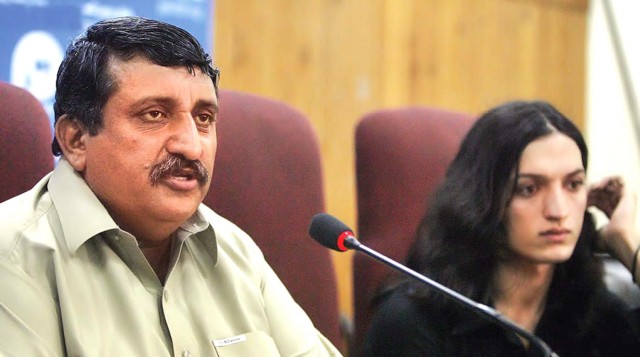 ---
Malik Iqbal, a trader arrested on charges of "marrying a transvestite", has rejected charges against him, saying that he will move the court against police.

"I wasn't marrying transvestite Kashif, also known as Rani. He is my tenant. He lives in my apartment building," Iqbal told journalists at the Peshawar Press Club on Friday, where Rani was also present.

On May 24, police arrested Iqbal and Rani at what was described as the wedding ceremony of the pair. Forty-three other "wedding guests" were also picked up from the site. However, they were released on bail after a week.

Iqbal alleged that some police officials from the Faqirabad police station used to visit his apartment building to watch dance and to extort money from transvestites. Iqbal claimed that he had spoken to the police and asked them to stop harassing his tenants. And the police vilified him in revenge.

Iqbal said that they were picked up when they were celebrating the birthday of Rani. But police dubbed it as a "wedding ceremony" and implicated them in the case to settle scores.

He also regretted that the media played a one-sided role in the whole episode and did not bother to know facts about the incident.

"We are not living in Europe where there is no restriction on gay marriages. We are Muslims and part of a society where gay marriage is tantamount to inviting one's death," Iqbal exclaimed.

"I had invited Iqbal to my birthday party. I did not know that police would declare him my husband," said Rani on her part.

Iqbal and Rani told journalists that they were receiving threats from unknown callers who believe in the story made up by police. Responding to a question, the pair also said that they would welcome any asylum offer from abroad.

Published in the Express Tribune, June 12th, 2010.
COMMENTS (6)
Comments are moderated and generally will be posted if they are on-topic and not abusive.
For more information, please see our Comments FAQ