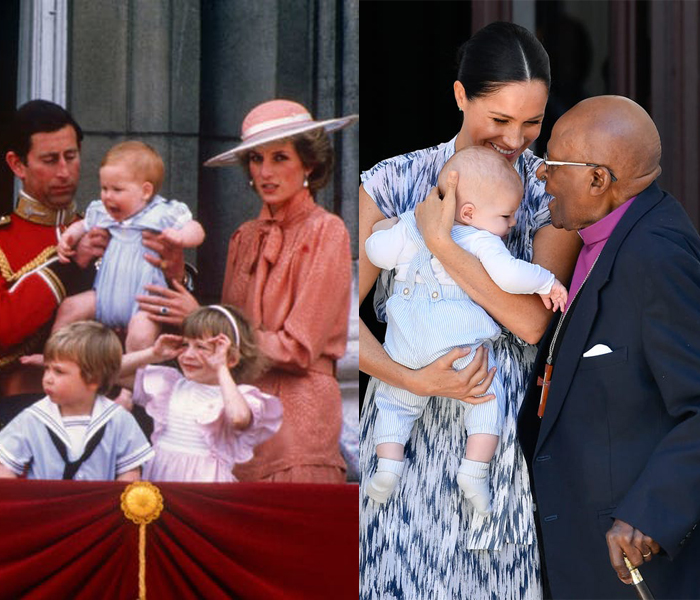 ---
Lo and behold! The first pictures of the youngest Royal are here and boy, is he a cutie-patootie!
Baby Archie has finally made his first public appearance, answering the one question that's been on everyone's minds: Who does he look like?
Prince Harry and Meghan Markle have brought their four-month-old along on their Royal tour of Africa this week, according to
Insider
. His little highness was nowhere in sight for the first two days of the trip, however, the couple decided to bring him out to meet Archbishop Desmond Tutu on Wednesday.
And needless to say, the world has gone crazy over the little guy who, as it turns out, bares an uncanny resemblance to his father, with special thanks to the ginger locks.
Within minutes, the pictures had been circulated all over global media.
Some argued that, in a different lighting, Archie's hair appears to be darker, like his mother's.
This becomes even more obvious in other photos.
Archie's introduction to Archbishop Tutu also reminded fans of Prince Harry's first appearance as a Royal back in the 80s.
Harry was initially disclosed to the world in 1985 at the Trooping Colour ceremony on the Buckingham Palace balcony.
Apart from his hair, his dark brown eyes were clearly something he inherited from his mother.
While his stripped dungarees also resembled his father's fashion sense as a baby.
Furthermore, not only did his hair and clothes resemble the renowned Prince, but it was also his attitude towards that cake.
It seems the baby has also inherited his father's appetite.
Have something to add to the story? Share in the comments below.